In Appreciation Of Troy Caupain And Kevin Johnson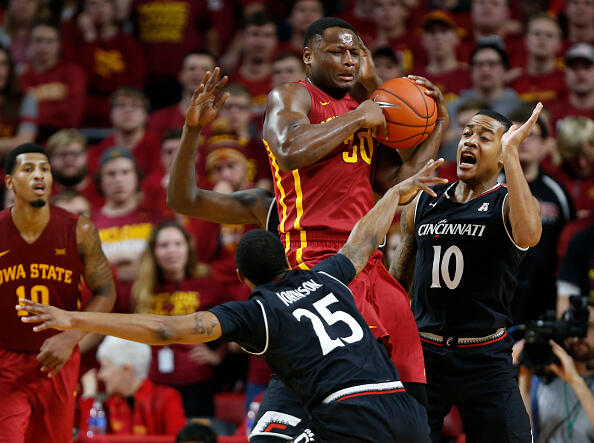 College basketball gives us Senior Night, which is something that no other major sport can rival on annual basis. College football tries, but its way of saying goodbye to it seniors lacks the poignancy of college basketball's. Football's farewell is collective. Hoops is more individual.
Individually, three UC Bearcats will be honored before tonight's game against Houston. Zack Tobler will suit up at Fifth Third Arena for the final time, and if there's any justice, the Bearcats will put away the Cougars handily enough that we'll get treated to a few more minutes of #ToblerTime.
Troy Caupain and Kevin Johnson will be honored as well.
Inevitably so, but also deservedly so.
Their careers have been interesting. They've been linked to one another since they joined the UC program in 2013. When they were both freshmen, when you talked about one, you talked about the other, and during their first season as Bearcats, when you wondered what life would be like post-Sean Kilpatrick, you either salivated over the possibilities of, or feared what would happen with, a Troy and Kevin backcourt.
Now that they're seniors, we kinda still do both, thinking about what the Bearcats will be like without a Troy and Kevin backcourt. Either way, it's going to be different.
In a day and age where college basketball rosters are more fluid than ever, players who get considerable playing time as freshmen and then end up in prominent roles during the course of their careers end up being the type of players that seemingly spend more than their allotted four (or five years) playing for the same program. How many times have you watched a guy for four years and thought "man, that guy's been there for a decade?"
I'll bet to outsiders, Troy and Kevin are those guys.
To us Bearcats fans, though, they've done more than just linger around the program, eating up minutes. They've been mainstays of UC basketball, helping the Bearcats to what will be four NCAA Tournament appearances, a league championship, and no final win total of less than 22. Both authored their fair share of notable, memorable moments, and each were able to carve out specific roles that played to their strengths on teams that were built to mask their weaknesses.
Neither guy failed to frustrate. Caupain's penchant for walking the ball up the court has made me let loose a few expletives, both under my breath and within ear shot of anyone within the same zip code. Johnson's offensive game never really expanded the way we'd hoped. But both players have served their teams well doing what was asked of them. Troy's primary functions have been to take care of the ball, distribute to teammates, and score when needed (which he often has been). A good Troy Caupain night had him filling out the stat sheet with something like 11 points, six assists, five boards, and maybe a turnover. He'd play a lot of minutes, and if the Bearcats won, Troy was a big reason why.
A good game for KJ had him playing strong perimeter defense, knocking down a few outside shots, and pitching him when his ballhandling duties were needed. If the Bearcats won, Kevin was a big reason why.
Both players have been overshadowed by teammates. Some were more celebrated (Kilpatrick). Others had bigger personalities (Justin Jackson, Octavius Ellis, and maybe Kyle Washington). Others have had more upside (Gary Clark, Jacob Evans). But both have left indelible marks on a program that's better off for having them play for it.
Both have been very, very good UC Bearcats.
Both will have earned the ovation we'll be giving them tonight.

Mo Egger
Mo Egger delivers his unique take on sports on Cincinnati's ESPN 1530!
Read more