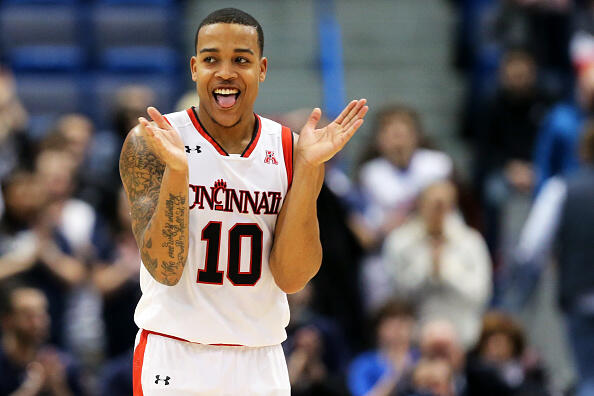 The beauty of Selection Sunday is that its results aren't really final.
Oh, the bracket ain't being changed. The matchups will remain the same as the ones that popped up on CBS yesterday. For the UC Bearcats, no matter what you and I think of yet another banishment out west, they're Sacramento-bound.
But the final say doesn't belong to the tournament's selection committee. The bracket gets drawn up in closed-off hotel, but the tournament itself plays out on the court, with teams having a chance to either confirm the committee's work or prove it wrong.
Which means that Mick Cronin's team has some proving to do.
The Bearcats got hosed, at least that was the consensus last night. UC fans weren't exactly basking in the glow of a seventh-straight year of having "Cincinnati" pop up on the screen. Instead, most of us looked at their draw with a combination of bemusement, frustration, resignation, and dread.
A 29-5 team with no truly bad losses that had taken up residency in the top-50 of the RPI was rewarded with a six seed, same for an SMU team that hasn't lost in two months and yesterday beat the Bearcats in an ugly, largely irrelevant-for-NCAA-purposes American Athletic Conference title tilt. It was clear as the pairings were announced that the committee feels about the same way you and I do about the conference UC is stuck in.
Conspiracy theorists howled that Mick's mouth helped banish his team. A look ahead to down the bracket to possible matchups against the likes of UK, Dayton, and sure, NKU, was thwarted by visions of what Lonzo Ball and crew could do if the Bearcats faced off against UCLA in round two. Those of us who held out hope that we could maybe, you know, actually go watch Cincinnati play in person for once took a brief glance at the price of airfares are to Northern California and quickly closed our laptops.
Selection Sunday was a Sobering Sunday.
Most of us have spent the bulk of this UC season talking about how this Bearcats team was Mick's best (which is is), and whether this March could be the one where the Cats could make their longest NCAA run in more than two decades. I've usually stopped well short of predicting how far UC could go, wanting instead to gauge how well the Bearcats were playing, preferring to see which teams they'd play, and often simply caving into the built-in feeling most Cincinnati fans feel that at some point, the other shoe was about to drop. Yesterday, that shoe didn't just drop, it kicked them across the continent.
But as they reeled of 29 wins, firmly planting themselves in the national rankings it's been hard not to imagine the March possibilities for this team. And a lot of UC fans, including me, have talked a big game.
So let's see if the Bearcats have a few big games in them.
Let's see if this team can make a mockery yesterday's indictment against them. Let's see if all the good things we've said all season about this team manifest themselves in this tournament. Let's see if, in a loaded region, the Bearcats can prove that they belong. We've talked a lot this season about how this UC team often had the look of a special one. Let's see if they are.
The tone I'm taking is probably not the one you want to hear if you're a fellow UC fan. It's always easier to piss and moan about what the committee did, and lament the things that ultimately, are beyond a basketball team's control. I get it. I've done my fair share of it. But the part of the NCAA Tournament that ultimately matters isn't how the bracket is drawn up, it's how it plays out. Mick Cronin and his team had very little say in what determined yesterday's fate. They will absolutely have something to say about what happens from here on out.
The NCAA Tournament is supposed to be difficult, and a lot of us have expressed faith that this UC team was built to handle whatever difficulties March threw at it.
March threw one of them yesterday. Let's see our faith gets rewarded.
The committee has had their say. Now the Bearcats get theirs.

Mo Egger
Mo Egger delivers his unique take on sports on Cincinnati's ESPN 1530!
Read more