Three Things: Muskies March, UC Seeks A Validating Win, And IU Looks For The Next Coach Its Fans Will Hate.
Every day there are three things, none worth devoting an individual post to, but each worth at least mentioning.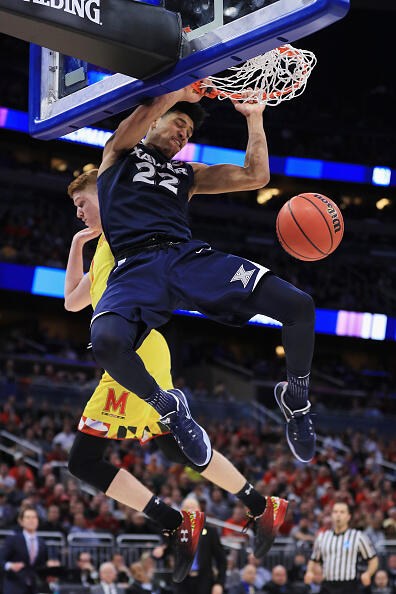 (Photo: Getty Images)
1) Muskies March. 16 days ago, the Xavier Musketeers were beaten soundly at home by Marquette, a loss that extended their losing streak to six and that made their NCAA hopes tenuous at best.
Two and a half weeks later, they're in the second round of the tournament.
Their performance in the second half was superb. They overcame late first half sloppiness and a shaky first 20 minutes from Trevon Bluiett to dominate Maryland in in the second half. Bluiett was fantastic in the second half, almost single-handedly flipping a three-point deficit to an 11-point lead. Quentin Goodin, all things considered, gave Chris Mack everything he could've asked from a freshman point guard who's been asked to do more than anyone could've ever imagined when the season began, and Sean O'Mara pulled out the performance of his life, helping the Muskies absorb Bluiett's early struggles and cashing in at the free throw line.
16 days ago, many left the Musketeers for dead. Now, after an impressive run in the Big East Tournament, and an equally impressive victory over the Maryland Melo Trimbles, and a Saturday night date looming with an enigmatic Florida State team, they're very much alive and well.
2) Today: Fun. Tonight: Not so much. This afternoon, I will post up at a favorite downtown establishment. I will enjoy some St. Patrick's Day festivities with friends. We will watch a lot of college basketball. I'll laugh at people who go a little overboard. Good times will be had.
This evening, I will unevenly divide my attention between the UC/Kansas State and Dayton/Wichita State games. It will be miserable.
Watching the NCAA Tournament is a blast. Having your team in the NCAA Tournament is fun. Watching your team(s) play in the NCAA Tournament is agonizing.
Yesterday, Mick Cronin downplayed the notion that for this season to be considered a success, the Bearcats need to win in the tournament. That's a perfectly fine point of view, and my feelings about the direction of the program do not hinge on whether UC wins one or two basketball games.
That said, from a purely emotional fan standpoint, not winning tonight would be arguably the biggest UC postseason letdown since losing to UCLA in 2002. Very, very good - sometimes, even great - teams lose in the first round all the time. It happens. But after a season like the one the Bearcats have had - 29 wins, permanent residence in the top 25, growing local and national buzz, and the team itself being exceptionally likable and endearing - not winning a game in the tournament would be, well, a huge letdown.
Would a loss tonight make the season itself a disappointment? I'll probably stop well short of that, although I'm sure that many would categorize it as such. But as much as Mick might be shooting down the belief that his team needs to win tonight for the season to be thought of as a successful one, he's also talked often this season specifically about making a run in March.
So have a lot of us.
There would be something validating about the Bearcats winning tonight, and then, obviously, again on Sunday. Let's face it, as good as this team has been, they did not win either the AAC regular season or tournament title so this weekend is UC's chance to put a significant, tangible stamp on what's been an exceptionally good, and fun, season.
I expect the Bearcats to play well tonight. With the exception of the sluggishness they showed against a very good SMU team last Sunday, I've liked how they've played since the UCF loss, and I think you'll see an urgent, focused UC squad take the floor against Kansas State. I believe UC will win. I'm going to watch the game, though, filled with dread about how empty a loss would make me feel.
As for the Flyers, tonight they'll be playing just their third game since March 1st, which was the night UD clinched the A-10 regular season title with an emotional home win over VCU. Since then, the air seemed to come out of their balloon, with the Flyers entering the tournament on the heels of back-to-back losses. I expect UD to play well tonight as well, even though I recall all-too-vividly how flat they looked in their first round loss a year ago to Syracuse. With most people picking Wichita State to beat them, I expect them to play with chips on the shoulder, and with the team's heart and soul lying within its group of seniors, I believe they'll play with urgency tonight as well.
I just think, unfortunately, that the Shockers pose too many problems, and while the Flyers don't do that many things poorly, I fear that they don't do nearly enough things exceedingly well enough to win a game like this one.
3) Indiana fires Tom Crean, starts the search for the next head coach its fans will hate. Strong news dump by Indiana University yesterday, dropping the bomb that Tom Crean is out mere minutes after the NCAA Tournament had tipped off. Nice work, IU.
I'm not sure what felt more inevitable, Crean being let go, or the names of Chris Mack, Mick Cronin, and Archie Miller being mentioned as his possible replacement.
Indiana basketball is weird. The program has rabid, almost unmatched support. It's possibly still the best gig in the Big Ten, and one of the better jobs in all of college hoops. There's amazing history and tradition. And Hoosiers fans are celebrating the demise of a coach who took over the program in the worst possible circumstances and guided the Hooisers to three Sweet Sixteen appearances and two Big Ten titles. They often view the program through the same lens it was viewed through in the mid-70s, and there's still a vocal contingent of (old) fans who worship a despicable, bitter old man, who last coached in Bloomington 17 years ago.
(Even worse, people in the media can't stop talking about, analyzing, and interviewing Bob Knight. Bob Knight wasn't fascinating when he was relevant. He surely isn't remotely interesting now that he's - thankfully - no longer coaching.)
I wasn't a huge Tom Crean guy. In fact, I don't know any college basketball fans who really like Tom Crean. But whoever replaces him, is that guy going to get a chance to coach away from the shadow of 1987? And can the next guy really achieve drastically better results than Crean did?
Radio Show: None today. I took the day off, and any show we would have is being bumped for the Louisville broadcast. It's St. Patty's Day and it's the Friday of the tournament. You wouldn't be listening if I was on.
Follow me on Twitter @MoEgger1530.

Mo Egger
Mo Egger delivers his unique take on sports on Cincinnati's ESPN 1530!
Read more