Merely Good Wasn't Good Enough Against UCLA, But I'm Still Bullish On The Bearcats.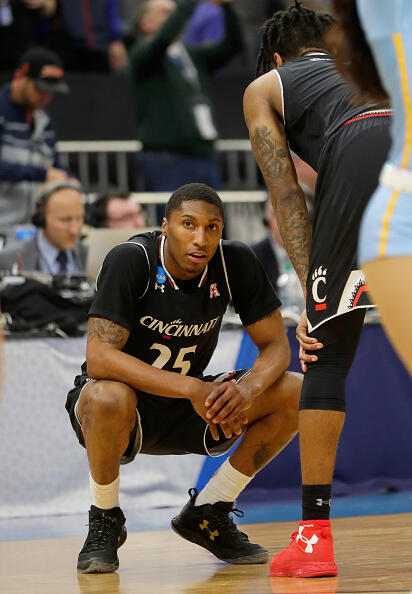 Last night, the UC Bearcats played well enough to beat most college basketball teams. They were probably good enough to beat the majority of teams who made the NCAA Tournament. Hell, they probably played well enough to beat some of the teams that will be playing next weekend.
They were not good enough, actually, they were not perfect enough, to beat UCLA.
Not that the Bearcats didn't make the Bruins uncomfortable. Only eight - mostly unforced - turnovers kept UC from owning a lead that was larger than the three point edge it held at the half. Cincinnati used a well-devised and executed gameplan, to outplay UCLA for the game's first 20 minutes.
Over the final 20 though, UCLA did the things that made the Bruins the best offensive team in college basketball, at times doing the same things that made them so entertaining to watch all season. You know, unless your team is the one on the receiving end.
The Bearcats were complicit in their demise, for sure. A handful of offensive possessions went awry with the game hanging in the balance, and as things started to slide downhill, shot selection became an issue. But I'm really not sure that Mick Cronin's team could've done much to stop the onslaught from a team that, in the second half, looked every bit of a national title team. The Bruins can shoot, they're stunningly lethal in the open court, they have a transcendent talent at point guard, and when they take care of the ball and play at least a little defense, a less-talented team that has designs on beating them has to play to perfection.
The worst thing you can say about UC's performance last night is that a good team picked a bad night to not play a perfect game.
So what do we do now? Go through another round of complaining about UC's matchup, their seed, and the locale? No thanks. Allow one loss to an exceptionally talented team undo four months of good feelings about an incredibly fun, often satisfying, and at times, exceptional season? Nah.
Step back and reflect on a really fun ride that ended a little too prematurely? Yeah. Look ahead to what's next? Definitely.
The Bearcats went 30-6, a fantastic record by any measurement. They played some of the best, and most entertaining ball of the Mick Cronin era. They were ranked nationally for nearly the entire season. They earned some overdue national attention, and they energized fans locally. I wish they would've won a regular season or conference tournament title, and I badly wish I was spending my early Monday morning looking for a cheap hotel room for this weekend in Memphis, but - and you might crucify me for saying this - I liked this team and this season too much to dwell on what they didn't do and what didn't happen.
And I'm too bullish on the program right now to take one loss against a vastly superior team and use it to change how I feel about the state of the program.
It's a good time to be a UC basketball fan. The best Bearcat on the court against the Bruins was a freshman whose potential seems limitless. Jarron Cumberland will be joined next season by two guys who should be All-AAC preseason first-teamers in Jacob Evans and Gary Clark. Kyle Washington will be back, and by the fall, maybe he'll have added to his offensive repertoire and perhaps he'll have a senior's sense of what does and doesn't constitute a good shot. They had bench players this season who showed glimpses of being able to help more down the road. While I'll miss Troy Caupain and Kevin Johnson and while I appreciate their respective UC careers, I'm excited to watch Cane Broome run - key word: run - the offense. And people who follow wooing of high school and AAU players closely say enough nice things about both next year's incoming players and the work being done in recruiting that it feels like there's a lot of hope in terms of who will be carrying the program forward.
A part of the core of an exceptionally likable, 30-win team is intact. There's seemingly good recruiting momentum. A renovated arena is closer than ever to reality. The program is an NCAA Tournament mainstay. The UC brand under Mick Cronin, despite the league the Bearcats are stuck in, is as relevant nationally as its been in a while.
I know what's being said in some corners of the fan base, and I share some of the same frustrations being expressed. Like most UC fans, I spent the winter hoping the Bearcats could play a week or two into spring. I can relate to how helpless it feels to watch a team regarded as the program's best in a long time get bounced relatively early. I understand some of the obstacles UC basketball has to overcome in terms of scheduling and quality of conference to improve their chances of getting better seeds, more favorable matchups, and shorter plane rides. I do get that a huge part of what defines college basketball programs is how often they win in March, and I know that we use a team's success or failure in the NCAA Tournament to either validate or take back everything we said about it for months. Some will say that this team's inability to make it past the first weekend of the tournament speaks to how limited its potential really is.
I say, let's take the program as its currently trending, the team as its currently constructed, and take our chances a year from now. Maybe then, something short of achieving perfection will suffice.

Mo Egger
Mo Egger delivers his unique take on sports on Cincinnati's ESPN 1530!
Read more