Three Things: The Feel-Good Muskies, What The Reds Should Steal From The Cardinals, And Nice Work, Rog.
Every day there are three things, none worth devoting an individual post to, but each worth at least mentioning.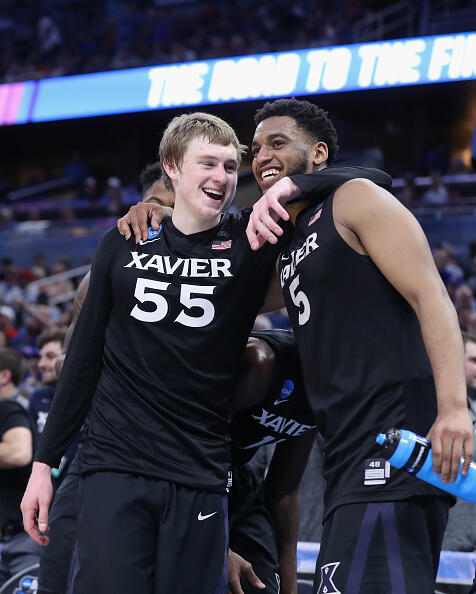 (Photo: Getty Images)
1) The Musketeers. In a year without many huge upsets, and no team that would hold up as a Cinderella in the traditional sense, the Xavier Musketeers have authored the non-plane crash category feel-good story of the 2017 NCAA Tournament.
It continues tonight against Arizona in San Jose.
There are better teams still playing, and higher-profile players and coaches doing still doing their thing. There's LaVar Ball. Lots and lots of LaVar Ball. There's Kentucky and North Carolina each on a quest for another title. There's Bob Huggins sudden face turn. There's Sean Miller and Mark Few looking for elusive Final Four berths. And there still lots and lots of LaVar Ball.
And there's the Muskies. Still playing without their best player. Thriving while being short-handed, getting incredible performances from Trevon Bluiett and from-out-of-nowhere performances from Sean O'Mara and Kaiser Gates. A team has coalesced at just the right time, and in Quentin Goodin, we're seeing a player grow up during college basketball's signature event.
There's a likable coach who kept his team from completely imploding when things were at their bleakest, and man, where they bleak. Six straight losses toward the end of the season. A long stay on the bubble. The pressure of a couple of March must-wins. The agony of being the last school called on Selection Sunday.
If the Musketeers were once a good bet to not even make the NCAA Tournament, then they were a better bet not to advance. But they didn't just advance to the Sweet 16, they stormed to it, running away from a gassed Maryland team in the second half, then overwhelming an enigmatic Florida State squad to bust through to the tournament's second weekend for what might be XU's most surprising and most endearing trip to the Sweet 16 yet.
For the story to continue, the Muskies will have to be even better than they have been, tonight. They'll play an Arizona team that has five starters who can score. They have a seven-footer who can make plays from the wing. They showed their defensive capabilities down the stretch of their win over St. Mary's. They're every bit of a national title contender, an imposing threat to end Xavier's run, and undeniably, and the odds are clearly in favor of the Wildcats.
But given that fact that three weeks ago, the thought of Xavier still playing this deep into March seemed impossible to even imagine, Xavier's run this year will still wind up being one of the better stories of this year's tournament, regardless of how and when it ends.
2) The Reds should do this. If you're like me, and go to a lot of Reds games, preferring standing to sitting, then you want this to make its way to Cincinnati....
The Cardinals on Wednesday announced a new Cardinals Ballpark Pass, a ticket subscription service that gives fans the opportunity to attend as many home games as they want each month, in standing room, for a monthly fee of $29.99.
On sale now at cardinals.com/pass, the Cardinals Ballpark Pass covers all home games — except opening day — and will be utilized in conjunction with the MLB.com Ballpark mobile app.
On each game date, Cardinals Ballpark Pass subscribers will receive a standing room ticket delivered digitally to their smartphones through the Ballpark app.
So basically $180 for access to 80 home games, compared to what I pay now to attend roughly half as many? Yeah, I'm definitely in. Make it happen.
3) Give Goodell credit. I like to beat up on the NFL commissioner, because, being the boob he is, he's such an easy target. But he outlined some things that I'm a fan of...
....next week clubs will vote on a change to centralize replay reviews. Instead of a fixed sideline monitor, we will bring a tablet to the Referee who can review the play in consultation with our officiating headquarters in New York, which has the final decision. This should improve consistency and accuracy of decisions and help speed up the process.
Regarding game timing, we're going to institute a play clock following the extra point when television does not take a break, and we're considering instituting a play clock after a touchdown. We're also going to standardize the starting of the clock after a runner goes out-of-bounds, and standardize halftime lengths in all games, so we return to the action as quickly as possible. Those are just a few of the elements we are working on to improve the pace of our game.
Together with our broadcast partners, we will be working to meaningfully reduce down time and the frequency of commercial breaks in our game. We will also be giving our broadcast partners increased flexibility to avoid untimely breaks in the action. For example, we know how annoying it is when we come back from a commercial break, kick off, and then cut to a commercial again. I hate that too. Our goal is to eliminate it.
We also know that you feel there are too many elements in the broadcast that aren't relevant to the play on the field. With our partners, we will be looking to instead focus on content that is most complementary and compelling to you–whether that is analysis, highlights or stories about our players.
All of these changes are meant to give you more of what you want: a competitive game with fewer interruptions and distractions from the action.
How much of this gets implemented? Who knows? Will all of this put together solve some of the choppiness that has intruded its way into NFL games? Don't know. I do know that, for once, the guy running the NFL isn't coming off as tone-deaf.
Radio Show: FC Cincinnati's Alan Koch at 3:33, Jim Owczarski on the Bengals at 4:20, Byron Larkin from San Jose at 5:20. Full show today, starting at 3:05 on ESPN1530.
Follow me on Twitter @MoEgger1530.

Mo Egger
Mo Egger delivers his unique take on sports on Cincinnati's ESPN 1530!
Read more