Three Things: The Baseball Season Is Now Underway, Richard Sherman, And Boring NFL Announcers.
Every day there are three things, none worth devoting an individual post to, but each worth at least mentioning.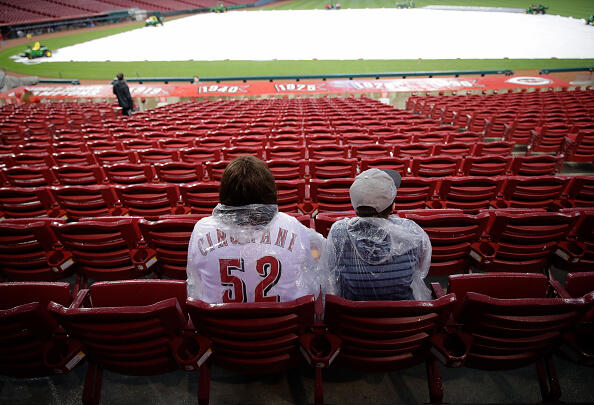 (Photo: Getty Images)
1) The baseball season has begun. I love Opening Day, in part because being from here, I'm supposed to love Opening Day, and in part because, well, I love parties, I love tradition, and mainly, I like getting off work at 3:00 instead of 6:00.
But what follows the Opener is....a day off.
What comes the day after game two? Game three.
What makes baseball unique compared to the other sports is what I love most about it: It's every day, or damn near close. The season has a rhythm: slow, but steady. Usually, but not always, an off day during the week, a couple of night games, an afternoon tilt on getaway day, then a game every day of the weekend. Beginning last night, weather permitting, the Reds will play on 88 of 95 days, giving an endless stream of news, storylines, mini-controversies, second-guessing, and maybe if the rest of the starters can channel what Brandon Finnegan brought last night, a few more victories than expected.
2) Richard Sherman. The Seattle Seahawks have acknowledged that they've discussed dealing their loud, provocative Pro Bowl corner. Maybe they will. Maybe he'll end up in New England, although I'll guess that their "interest" in Sherman will wane if Malcolm Butler returns. Maybe he'll be in Seattle this coming season. I'd guess that's the case.
But isn't it interesting? The Seahawks have determined that one of the better corners in the league, a guy who's been a huge part of their success, a guy who's been art of their emotional core, and who still does a lot of things very, very, well at the age of 29, is maybe disposable.
Meanwhile the Bengals have a 33 year-old who's coming off - for him - a down season, whose behavior has potentially compromised his availability, and whom they've planned to replace for a while now, and it's as if he's apparently indispensable.
3) See ya, Simms. In lieu of waxing poetic about The Masters, an event that at one time I couldn't stand and now badly want to attend, as well as my pick of Paul Casey in a pool I'm in, let's talk about NFL announcers.
I didn't hate the Nantz/Simms team on CBS as much as some, mainly because I find most game analysts to be, well, rather uninteresting. Part of it is that these guys are coached to talk to the segment of the audience that doesn't know as much as the person who consumes the sport the way diehards do. Part of it is that being uninteresting means being inoffensive, whether it be to the audience, advertisers, coaches, front office execs, and players. If a former quarterback really dove deep into, say, how a QB diagnoses what a defense is doing, it'd go over the head of most viewers. And if a guy armed with the kind of insight and info these analysts often have were truly allowed to speak their minds, there'd be someone who was butt-hurt about them every week.
Guys like Phil Simms aren't interesting because they're not allowed to be interesting.
Tony Romo, who's never come across as either interesting or exceptionally effervescent, is going to be different?
I doubt it.
Simms' work on Inside The NFL on Showtime is actually quite good. He's allowed to talk without the constraints that a game provides, and that show digs deeper into games, plays, and the minutiae of the sport more than any game broadcast allows for. Maybe he's better suited for studio work.
Although the people on network pregame shows are trained to be even more boring than the people who call games, so maybe not.
Radio Show: FC Cincinnati's Jeff Berding at 3:33, new Miami basketball coach Jack Owens at 4:33, Chad Brendel of Bearcat Journal on potentially a big commitment for UC football, and a recap of Reds/Phillies part 3...all today at 3:05 on ESPN1530
Follow me on Twitter @MoEgger1530.

Mo Egger
Mo Egger delivers his unique take on sports on Cincinnati's ESPN 1530!
Read more