Semi-Regular Reds Recap: Someone Forgot To Tell The Reds That They're Not Supposed To Be Good.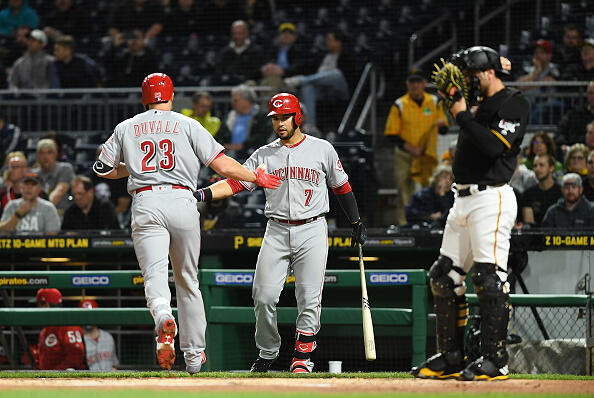 WHAT HAPPENED IN FIVE SENTENCES OR LESS
First it rained. Then the Reds took the lead, but then Pirates tied it. Reds took it again, but then Pirates tied it again. Reds took it once more, but this time the Pirates didn't tie it. Reds 6 Pirates 2
CREDITS
Adam Duvall. Has Adam Duvall ever hit a home run that was of the "it might be outta here, it is!" variety? It seems like his long balls are, well, long. That was certainly the case in the second inning, when he went deep well over the left field wall to give the men in grey a one-zip lead.
Eugenio Suarez. He took a high, outside pitch and banged hard it to right-center field to give the Reds a 2-1 lead. Later on, he's get another hit and score a run. He looks like a different, better hitter this year.
Billy Hamilton. Billy banged a single to center in the seventh that gave the Reds a 3-2 lead.
Scooter Gennett. His third home run as a Red broke the game open, and pulled Scooter to within 56 homers of 50th-place on the team's all-time home run list. His double in the seventh helped lead to a tiebreaking run. He also had a single. He also dropped a ball at second base that would've ended the sixth inning, ultimately leading to another Pittsburgh tying run. But the three hits, three RBI, and two runs scored overshadow the fielding flub.
The bullpen. Five innings. One unearned run. I love how Bryan Price is using his relievers - more flexibility and urgency with Iglesias being asked to get a five-out save - and I love how his relievers are throwing. Raisel Iglesias - whose gold chain is probably worth more than my house - is the headliner, but I'm starting to think that Wandy Peralta is going to be a big part of whatever good comes of this season.
BLAMES
Joey Votto. He did make a sparkling play for the final out of the game, but he also went 0 for 5, and you know - you just know - there are people upset that the team's 6-2 start will drown out their Joey Votto takes.
Jose Peraza. Only because I have no idea what that throw was that helped the Buccos tie the game in the sixth.
Tucker Barnhart. Only because you've gotta make this tag.
MOMENT THAT MATTERED
The Reds were in danger of blowing a prime scoring chance in the seventh with the score tied. Gennett doubled, but Barnhart - for reasons that defy explanation - bunted, moving Gennett to third. Arismendy Alcantara - pinch-hitting for Drew Storen. After falling behind 0-2, Hamilton gave the Reds the lead for good, delivering a single to center, and handing the bullpen the kind of lead that this bullpen seems equipped to never give up.
NUMBERS THAT COUNTED
116. At-bats against Reds relievers this season.
17 Hits against Reds relievers this season.
OTHER HIGHLIGHTS
During the rain delay, I finished reading Smart Baseball by Keith Law of ESPN. If you're interested in being a smarter baseball fan - and it's totally okay if you're not - it's a worthwhile read.
HOT TAKE
Thom and Chris were talking on the TV broadcast about how proficient Eugenio Suarez has become at taking pitches and working deeper into counts. Coming into tonight, he was taking nearly a full pitch more per at-bat than Jose Peraza, which makes me wonder if it makes sense to use Eugenio in the two hole in an effort to give Hamilton more chances to run (The one-pitch Peraza at-bat with Hamilton on first in the seventh provides an example to back up the wondering). This is the kind of tinkering that's fun to talk about when the Reds are winning.
PHOTO/VIDEO EVIDENCE
This is a video of Scooter Gennett doing what Scooter Gennett does.

Mo Egger
Mo Egger delivers his unique take on sports on Cincinnati's ESPN 1530!
Read more