Three Things: The Reds Are Fun, Nine Is Fine, And I'm Cup Crazy.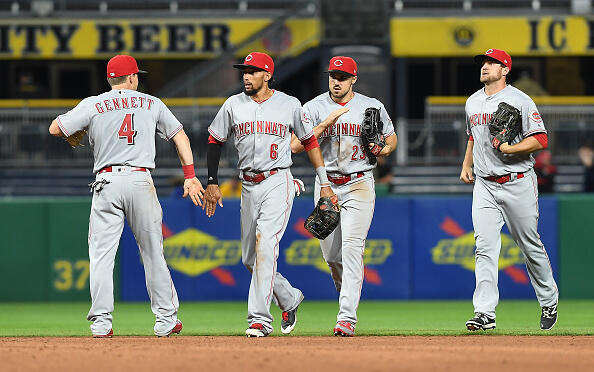 Every day there are three things, none worth devoting an individual post to, but each worth at least mentioning.
1) This is fun. I'm having fun. Are you having fun? The Reds are 6-2, they lead the league in run differential, they're playing good, complete baseball, and with last night's win in Pittsburgh, they've clinched their third straight series win to open the season.
Is this sustainable? Eh. Are there issues on the horizon? Perhaps, mainly with the lack of consistent length from the starters. Should we start making plans for mid-October? I'd hold off.
But regardless of how the hot start plays in the grand scheme, this is very refreshing and a lot of fun.
And some of it might be more sustainable than you think. Maybe Duvall and Suarez have advanced as offensive players. Perhaps Hamilton has progressed a little more as a hitter. Maybe the Gennett acquisition will end up being a coup. Mesoraco will return soon. Votto will hit like Votto. There's some damn good arms in the bullpen.
Or maybe this is all a mirage, and by the end of this month the Reds will be looking up at everybody in the division. Until they are, enjoy the view from the top.
Strong analysis there, huh?
2) Nine is fine. Some believe that the Browns are laying the groundwork for a trade down in this year's draft. From Pro Football Talk...
It started with a leak that running back Leonard Fournette is "in play" for the first overall pick in the draft. It continues with a leak that the Browns are torn between two other players: pass rusher Myles Garrett and quarterback Mitchell Trubisky.
The latest nugget comes from Adam Schefter of ESPN, who reported that Cleveland hasn't made up its mind between Garrett and Trubisky not long after tweeting that an unnamed NFL executive told him not to be surprised if Garrett isn't the top pick.
The game here is simple and clear: Cast a wide net as to what the Browns could do with the top pick so that if/when they trade down and take someone in a lower spot, they can claim that's the guy they would have taken at No. 1.
I take what I read and hear in the two or three weeks leading up to the draft with Andre Smith-sized grains of salt. The term "fake news," which is painfully overused, should've had it origins with NFL writers and not in the arena of politics. I'm sure the Browns are looking into trading down. I'm also pretty positive that they know who they'll take if they keep the top pick.
Some, ok, this guy, have wondered if it'd make sense for the Bengals to look into moving up to the top spot so they can take Myles Garrett, potentuall swapping AJ McCarron and the ninth pick in a deal with the Browns. And yes, if I ran the Bengals, I'd be exploring any and all possibilities.
But when I think of this scenario, I think of the TV I bought this weekend. It's a good TV, the best, biggest, and most technologically advanced one I've ever owned. It was, though, not even close to the most expensive TVs on the market, nor was it the absolute best. I got great value for what I spent, and I've got money left to spend on other things.
If you want to trade up, ostensibly to select Garrett, then you're clearly in the market for a defensive end with your first round pick. (I view pass rusher as the Bengals' biggest need, which I'm sure is important to them) Which is better, sending a quarterback to a division rival (in a deal that would surely involve other picks) in an effort to take the absolute best pass rusher in the draft, or holding on to AJ, taking a rusher who's grade is not as good as Garrett's, but still worthy of a high first round pick?
I'd rather get the guy who might not clearly be the best, but have my backup quarterback (who I do value) to either get other picks elsewhere, or dangle if and when another team becomes desperate.
3) I'm Cup Crazy. I told a coworker of mine before the hockey season that I was going all-in on the Columbus Blue Jackets, which might have been an exaggeration, but in part due to their incredible 16-game winning streak at the end of 2016, I got as into the Jackets as I've ever been. (And we had Torts on!)
They begin the Stanley Cup Playoffs tonight against Pittsburgh, and I'm pumped to have tickets to game three on Sunday. My aforementioned coworker - who's a huge Red Wings fan - assures me that the Jackets might be lucky to win a game.
I'll defer to his "expertise." I'll also tell you that if they advance a few rounds, I'm going to be as obnoxious as I'd be if the teams I'm more invested in were doing damage in the postseason.
Follow me on Twitter @MoEgger1530.

Mo Egger
Mo Egger delivers his unique take on sports on Cincinnati's ESPN 1530!
Read more