Three Things: Reds Looking For Length, Jackets Looking For A Win, And Look At Those Numbers From Saturday Night.
Every day there are three things, none worth devoting an individual post to, but each worth at least mentioning.
1) The Reds. I loom forward to seeing highlights from this weekend's Reds/Brewers series when Eric Thames gets his moment in Cooperstown.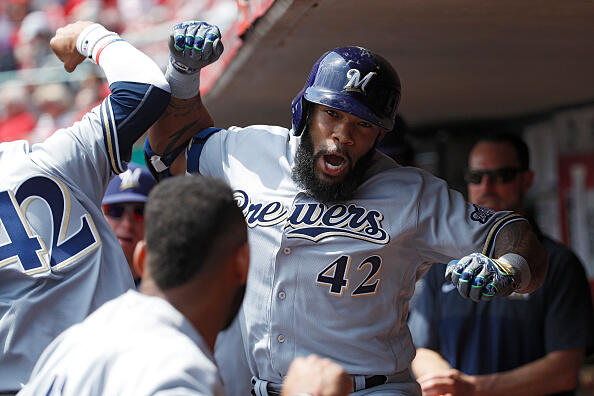 (Photo: Getty Images)
The Reds are still in first place, even after losing three of four to the Brewers. Even though they've cooled off, they've still be a fun feel-good story, and I do believe that their future is bright.
But the start isn't sustainable, not if they can't consistently getting length from their starters (yes, I'm stating the obvious). They're getting a league-worst 4.5 innings per start, more than a full inning below the league average. There's lots of reasons for this - injury, lack of experience (13 games in, three pitchers have made their big league debut), and veterans not holding up their end of the deal. The bullpen has been fantastic - and I continue to love the way Bryan Price is using his relievers - but the hot start can't turn into something more substantial until the starters start going deeper.
2) FC Cincinnati. 23,144 and 4. The first number represents the attendance figure for Saturday night's FCC match against St. Louis FC. It wasn't just a gathering of more than 23,000 people - it was a vibrant, loud, at times raucous collection of fans that made for a spectacular setting and a great atmosphere on a beautiful Saturday night.
The second number represents the number of goals scored by Djiby Fall against St. Louis, the best solo performance I've seen in my brief run as a soccer fan.
3) Jackets down 0-3. Speaking of raucous atmospheres, I went to game three in Columbus last night, saw the Blue Jackets and Penguins combine to score four goals in the first six minutes and ten seconds, watched as Pittsburgh tied it on a goal that they shouldn't have been allowed to score, saw the two teams exchange goals in the third period, and finally, got some free hockey before the Penguins won it in overtime, 5-4.
I also saw the play that made Columbus' Zach Werenski end up looking like this...
My three main thoughts are
A) I badly wish we had an NBA or NHL team.
B) The NHL's playoff format is dumb.
C) After they had such a fantastic regular season, it's going to suck if the Jackets exit the playoffs without winning a game.
Radio Show: Lots to get to today....plenty of Reds and Bengals, including a draft expert from Pro Football Focus, some FC Cincinnati, and ties in baseball???
Yes, ties in baseball. We'll talk about a lot today. Hope you join me on ESPN1530.
Follow me on Twitter @MoEgger1530.

Mo Egger
Mo Egger delivers his unique take on sports on Cincinnati's ESPN 1530!
Read more