Semi-Regular Reds Recap: Move Over, Boom-Boom Beck.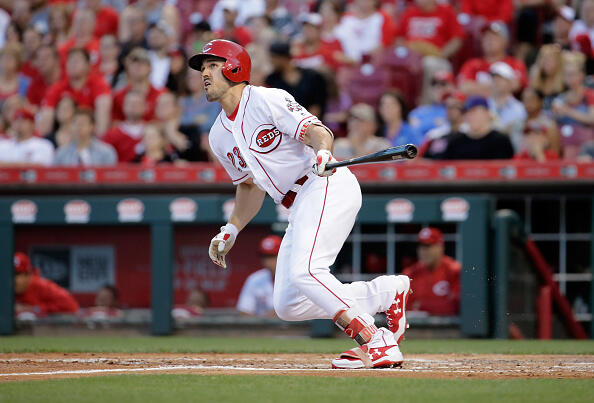 (Photo: Getty Images)
WHAT HAPPENED IN FIVE SENTENCES OR LESS
The Reds scored a crap-ton of runs early, handing Bronson Arroyo a sizable lead. Bronson and the bullpen did the rest as the Reds cruised. Reds 9 Orioles 3
CREDITS
Bronson Arroyo. His final line - five innings/three runs might now jump out of the box score (of course, I'm probably the only one who still reads box scores), but there were a few flashes of the old Bronson, especially when he struck out Manny Machado in the third, then Mark Trumbo in the fourth before retiring Jonathan Schoop and JJ Hardy on softly-hit balls to end the inning. A team badly in need of some length from its starters probably could've used another inning from Bronson, and he did have a nice cushion to work with, but he was much more good than he was bad, and while pitcher wins and losses are mostly dumb stats, this is kinda cool...
OK, you want to know what's up with why Boom-Boom Beck's nickname was "Boom-Boom." I'll do the searching for you...
His nickname, Boom-Boom, was earned while pitching at Baker Bowl against the Phillies in 1934. He allowed numerous line drives that struck the outfield wall, each time making a booming sound. Manager Casey Stengel sought to remove Beck from the game. Frustrated with his performance and for being removed, Beck threw the baseball at the outfield wall, where it hit and made another booming sound. The noisy incident would become attributable to the pitcher and serve as his nickname.
Thanks, Wikipedia!
Adam Duvall. His strong start continues. He had two hits, a sacrifice fly, five RBI, and his first career grand slam that gave Arroyo the aforementioned cushion....
The top three in the order. Hamilton, Peraza, and Votto combined for five hits, two walks, eight runs, two runs driven in, and a stolen base. Votto went yard for the fourth time this season, and he's starting to look like the Joey Votto most of us know and love.
The bullpen. Four innings. No runs. Yes, Bryan Price is handling his 'pen well, but the guys he's working with - and asking a lot from - are doing the job. Against Baltimore, Drew Storen was especially effective. From the Reds, here's the list of pitchers who've recorded three strikeouts in one inning on nine pitches...
Hod Eller, 8/21/1917 at New York (9th inning);
Rob Dibble, 6/4/1989 vs San Diego (8th inning)
Carlos Contreras, 7/11/2014 vs Pittsburgh (7th inning)
And now...
Drew Storen, 4/18/2017 vs Baltimore (9th inning)
BLAMES
Scott Schebler. He went hitless in five at-bats with three strikeouts. He's provided some pop, and he's a nice guy, but the production hasn't really been there, he whiffs a lot, and there is this Jesse Winker guy....
MOMENT THAT MATTERED
With the bases loaded and one out in the second, with the Reds up a run, Adam Duvall came to the plate in a situation that felt like it'd determine the way the rest of the night would go. He delivered with a grand slam that made the score 6-1 and sent my attention to something like 12 different sporting events that weren't quite as lopsided.
NUMBERS THAT COUNT
2. That's how many current Reds were playing with Bronson Arroyo when he recorded his last victory in a Cincinnati uniform. You won't have to think that hard to guess who they were.
OTHER HIGHLIGHTS
There was a moment during the TV broadcast when, I believe, Thom told Jeff to try acupuncture. It was during the time when Jackets/Penguins and Bucks/Raptors were reaching their crescendo, so maybe I heard wrong. Did I?
HOT TAKE
This starting eight ain't bad.
PHOTOGRAPHIC EVIDENCE
The woman next to where Votto's home run landed is NOT happy.

Mo Egger
Mo Egger delivers his unique take on sports on Cincinnati's ESPN 1530!
Read more