Semi-Regular Reds Recap: Two Runs > Two Hits.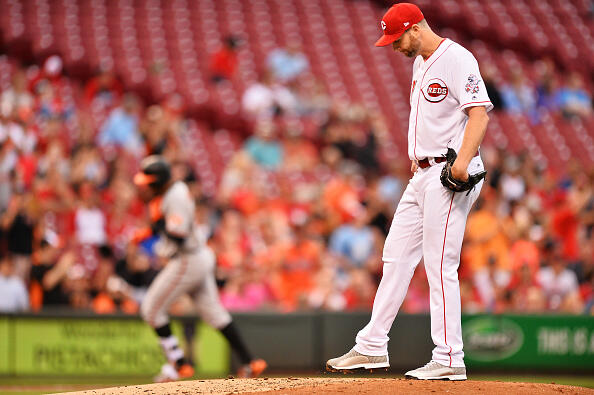 (Photo: Getty Images)
WHAT HAPPENED IN FIVE SENTENCES OR LESS
The Reds gave up just two runs, which is good. They also had just two hits, which is bad. Orioles 2 Reds 1.
CREDITS
Scott Feldman. After his Opening Day start/disaster, we were all laughing at this guy. Three starts later, he looks like he might be more solution than problem. Against Baltimore, he was fantastic, throwing much-needed innings, giving up four hits, and looking the part of a guy this team can count on for innings - many of them good innings - this season.
Raisel Iglesias. His two innings were a ridiculous display of both effectiveness and dominance, throwing two innings and striking out five.
Joey Votto. His fourth inning home run was his fifth, which seems like a lot - even for a guy of Votto's considerable talents - 16 games into a season. He's on a pace for close to 50, which some will still say isn't enough. He was also on the receiving end of this really nice play by Jose Peraza.
BLAMES
Blake Wood. If Blake hadn't given up a run in the tenth, chances are that I'd still be at the ballpark instead of doing a Reds recap blog that only a handful of people will read.
MOMENT THAT MATTERED
With first base open, two outs, and a guy on second in the top of the tenth, Bryan Price could've elected to give JJ Hardy one of those 2017-style free passes to first base, instead opting to pitch to lifetime .211 hitter Caleb Joseph. Price instead opted to have Wood pitch to Hardy, who drove home the go-ahead run, and sent most of the 83 people who remained at GABP for the exits.
NUMBERS THAT COUNT
4. That's how many runs the Reds have given up over their last two games.
4. That's how many hits the Reds have accumulated over their last two games.
OTHER HIGHLIGHTS
This game had some weirdness to hit. The O's gave up outs at third base in consecutive innings, they tried to have two guys on first base in the fourth, and there was a play where Joey Votto grounded out but didn't realize it.
HOT TAKE
Forget losing two of three...the fact that the Reds held a good offensive Baltimore team in check to the tune of seven runs in 28 innings is the biggest thing that happened in this series. The starters were strong, and the bullpen was spectacular. Minus Blake Wood in the tenth inning, of course.
PHOTOGRAPHIC EVIDENCE
Handlebar, man.

Mo Egger
Mo Egger delivers his unique take on sports on Cincinnati's ESPN 1530!
Read more