Semi-Regular Reds Recap: Hernan Perez, Eric Thames. Rinse, Repeat. Reds Lose.
Here's Eric Thames' Korean home run song. It beats anything you'll read below it about another loss to the Brewers.
BLAMES
Scott Feldman. Scott is in this team's rotation for one reason: to pitch reasonably deep into games on a pretty consistent basis. He's now made five starts. He's pitched past the fifth twice and into the seventh once. That ain't gonna cut it.'
Robert Stephenson. Bob came into the game and turned a steep deficit into an insurmountable one. He gave up five hits, five runs, two homers, and he walked a guy in just 24 pitches. At least he was efficient.
Billy Hamilton. Four plate appearances, four strikeouts. I love Billy, and it is early, but he's getting on base at a .267 rate. He's not necessarily striking out more often, nor is he hitting fly balls at a drastically higher rate than in year's past, but he's not showing the kind of advancement as a hitter we'd hoped for. Usually more than reliable as a defender, he misplayed a ball in center too.
CREDITS
Adam Duvall. He missed a golden opportunity to put the Reds on the board in the third, and he's now just 6 for his last 46, but he did hit a home run in the eighth, saving his team from being shutout, which is nice.
Zack Cozart. He had two more hits, including a double, and a walk. For some reason, he's still hitting seventh.
MOMENT THAT MATTERED
The Reds put two on in the second, including a guy on third base, but did not score. Same in the fourth. The missed opportunity in the third, however, was most maddening. With runners on first and third and two out, Adam Duvall came to the plate with a chance to do something big. Instead, he flew out to center.
NUMBERS THAT COUNT
12. Number of times in the season's first 21 games that a Reds starting pitcher has been gone before the sixth.
OTHER HIGHLIGHTS
Thom asking Chris if he likes driving elicited a chuckle from me during an otherwise miserable game that sent my undivided attention to Westbrook v. Harden quite quickly.
HOT TAKE
I usually hate this kind of stuff, but why not, um, throw something high, hard, and in against that Thames fellow, eh?
Also, three-inning saves in eight-run games are dumb.
PHOTOGRAPHIC EVIDENCE
Little leaguer or big leaguer?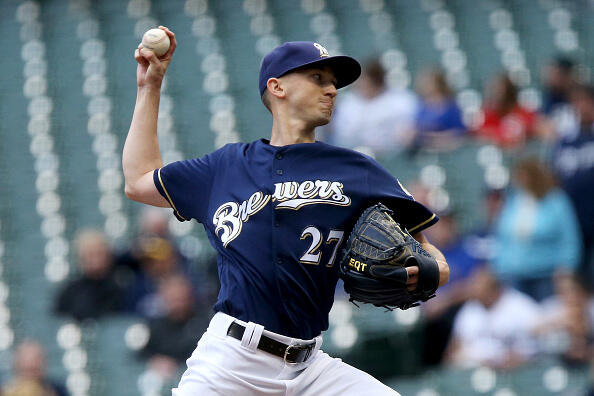 (Photos: Getty Images)

Mo Egger
Mo Egger delivers his unique take on sports on Cincinnati's ESPN 1530!
Read more