Bengals Links: Here's What People Are Saying About The John Ross Pick.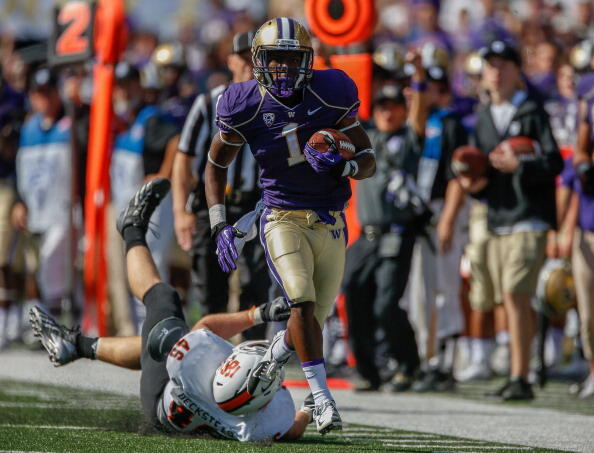 (Photo: Getty Images)
Here's a sampling of the reaction to the Bengals taking John Ross in the first round of the draft. Some gave grades, others did not. Most of the reaction was favorable, including mine....
Mel Kiper, ESPN.com....
The Bengals' offense didn't look the same after losing Mohamed Sanu and Marvin Jones in free agency last year, and I had receiver as my top need for Cincinnati. But No. 9 is a little rich for speedster John Ross, who has a history of injuries. He had shoulder surgery in March and missed the 2015 season with a torn ACL.
Todd McShay, ESPN.com...
Ross is the best big-play threat in this draft. His 4.22 speed shows up all over the tape, but I'm a little surprised he came off the board this high -- and that Cincinnati was the team to select him. We had him as the No. 20 overall player, with durability questions keeping him from being ranked higher (he has had shoulder and knee issues). Yes, the Bengals needed to add depth to their WR corps, but after spending a second-rounder on Tyler Boyd last year, I was surprised to see them use another premium pick on a wide receiver.
Danny Kelly, The Ringer...
Ross broke the combine's 40-yard dash record when he ran it in 4.22 seconds, and that doesn't even accurately capture how fast he is on the field. Joining A.J. Green and Tyler Eifert in Cincinnati, he will be a home run threat down the field for Andy Dalton on every snap. And since the former Husky is going to see a steady dose of big cushions from cornerbacks, he should factor into the short and intermediate areas, too. With four kick-return touchdowns in college, he also has plenty of value in the return game.
Fit: A
Value: A
Andy Benoit, MMQB.SI.com....
You've probably heard that you can't coach speed. You also can't defend it when it's employed opposite A.J. Green. Defenses very well may keep two safeties back at all times, which would help fix running back Jeremy Hill's perplexing problems. The rest of Ross's game may well be more refined than what meets the eye. If it's not, at least he's joining a team whose receivers are some of the best-coached in football.
Chris Burke, SI.com...
What was viewed as an elite draft for defensive talent sees six offensive players off the board in the first nine picks. Go figure. As was the case with Davis at No. 5, Ross's health issues did not hold him back at all come Round 1. Heading into this draft, the Bengals needed to find help for A.J. Green, who was surrounded on the depth chart before Thursday by names like Brandon LaFell and Tyler Boyd. Ross is the explosive game-changer that was missing—the question is if he can stay on the field.
Grade: B+
Eric Edholm, Yahoo Sports...
Ross gets his wish to go to Cincinnati, saying he would love to join the Bengals after bonding with head coach Marvin Lewis during the pre-draft process. The Bengals now have a potentially lethal top four pass catchers with A.J. Green, Ross, Tyler Eifert and Tyler Boyd in the slot. This is a unit Ken Zampese can work with for sure. Ross' medical reports freaked out some teams. Had he been cleared medically, this would not be a reach. Ross is a fantastic receiver in college. But two knee injuries and a shoulder concern, and the Bengals are rolling the dice — the same risk they took with Eifert, who has been in and out of the lineup but great when health.
Grade: B
Harry Lyles, SB Nation...
John Ross became a household name when he ran his 40-yard dash at the NFL Combine at a record speed of 4.22. He was already considered a top wide receiver prospect, but his lightning speed helped raise his stock immensely and the Cincinnati Bengals nabbed him with the No. 9 overall pick in the 2017 NFL Draft.
The former Washington Huskies receiver brings more to the table than just straightaway speed. He's able to quickly switch gears on defenders, and get out of tight spaces with an ease that is only found in video games. He's not the biggest receiver, but he's got everything else you could want in a deep threat.
The burner will certainly be welcome as a speed threat to go alongside A.J. Green.

Mo Egger
Mo Egger delivers his unique take on sports on Cincinnati's ESPN 1530!
Read more