The Bengals Just Got Good At Something.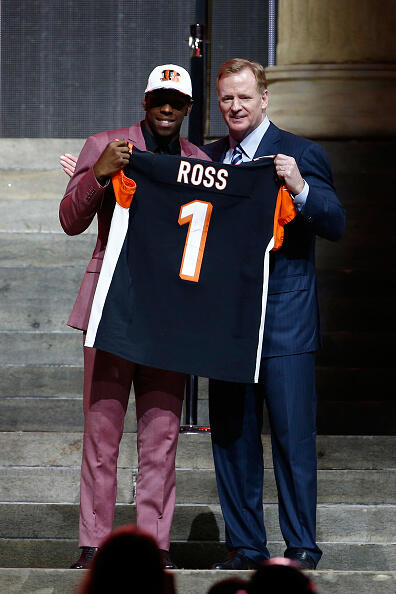 (Photo: Getty Images)
John Ross is a Bengal, which means of course that a whole bunch of other guys who could've been Bengals aren't. I don't know if they got the ninth pick right. Nor do you. Frankly, nor do they.
Here's what I do know...
I wouldn't want to try to gameplan against them.
With their first round selection this year, the Bengals added the fastest wide receiver in the draft to a group of pass-catchers that already included the elite AJ Green, the promising Tyler Boyd, the reliable Brandon LaFell, and the productive-when-healthy Tyler Eifert, and the elusive-when-healthy Giovani Bernard. John Ross brings a speed and playmaking dynamic that the Bengals couldn't get a year ago and that - even with the guys they had - lacked last season.
I texted with an evaluator whose opinion I trust a few minutes after the selection was made, asking for some real football-y jargon to describe what this guy does well...
"Runs effortlessly and can accelerate in a flash. He can plant and go without having to slow down. Good route-runner, good on double-moves and can really get past guys late. He's also pretty good at slowing down so he doesn't out-run his QB, which he'll have to do since your guy is noodle-armed."
The slap at Andy Dalton might not have been necessary (even if it was true), but the overall assessment of Ross is tantalizing, especially when you consider what kind of dynamic the Bengals just added to an offense that could use both an infusion of speed and a guy who can keep defenses from narrowing in on AJ Green.
There are concerns, of course. He's not big. He might not win many contested catches. Physical corners will try to bump him. He's had knee problems.
I'll assume that he's checked out medically, and ask if you can run the fastest-ever time in the 40-yard dash if you have bad knees. I'll hope that he can put on just enough weight that doesn't compromise his speed, and I'll counter the concerns about his lack of physicality by wondering how much more creative his presence has made the Bengals' playcalling.
Having a speedy receiver doesn't just mean that you send him long on streak routes. It means creating mismatches, putting him in space, and throwing things like quick slants, hitches, and screens that allow him to take advantage of his athleticism. Ken Zampese was crushed by a lot of us - and justifiably so - for his lack of imagination in calling plays and designing the offense. If armed with a nice collection of other weapons he can't get creative with John Ross, then the Bengals have problems that go way beyond their personnel.
The personnel that makes up their pass-targets, though, might have limitless potential. AJ Green doing AJ Green things. The two Tylers handling the seams. Bernard in the flat. Brandon LaFell being happy with table scraps. And John Ross crushing it over the top and making people miss one-on-one.
I'm salivating.
I know that there are other players they could've had that may have better filled holes, many of whom I would've been perfectly happy with the Bengals taking. Some of those individuals fell far enough in the draft that I can't help but wonder if using the ninth pick on them would've made sense, and some those other positions can be addressed with deep classes of prospects. (There will be quality defensive ends and running backs whose names get called on day two.) And while this team does have a lot of different areas that they need to bolster, I don't think this team has moved too far beyond the "gotta surround Andy with as many weapons as possible" theme that we hammered home for years, and if the goal one year ago was to find one of the best playmakers in the draft, is there really folly in doing so, but just a year later?
With one move, the Bengals may at least have one of the better groups at one position and they may have just added a dimension to their offense that could give them one of the more diverse and dynamic passing attacks in the NFL. They have a lot to do this weekend in order to field a good team again, but by drafting John Ross, both my hope and my belief is that they're now at least good at being tough to prepare for.

Mo Egger
Mo Egger delivers his unique take on sports on Cincinnati's ESPN 1530!
Read more