Three Things: What To Do With Devin. What One Manager Should've Done.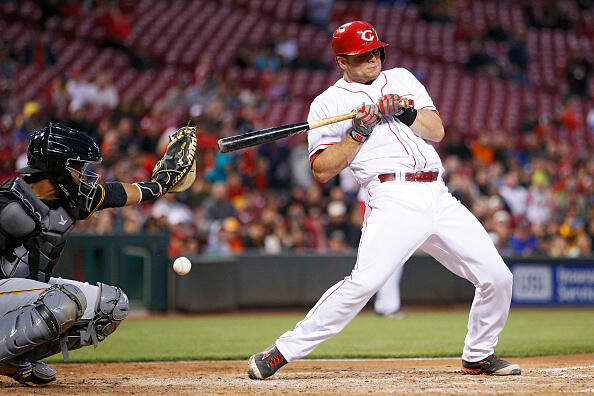 (Photo: Getty Images)
Every day there are three things, none worth devoting an individual post to, but each worth at least mentioning.
1) Devin Mesoraco. I touched on this a little bit in the lame recap of last night's Reds win over the Pirates, but the highlight of the win for me was Devin touching 'em all for the first time in more than two and a half years.
Know what's hard to believe? That because of injury, Devin has played only two whole seasons with the Reds- 2013 and his All-Star season of 2014. Know what's also hard to believe? That around this time next year, Devin will be closing in on his 30th birthday.
He'll also be closing on free agency.
He's been robbed of two years of his prime - one that could've seen him ascend to being baseball's best catcher - and the Reds have been a robbed of a guy that they identified as one of the pieces the rebuild would revolve around.
Now, we're simply hoping he can offer up a reasonable resemblance from the player of three years ago.
Soon, the Reds will have to figure out what to do with a 30 year-old catcher that has a significant injury history, a decision that will be shaped by - among other things - the progress for former first round pick Tyler Stephenson, Devin's ability and/or willingness to play at least a little bit elsewhere, what he's going to cost, and obviously, how productive and healthy he is over these next two years.
I'm probably getting a little too far ahead of myself - one homer and a few games behind the plate doesn't constitute Devin being "back," but I do wonder what the future holds for him.
2) Buck should've taken a page from Sparky. After Pete Rose fought with Bud Harrelson of the Mets in game three of the 1973 NLCS at Shea Stadium, Rose was pelted by fans in left field with beer bottles, batteries, and other things.
In response, Sparky Anderson took his team off the field, and the NL President Chub Feeney threatened the Mets with forfeiture if the behavior continued.
The other night in Baltimore, Adam Jones of the Orioles says that he was pelted with racial slurs, which has been confirmed by the Red Sox, and is apparently pretty common for black athletes who play at Fenway.
Yes, this happens in 2017.
What should've happened is that Jones' manager, Buck Showalter should've pulled a Sparky, yanking his team from the field, risking forfeiture, and sending a better, larger message.
3) LeBron. Last night, LeBron James played one of the more remarkably efficient games of his playoff career: a 39/6/4/3 effort in an otherwise ho-hum deconstruction of the Raptors.
The Cavaliers, for all of the concerns about their defense coming into the playoffs, have defended capably enough, and in the postseason, they've often been exceptional on offense. Last night, they continually made contested shots and blew out a Raptors team that's trying to adjust on the fly with the other two of the big three shooting not shooting well.
Cavs/Celtics in the eastern finals has some promise, mainly because any series that has Isaiah Thomas doing Isaiah Thomas things is worth watching, but LeBron is gonna play in his seventh straight NBA Finals, a streak that won't nearly get the run it deserves.
Recommended link of the day: Gift Ngoepe of the Pirates reflects on being the first African-born big leaguer, his debut, and his mom.
Radio Show: I've got two of them today. 3:00 - 6:00 on ESPN1530, then 6:00 - 9:00 on 700WLW. AJ Green is with me at 3:20. ESPN's Keith Law joins me at 7:20. I demand that you listen to all six hours.
Win: A new lawn mower from Baxla Tractor and lawn tickets to every show at Riverbend.
Follow me on Twitter @MoEgger1530.

Mo Egger
Mo Egger delivers his unique take on sports on Cincinnati's ESPN 1530!
Read more