Three Things: Give It Up To The Reds, Mike Brown, And Lavar Ball.
Every day there are three things, none worth devoting an individual post to, but each worth at least mentioning.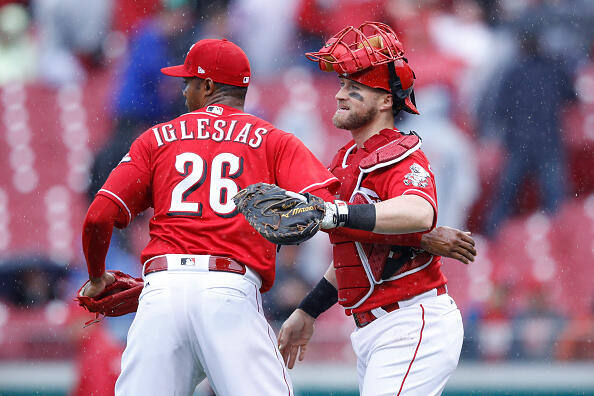 (Photo: Getty Images)
1) The Reds are a .500 team. Read that sentence with an enthusiastic inflection, because it's slightly remarkable that we're heading into the first weekend of May with the Reds owning just as many wins as losses.
Amir Garrett aside, the starting pitching has been shaky, and no manager has had to turn to his bullpen as consistently early as Bryan Price, and yet this club has survived the first month-plus without getting many quality starts, and with Brandon Finnega, Anthony DeSclafani, and Homer Bailey combining for ten innings.
While Billy Hamilton has had his moments - two of them this week - they haven't exactly gotten the advanced bats-man-ship from him so many of us were hoping to see, and they had to endure a slow first few weeks from Joey Votto, who as righted things to the tune of a 50+ homer pace.
Actually, more things have gone right than wrong. Duvall's proving that last year's power numbers were no fluke. Suarez is a more patient hitter, who consistently hits the ball hard. Schebler has at least provided some pop. And Cozart has hit at a rate that he can't possibly sustain, but seems to have also made strides as a hitter.
Mainly, they've been fun to watch. That sentence has been overused here in the early going, but there has been something refreshing about watching this bunch of Reds - despite their deficiencies - scrap their way through the first few weeks. And most importantly, despite the starting pitching issues, it feels like things are heading in the right direction.
2) Mike Brown addresses the Joe Mixon situation. He wrote a letter that was published on Cincinnati.com...
Take a look at it. Regardless of how you feel about Mike Brown, and independent of how you feel about the selection of Joe Mixon, the people who've gone out of their way to defend both what the Bengals did and - abhorrently - what Mixon did to Amelia Molitor - could learn a lesson from Mike.
There's no victim-shaming.
There's no reference to Mixon making a mistake.
There's no suggesting that the rest of us made horrible mistakes when we were 18.
There's no pointing the finger elsewhere.
There's no leaving open the possibility that, you know, is some instances, it's okay to strike a woman.
You might not like Mike Brown, which is fair. You might not like the fact that he allowed his team to draft Joe Mixon, and I'm with you. I do think his letter and his explanation is reasonable.
3) Lavar Ball and his $500 kicks. The internet had a field day with his newly-launched basketball shoe, which goes for $495.
Gee, I wonder where he got the idea that there are consumers who will pay ridiculous prices for crap.
A nation of people that will wait in line for hours to overpay for a phone that's basically the same as the one they just bought is mad at Lavar Ball for overpricing shoes.
Got it.
Recommended link of the day: The Unplugged Effect: How cord-cutting could become baseball's next huge crisis.
Radio Show: 3:05 ESPN1530 this afternoon, with a lot on the Reds and we'll talk about Mike Brown's letter. I think I'm gonna talk about "the woo" too. Late tonight, I'm on ESPN Radio, following Rockets/Spurs around midnight.
Win: A new lawn mower from Baxla Tractor and lawn tickets to every show at Riverbend.
Follow me on Twitter @MoEgger1530.

Mo Egger
Mo Egger delivers his unique take on sports on Cincinnati's ESPN 1530!
Read more