Three Things: Amir Garrett, Bengals Over/Under, And An NBA Collision Course.
Every day there are three things, none worth devoting an individual post to, but each worth at least mentioning.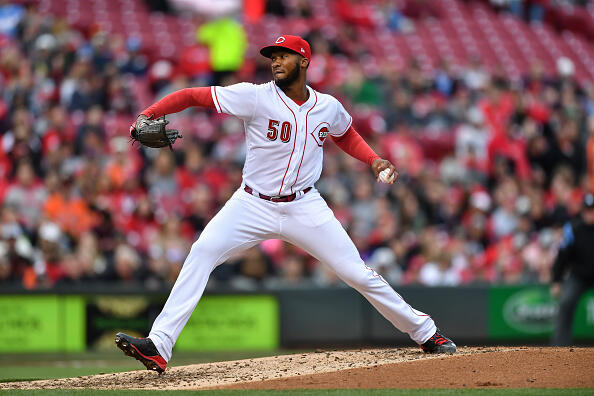 (Photo: Getty Images)
1) Amir Garrett. I heard this question about few times, when his (temporary) demotion to Louisville was announced yesterday...
BUT WHAT MESSAGE DOES IT SEND???????????
The correct answer is, of course, who cares?
The Reds shouldn't be in the business of allowing the messages to dictate their decision-making. They should be in the business of protecting their best assets and keeping them for as long as possible. If we're worried about a message, the one that was sent by shipping Amir down I-71 was that he's an important enough part of their future to protect and that a franchise that just a few years ago was throwing money around like a college girl with her new credit card has adopted a newer philosophy of fiscal responsibility.
A few weeks of Amir Garrett in Louisville could mean an extra year of Amir Garrett in Cincinnati.
That's a good thing.
2) 8.5. That's the current over/under for 2017 Bengals wins, released yesterday by Bovada. There's been a surge of optimism since the draft, and I believe the Bengals did improve with the picks they made.
But....to improve by four wins will mean that whole lot of players that have little to no NFL experience will have to make a significant impact. It'll mean that a shaky offensive line from a year ago improved despite losing its best two guys. It'll mean that John Ross and Joe Mixon are good enough to raise the caliber of the offense. And it'll mean that a defense that was slow and un-intimidating last season will possess opposite characteristics this season.
Individually, all of those things are do-able. Collectively? I don't know, man.
Heart says over. Head says under. Either way, this doesn't seem like a wager I'd want to make. What say you?
3) Cavs/Warriors Part Three. Golden State and Cleveland have both made their respective conference finals, with neither team losing a game through the first two rounds. The Dubs were machine-like against Portland and Utah, playing some of their most efficient ball of the past three seasons. The Cavs have won two postseason games on the strength of their bench while LeBron James is turning in some of his finest performances. (LeBron won't come close to winning the hardware, but there's no doubt that he's the most valuable player in the NBA) Nothing about either Golden State or Cleveland in the first two rounds would suggest that anything besides a third straight Finals isn't inevitable.
Which I'd like to see. Give me the best two teams, and what would be an historically significant championship series.
I just don't know how good it is for the NBA in this day and age that there's such a sense of inevitability about which teams will play for the title.
Recommended link of the day: Beauty and the Basketball.
Radio Show: It returns tomorrow, and continues through the remainder of the week. Tomorrow. 3:05. ESPN1530.
Win: A new lawn mower from Baxla Tractor and lawn tickets to every show at Riverbend.
Follow me on Twitter @MoEgger1530.

Mo Egger
Mo Egger delivers his unique take on sports on Cincinnati's ESPN 1530!
Read more