Three Things: A Reds Win, An Interesting NBA Playoff Game, And Joey Votto, Man.
Every day there are three things, none worth devoting an individual post to, but each worth at least mentioning.
1) The Reds. Nice bounceback win last night after falling behind early. Tim Adelman settled down, Bryan Price used his two best relievers across the final four innings, they put up a five-spot in the second against CC Sabathia, and with a 5-3 win over the Yankees, they wrapped up a nice 7-2 homestand.
Their starting eight is better than advertised. Their bullpen has been very effective. Their manager is doing absolute bang-up work.
Oh, and they have Joey Votto.
Just imagine what we'd be talking about if the starting pitching was consistently something better than adequate.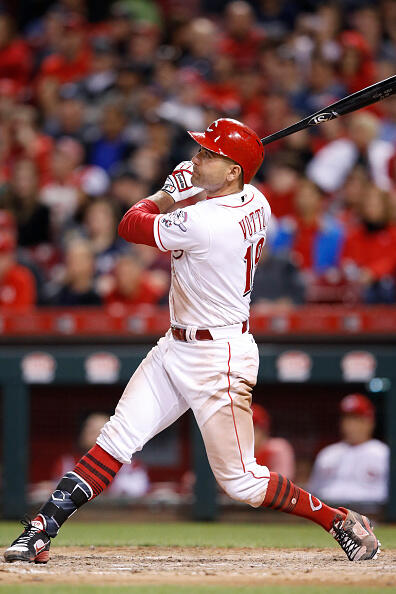 2) Joey Votto. 20 years from now, people in their 20s going to look back on the middle of this decade and ask a few different questions...
Why wasn't LeBron James the NBA MVP every season for about ten years? What was football? And why did we piss and moan about Joey Votto so much?
At 33, Joey is showing signs that 2017 might indeed be his best season, which is saying something.
With this year's sample size still being too small to really project what his final numbers will look like, he's on a 49 homer pace, is sitting with OPS and slugging percentages well above his career averages.
He's being more aggressive, but he's doing so in the strike zone. Votto is swinging at nearly 70 percent of pitches within the strike zone, up from his career average of 64%, and he's actually swinging less often at pitches outside the zone, waving at balls just under 18% of the time (He's not getting four pitches per intentional walk anymore, but he's only gotten two free passes so far this season), which is up from his career average of 24%. He's making contact more frequently on pitches inside the zone, and despite a slightly more aggressive approach, he's still drawing walks at a high enough rate to keep his on-base-percentage above .400.
I wrote a lengthy blog this winter about how I feel like Joey Votto will one day be a Hall of Famer. My case was based on three things....a changing of the electorate that values advanced metrics more than many of the old-timers, a seven-year stretch of Votto's prime where he compared favorably to many players who are already in Cooperstown, and the fact that his primary attributes - patience at the plate, studiousness, the ability to hit to all fields, etc. - should age well. His start to this season only bolsters my argument, especially because he's thriving in the traditional power areas (his pace will surely slow down) and he's not only showing no sign of slowing down in areas where he's traditionally thrived, but he's getting better.
We will see Joey in Cooperstown. Until then....
He's entering his mid-30s, and he's still in his prime. The Reds have obviously not capitalized on some of his best seasons, and only time will tell what kind of player Joey is when they're really, really ready to contend again.
Right now though, enjoy this guy and the way he plays, especially if you're the fan who spent years railing about what Joey Votto doesn't do and how much money he's being paid (he's one of baseball's best bargains, BTW). We might not get another one like him again.
3) Finally, an interesting NBA Playoff game. The Spurs and Rockets gave us something that the NBA Playoffs have been lacking: A good game. An interesting game. Game five in San Antonio had it all, particularly in the final ten minutes, including overtime. The Spurs surviving with their best player hobbling, and ultimately, banished to the bench. Shaky coaching by Houston. James Harden being outsmarted by a 39 year-old who, for a night, channeled something out of 2007. James Harden running out of gas. James Harden's teammates refusing to help James Harden. Kevin Harlan mis-identifying players. Patty Mills at times demonstrating why he should've been starting all along. LeMarcus Aldridge being enigmatic. Gregg Popovich going nuclear on Pau Gasol. Reggie Miller saying things just to hear himself talk. More shaky coaching by Houston. A risky, but smart, play by Manu Ginobili to ice the game for San Antonio and put the Spurs within a game of a series against Golden State that they'll lose in five games.
Fun game. Wish these playoffs had more of them.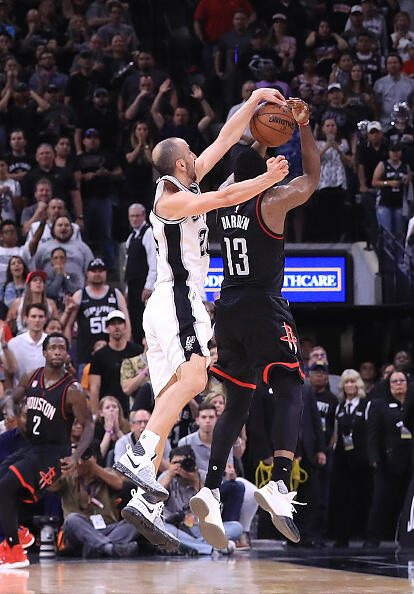 Recommended link of the day: Hear Steven Van Zandt Revive 1977 Song Written With Bruce Springsteen.
Radio Show: Lots on the Reds, including the quality of their starting eight, Votto love, and people who don't pay to go to games crying about those who don't go to GABP. Plus, I've got a guy who says the Bengals are on the rise. Join us today at 3:05 on ESPN1530.
Win: A new lawn mower from Baxla Tractor and lawn tickets to every show at Riverbend.
Follow me on Twitter @MoEgger1530.
(Photos: Getty Images)

Mo Egger
Mo Egger delivers his unique take on sports on Cincinnati's ESPN 1530!
Read more