Marvin Lewis Is Now Worried About The Kids.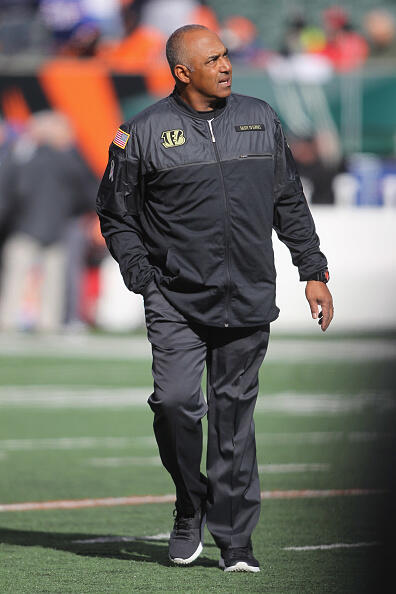 (Photo: Getty Images)
The NFL has relaxed some of its Draconian rules regarding touchdown celebrations, with Roger Goodell announcing today in Chicago that players will be allowed to celebrate while using the ball as a prop in addition to being able to - among other things - once again celebrate in groups.
Bengals Head Coach Marvin Lewis, however, is not in favor of the changes. From ESPN's Katherine Terrell....
"I'm not for that at all," Lewis, who is on the NFL Competition Committee, said of the change. "We had a good standard, and the whole standard has always been, you want to teach people how to play the game the correct way and go about it the correct way, and that's not a very good example for young people."
This statement by Marvin is a surprising development, especially given how little he's seemed to care about the example for young people being set by one of his own players, Adam Jones.
Marvin has said nothing this offseason about how his team's resident cop-death enthusiast has set poor examples for young people, nor did he seem to worry that much about what message was sent to the youth that he now cares so much for when his team drafted woman-batterer Joe Mixon. But a player waving around a football while he dances in celebration of scoring points, and suddenly Marvin is worried about the children.
Got it.
Look, I understand if a head coach is unconcerned about the examples that his are setting for kids, and I don't expect a pro sports teams to factor in the impressions of the youth when they make decisions about who plays for them. I'll also admit that while I think that players should be allowed to do whatever they please to celebrate as long as the game isn't being delayed and no one is getting hurt, most coaches are probably too old-school to really embrace what the NFL is doing with celebrations.
But Marvin Lewis publicly worrying about the kids - THE KIDS! - comes off as comical, hypocritical, and in the context of this particular offseason, very disingenuous.

Mo Egger
Mo Egger delivers his unique take on sports on Cincinnati's ESPN 1530!
Read more