Three Things: The Reds, Thad Matta, And His Potential Replacements.
Every day there are three things, none worth devoting an individual post to, but each worth at least mentioning.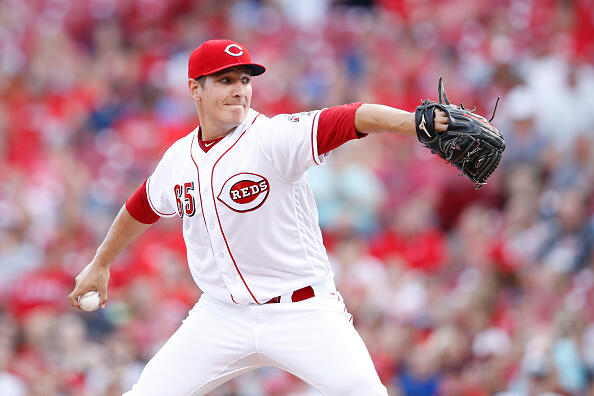 (Photo: Getty Images)
1) The Reds. Lost amid the excitement of the return of macaroni and cheese to the GABP Smokehouse was a neatly-played, 4-2 win over the Cardinals.
Between mouthfuls of sloppy noodles with cheese sauce, I remarked to my friends that "I like this Asher Wojo guy." It may take me a year to two before I have the correct spelling of his last name memorized, but I like what I see when I watch Wojciechowski throw, mainly because he doesn't pussyfoot on the mound.
Nothing's worse than pussyfooting on the mound.
The starting pitching has been bad - historically bad as Zach Buchanan points out this morning - but the everyday eight and bullpen have been good enough that, if by the middle innings the opposition doesn't have an obscene amount of runs, I believe the Reds will win.
That's a lot of confidence to have in a team that's a half game out of last place.
The NL Central is weird this year, mainly because the Cubs just haven't gotten going (although with four straight wins, they may be turning into the team that everyone thought would run away and hide). The Cardinals are miserable fundamentally, the Brewers have pitching woes, and without Starling Marte, the Pirates need Andrew McCutchen to be superhuman, which hasn't happened (he has hit at a pretty hefty clip over the last two weeks).
The Reds aren't going to win the division, but there's a lot that suggests that even when the Cubs start to pull away, the rest of the field will remain crowded.
2) Thad Matta. His departure from Ohio State kind reminded me of Bob Huggins getting blown out by resigning from UC 12 years ago.
That Huggs was short for Bearcats basketball was a poorly-kept secret, which hurt recruiting. Seemingly, at least, the same for Matta at OSU, whose health problems have been talked about for a while now.
This is a worthwhile read from ESPN's Myron Medcalf...
If they were wise, every athletic director pondering a coaching change to reboot a program would have taken notes on Ohio State's abrupt, messy and awkward Monday news conference announcing the end of head coach Thad Matta's tenure with the Buckeyes.
Athletic director Gene Smith and The Ohio State University provided a beautiful blueprint ... of what not to do when relieving a longtime coach of his responsibilities.
They're two months late.
The way OSU hoops seemed to peter out the last few seasons has sort of overshadowed how much Matta had the Buckeyes rolling. Five Big Ten titles, four league tournament titles, two Finals Fours, the exceptionally likable 2004-'05 team that wasn't eligible for the postseason, the Conley/Oden-led title game run in '07. The kinda-forgotten Final Four appearance in 2012. The Evan Turner era. The OSU gig is a good one, and for the new head coach, it will be a lucrative one. It will also be one that'll be as hard to be as good at as Matta was.
3) Which takes us to...Chris Mack and Mick Cronin. The second the Thad Matta news came down from Columbus, college basketball writers began putting together their lists of potential replacements. Most included Chris Mack's name. Many included Mick's.
We've gone through the exercise of wondering what it would take for either coach to leave here, which includes comparisons between the jobs they have and the one that may be (but never are) lured to. I'll hold off on doing it again until we have something of substance.
What I will say, and this isn't exactly new ground that I'm covering, is that both Chris and Mick have good jobs. Both are doing good jobs. Both are at places that have upside with their respective basketball programs. Both would be leaving jobs that plenty of other coaches would like to have, even if a coaching change at either would mark an end to an era of stability.
And if I was either, I'd absolutely take Ohio State's call.
Don't let OSU basketball's place in the school's athletic pecking order skew your perspective. It's a very, very good gig. Nice facilities. A LeBron James connection. Quality recruits in the school's backyard. Recent proof that one can win, and win big. Deep pockets. Very. Deep. Pockets.
Ohio State will have no shortage of good, qualified, eager applicants. I don't know if either Cincinnati basketball coach will be one of them. I do know that I'd understand if either one of them was.
Recommended link of the day: Zack Cozart, MVP, and a trade?
Radio Show: Back on Thursday. Then again on Friday. Then four days next week. ESPN1530. Listen. Thanks.
Follow me on Twitter @MoEgger1530.

Mo Egger
Mo Egger delivers his unique take on sports on Cincinnati's ESPN 1530!
Read more