On The Road From Awful To (Hopefully One Day) Really Good, The Reds Have Stopped Off At Interesting.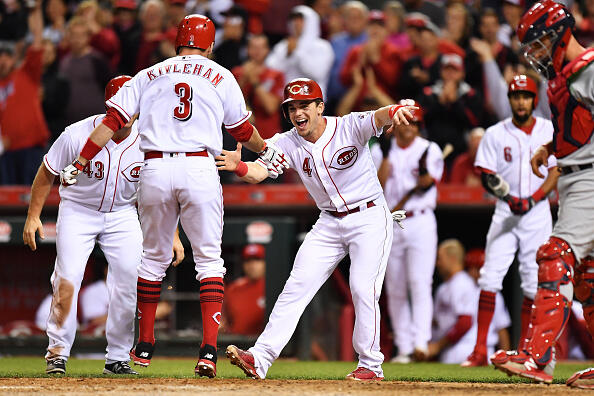 (Photo: Getty Images)
The Cincinnati Reds are not a good baseball team. As endearing as they've been, and as much fun as it's been to watch them be the Golden State Warriors to the Cardinals' Cleveland Cavaliers, they're two games below .500 in a crowded division that one day, we still assume the Cubs will run away with.
But they're surely not as bad as they were last year, or the year before, or even the year before that. Not because they're suddenly loaded with a talented roster that has them on the verge of doing big things, but because at least this season, they're interesting.
My hopes before the season began didn't lie with some sort of miraculous turnaround from 90+ losses the last two seasons to something closer to that many wins this season. Instead, I wanted them to progress to the next step on the road from truly awful to really good, which was to have the kind of team interesting enough to keep me engaged throughout the season, captivating me a few times in the process, while making me feel like there are indeed brighter days ahead.
I wasn't going to get a "good" baseball team, but I'd settle for interesting.
Interesting is something the 2014-'16 Reds were not. On the interesting scale those three teams fell somewhere in between your company's health insurance webinar, an Andy Dalton press conference, someone else's fantasy football team, and a MJ/LeBron take. The only things that held any intrigue when it came to the last three seasons were when popular players would be traded, who the Reds would get for them, and when would they be ready.
The actual games, and most of the players, weren't nearly as riveting.
This year is different, and refreshingly so. The Reds have not only hung around .500 for most of the season, but their season has already been loaded with more storylines and plot twists than your favorite Netflix show that you insist a little too passionately that your friends binge-watch.
There's the ongoing saga of Bronson Arroyo's comeback, which - even when he pitches effectively - seems on the verge of unraveling every time he goes into his delivery.
There's Zack Cozart's unexpected star turn, which has made him - for now - the best shortstop in baseball (one might argue, that so far at least, he's been the most valuable player in the National League), and will make him a very, very rich man this winter.
There's the emergence of Scott Schebler as a legit power threat and guy who, despite his acquisition being overlooked, could be a piece of the long-term puzzle.
There's the rate - led by Schebler - at which the Reds are hitting home runs. Even with home runs being on the rise throughout baseball (giving us all kinds of PED and juiced ball hot takes), the pace the Reds have set with the long ball has them on track to break the franchise record for big flies in a single season. Three Reds are among the top-12 home run hitters in the NL, and yet the club as a whole still isn't among the top five home run-hitting teams in baseball.
There's Scooter Gennett hitting four home runs in one game, something that's still astounding another day removed from it.
There's Joey Votto continuing to be one of baseball's great hitters, and the fact that a few select fans still won't give him credit for as much.
There's the continuing saga that comes with watching Billy Hamilton on offense. His baserunning is a game-changer and as a batter there are moments when you want to tell yourself that he's progressing as a hitter. And then there are moments when you wonder if they'd be better pulling someone out of the stands to stand in the batter's box.
There's guys like Patrick Kivleahan, a random dude who was picked up by the Reds late last season when I'm not even sure Patrick Kivlehan was paying attention. His three-run pinch-hit homer to tie the game last night ranks as one of the cooler moments of the season.
There's the reappearance of Devin Mesoraco, whose homer to walk-off the Braves on Friday was an even cooler moment that Kivlehan's bomb. I have no idea if Devin is ever going to approach being the kind of player he was three years ago, but I'm happy to have a chance to find out if he can.
There's the way Bryan Price has used the bullpen, which has been effective, and his use of it has made it fun to both play along with the manager in real-time and second-guess him after the fact.
There's Raisel Iglesias' development into one of the game's better relievers, the way guys like Michael Lorenzen, Wandy Peralta, and Drew Storen have solidified the relief corps.
There's the who-knows-what-we'll-get feeling every time a Reds starter takes the mound, there's a fair amount of intrigue in what they're doing with Robert Stephenson and Cody Reed, and a lingering sense of what-if had Brandon Finnegan, Anthony DeSclafani, and Homer Bailey combined to pitch more than ten innings so far.
There's been enough of what announcers like to refer to as grit and spunk to author 13 comeback wins already, yet enough deficiencies to make you wonder what adventures could send them to a gut-punching, or even embarrassing, loss.
And perhaps most importantly, unlike the previous two seasons specifically, there's a sense every single day that, hey, the Reds might win.
They're not a good team, and despite the way the starting eight has played and how the bullpen has turned into a strength, it's still difficult to pinpoint when the Reds might be ready to make some serious noise, mostly because of how unsettled the starting pitching has been, and uncertain the long (and short) term prospects of their young pitchers are. But whereas the bottoming out of the 2015 and 2016 Reds yielded a lot of losses and not much else, the 2017 version has at least given us more to talk about.
For now, I'll take it.

Mo Egger
Mo Egger delivers his unique take on sports on Cincinnati's ESPN 1530!
Read more