Three Things: Appreciate Greatness As It Happens.
Every day there are three things, here are those three things.
1) Reds win! If all wins are not created equal, then last night was one of the season's more satisfying. Down 4-1 in the late innings, they get a pinch-hit bomb from Patrick Kivlehan, then a two-run dong from Joey Votto, with the bullpen making the comeback stick.
Also satisfying, the Reds are 6-2 against the Cardinals this season.
I blogged this morning about how the Reds have gone from awful and uninteresting to not awful and very interesting.
It's the middle of June and they're keeping our attention. OK, so at least they're keeping my attention.
They're at least more interesting than Bengals OTAs. I couldn't say that last year. Or the year before.
2) Taking the NBA Finals for what they are. It's easy to pick apart the way the Cavs didn't execute at the end of game three last night. They had one possession where LeBron refused to take Draymond Green and his five fouls to the rack, instead driving into a triple-team and kicking out to Kyle Korver for a three that he missed, and another with the season on the line that had Kyrie Iriving - who was otherwise fantastic - dribble 128 times like he was on the And1 Streetball Tour before lifting a shot without LeBron even touching the ball.
But the focus should be on what Golden State is doing. Now a win away from potentially running through the entire postseason without a loss, they took the absolute best LeBron has in him and still won.
This stat is remarkable....
The Cleveland Cavaliers are an excellent team, led by a generational, transcendent player who's the most unique physical specimen to ever play the sport, who did everything a player could be asked to do last night. They're just not as good as the Golden State Warriors, a team that will go down in history as one of the most significant in the history of the NBA.
If you're a serious basketball fan, not one who watches this sport as a means of unleashing anti-LeBron hot takes or using revisionist history to defend whatever NBA era you choose to cling to, then behold the mastery the Warriors are exhibiting over the Cavs and the entire league. When they're clicking, and often even when they're not, there's nothing else in sports quite like them.
We're watching greatness. True sports greatness. And something historic.
It's easy to talk about greatness long after its past, not as easy for some to talk about it as its happening in real time. Don't do that with the Warriors. Appreciate it. Enjoy it. At the very least, give it its due.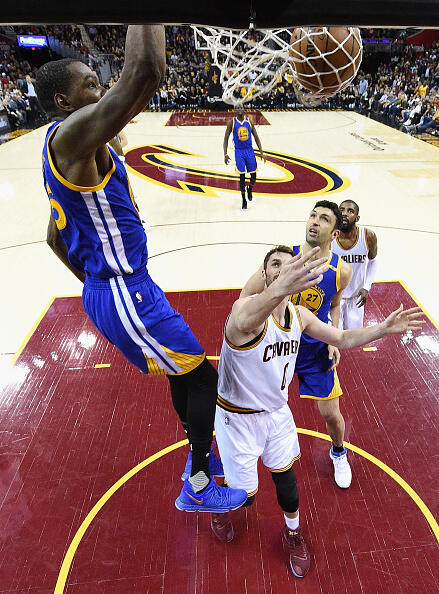 (Photo: Getty Images)
3) Ohio State's coaching search. Ever think that maybe we talk a little too much about Mick Cronin and Chris Mack leaving?
Me too.
Recommended link of the day: Watch: "A Seat At The Table."
Radio Show: I'm back, baby! 3:05 today on ESPN1530. Reds. Bengals. NBA Finals. Stanley Cup Final. Be ready.
Follow me on Twitter @MoEgger1530.

Mo Egger
Mo Egger delivers his unique take on sports on Cincinnati's ESPN 1530!
Read more