Scooter Gennett's Four-Homer Night Is Why Baseball Is Awesome.
I don't really have a "favorite" sport. I like football, basketball, and baseball equally, each for different reasons.
I'm drawn to football because of the significance of every game, and the strategies that make each tilt unique.
Basketball combines artistry with power, finesse with strength. It's the most transparent sport, the team sport most affected by individual play.
I love baseball because of its pace, the way a game can be background noise yet grab your undivided attention just like that. I like how each game is consequential, but not that much.
And I love it for reasons that were evident last night at Great American Ballpark.
Scooter Gennett did something against the Cardinals that no other Cincinnati Red had done.
Among Major League Baseball's top 200 all-time home run hitters, 16 of them played at one point for the Reds. None ever went deep in a game four times while playing for them.
13 times, a Cincinnati Red hit 40 more homers in a single year. None of those seasons included a four-homer game.
7 times since 1901 has a Cincinnati Red led the National League in home runs, just not while clubbing four in a game.
The Cincinnati Reds have had MVP winners, Rookies of the Year, 30/30 club members, and a lengthy list of some of the sport's titans that have worn their uniform, some of whom are immortalized in Cooperstown.
None of them ever hit four homers in a game.
By now, you know Scooter Gennett's story. A 27 year-old bench player who was picked up by the Reds shortly before Opening Day after he was cut by the Brewers. Not a bad player by any stretch, but the kind of guy that populates transaction wires and boxscores every day. The kind of guy whose baseball card you'd skim past as you perused a freshly-opened pack. Not the kind of guy you'd expect to hit four long ones in the same game.
But therein lies what makes baseball uniquely awesome. It's the sport that lends itself more to random guys doing extremely un-random things more than any other. It's the sport that allows for a journeymen pitchers like Edison Volquez to throw no-hitters, and guy like Philip Humber to throw perfect games. It's the sport of Eric Thames going five years without playing in a big league game, then setting a club record for home runs in the month. It's the sport that gives Eric Bruntlett a chance to be one of 15 men to ever turn an unasssited triple play. It's a sport where Ivan DeJesus (career batting average: .254), John Mayberry (.253), Tim Foli (.251), Chris Speier (.246), Brandon Barnes (.242) and Chad Moeller (.226, and one of the most agonizingly slow runners ever) can be good and lucky enough on one particular day to hit for the cycle, something legends like Mays, Clemente, and Ruth never did.
It's the sport that gives Billy Bates a chance to be a postseason hero in his final appearance at the highest level.
You get these things in baseball, not frequently, but frequently enough. Certainly more frequently than other sports.
There have been stories like this in other sports - I remember watching someone named Jerome Harrison challenge the all-time record for rushing yards in a game for the Browns a few years ago but you don't get stories like Scooter Gennett's, where are a guy comes from seemingly nowhere to do something that very few have ever done, and set a new standard for his own team. Guys aren't getting pulled off the scrap heap in the NBA and setting franchise marks for points in a game, and if they do it's because their team is tanking and the new mark is being manipulated (Devin Booker, a really nice player for the Phoenix Suns - and former UK Wildcat - scored 70 points in against the Celtics this season in a game that was a bastardization of the sport. Also, his team lost by double-digits). NFL teams aren't yanking players off the practice squad then seeing them make history.
Scooter Gennett is not some guy the Reds pulled off the back of a garbage truck and put in the lineup last night. He came into the game with more than 1700 plate appearances across five big league seasons, and he's been a solid contributor off the bench since his arrival in his hometown. And while his bat certainly doesn't lack pop, his career home run per every 47.4 plate appearance sure didn't suggest that he'd be a candidate to be the first Red to go yard four times in a game.
Except that he plays baseball, a sport that gives every player a chance to do something special.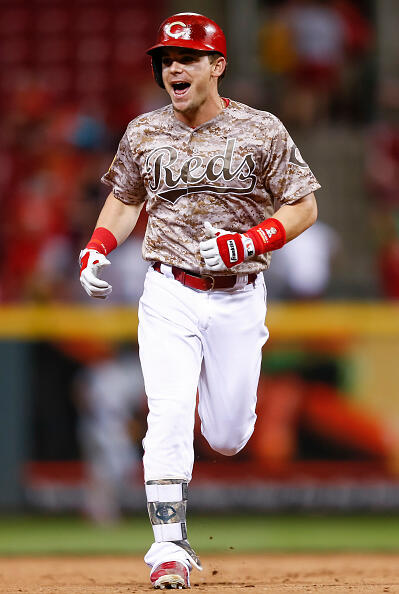 (Photo: Getty Images)

Mo Egger
Mo Egger delivers his unique take on sports on Cincinnati's ESPN 1530!
Read more