Three Things: Greene Is Good, Bronson Is Bad.
Every day there are three things, here are those three things. This morning's initial entry was about the Golden State Warriors, what they did, and what's next for the NBA.
1) Greene is good. I'm not a baseball general manager, which is good because that job seems like it requires more work than I'm willing to do. So when it comes to something as crapshoot-y as the draft, I root for interesting.
Hunter Greene fits the bill.
Like you - like people within the game - I have no idea if Hunter Greene will realize his supposedly immense potential. I've got no clue if he'll be equipped to handle the immense expectations that have been thrust upon him. I have no idea if he'll even pitch in a big league game (this is a good look at the risks involved with drafting a pitcher out of high school in the first round).
Here's what I do know:
I've never been more excited to follow a Reds' prospect's journey.
Hunter Greene - based on his (still limited) pedigree, hype, expectation, and what those who've actually seen him have written - is already infinitely more interesting to me than any other prospect in the Reds organization. That's not a knock on what the Reds have done to replenish their farm system, nor is it an indictment on any of the players working their ways through the organization. It's a statement about how interested I am in seeing whether Hunter Greene can deliver on promise and expectation, especially since he'll be trying to pitch for the team I root for.
ICYMI: Watch: Hunter Greene's Post-Draft Interview.
ICYMI: Here's What You Need To See From, And Read About, Reds First-Round Pick Hunter Greene.
2) Bronson is bad. It was tough to watch Bronson get shelled by the Padres late last night. My guy Lance says it's time to pull the plug on the Arroyo comeback, and when you look at his 7.22 ERA and the 22 homers he's given up in 68 innings, it's as hard to think about him staying in the rotation as it was to watch him pitch last night.
As someone who's a big Bronson fan and was all-in on his return to the bigs, here's the question to ask...
What good is being done by keeping Bronson on the staff? The feel good end of his comeback has been authored. Homer Bailey is inching toward a return. Same for Brandon Finnegan. Cody Reed has thrown better in Louisville. At some point, Robert Stephenson is going to have to start. The main argument for keeping Bronson in the rotation was that, because of injury and ineffectiveness, it was too fluid for the Reds to open up another spot on the staff. With things settling down a bit, and Bronson's ceiling low, the Reds might be running out of reasons to keep him in the mix.
I don't know that giving Bronson the ball again derails the rebuild, but there's less upside than ever to keeping him around, and as a fan of Bronson's, I really don't want to watch any more starts like last nights.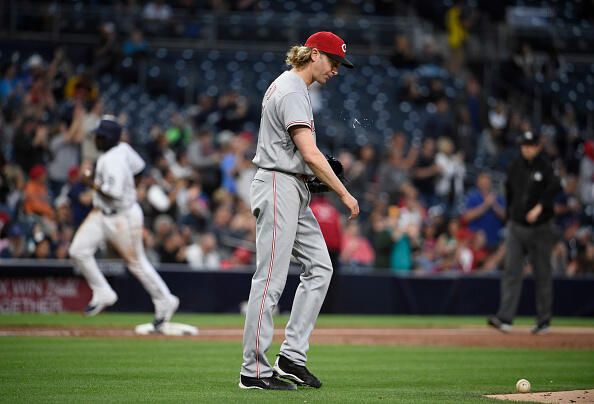 (Photo: Getty Images)
3) FC...Newport? FC Cincinnati wants a new stadium. They unveiled renderings for what one might look like and the renderings are sharp. One of the ideas floated out there has the stadium being built in Newport. Some people, in love with their parochialism, were apparently not happy with the idea.
Here's my FC Cincinnati stadium take, from someone who's admittedly philosophically opposed to public financing of stadiums...
If you want it, tell your local leaders to build it. If it's not built on the Ohio side of the river (and as a West End resident, I'd love for the preferred site to be in my backyard), then expect FC Cincinnati to see if they can get financing in Kentucky. It seems as if they're giving Cincinnati first crack at the stadium, with the 859 as a plan B if plan A doesn't work. You can't blame them for that.
FCC has been pretty transparent with this process, highlighting the MLS demand for soccer-only facilities and outlining how much they're willing to kick in themselves. If you're opposed to any public dough being thrown toward the proposed project, tell your local leaders to not devote your money to a new soccer stadium. If you see value in building a new stadium, or if you just want a new stadium to watch FC Cincinnati play in, then demand that they find the money to get it done.
Recommended link of the day: There never was a bullpen revolution.
Radio Show: Marvin Lewis at 4:15. Jeff Berding at 4:33. ESPN's Keith Law at 4:42. Plenty of Reds, Bengals, FC Cincinnati, MLB Draft talk on the front and back end of all of that. Join me on ESPN1530, starting at 3:05.
Follow me on Twitter @MoEgger1530.

Mo Egger
Mo Egger delivers his unique take on sports on Cincinnati's ESPN 1530!
Read more