Three Things: Reds, NBA Draft, FC Cincinnati.
Every day there are three things, here are those three things.
I've spent the week mostly neglecting my blog, in part because I took a couple of days off, in part because I'm adjusting to life at home with an infant, and in part because I'm working on doing some things differently on the website, considering doing less writing and more podcast/audio work on this here space on the internet, depending on what you - the loyal reader - prefers.
I've been doing this blog for almost ten years, and I'm still unsure of the best way to do it.
Anyway...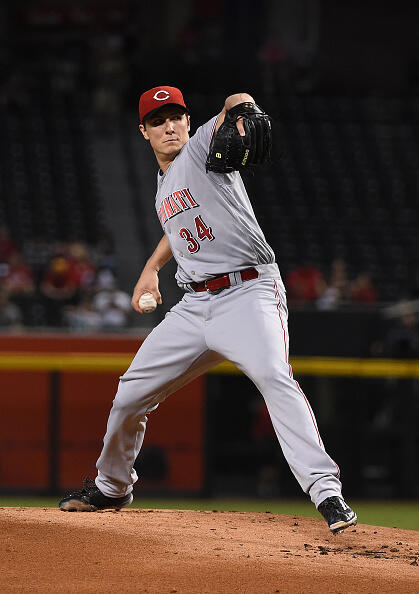 1) The Reds. Two weeks ago, we were basking in the glow on a glorious four-game sweep of the Cardinals, which sent imaginations flying to places that included concern over whether the Reds would be buyers at the deadline, if they could get good enough starting pitching to stay in the race, and whether Hall of Fame voters would elect Scooter Gennett to Cooperstown in his first appearance on the ballot.
Two weeks later, the season has slipped away. On-field happenings have taken a backseat to things like the draft, FC Cincinnati, the NBA Draft, and the countdown to training camp. The plug's been - temporarily, at least - been pulled on the Bronson Arroyo comeback, Zack Cozart has been put on the disabled list, and for some, all the goodwill that the club built up for two months has been washed away by two weeks of bad baseball, especially away from GABP.
While I enjoyed the brief flirtation with 2017 NL Central relevance, I've never really gotten too caught up in whether the Reds won or lost, instead focusing on what mileposts the Reds hit along the winding road that is a rebuild. They hit two of them this weekend.
Luis Castillo pitches tonight. The Reds bypassed Cody Reed and Robert Stephenson to give Castillo - obtained this winter in the Straily trade - his big league debut against the Nationals. If the rebuild is ever going to be accelerated, it will be because their young starters have earned permanent spots in the rotation, negating the need for the Arroyos and Feldmans that we've seen so much of.
Homer Bailey pitches tomorrow. So many seem to dismiss this, which makes zero sense. Like Homer or not - and many, for some reason, do not - he's a huge part of this team's future, at least until his hefty contract expires, which it doesn't for a while. If you've complained about the Reds not getting anything in return for their massive investment in Homer, then you really, really, really want him to be both healthy enough to stay in the rotation and good enough to help the team win. The Reds will have a harder time being relevant if Homer Bailey is either hurt or ineffective. Even if you don't like him, I'd start rooting hard for him beginning tomorrow.
2) The NBA Draft. A few takeaways...
The headliner in the draft is Lonzo Ball, who because of all the dad-created noise surrounding him, is almost underrated now. Nothing against De'Aaron Fox - who has a chance to be an excellent pro - but Lonzo Ball is going to be a fantastic NBA player. He has court vision and selflessness that will transfer to the next level, and his passing is going to make so many other players so much money, that players will kill themselves to play with him. He was the most fun-to-watch player on the most-fun-to-watch team in college basketball last season, and paired with even adequate talent, he'll be equally fun to watch as a pro. Imagine what he'll be when the talent around him is better than merely adequate.
The Minnesota Timberwolves and Philadelphia 76ers will play each other twice. I will watch both of those games.
My Knicks drafted a player that I have no real opinion on, other than wondering if taking Frank Ntilikina because he's the best fit for horribly outdated triangle offense is going to work long-term if by the time his skills have developed, the Knicks are no longer running the triangle. Mainly though, I'm relieved that Kristaps Porzingis is still a Knick, which spares you from the 2,500-word blog I was going to bang out about how torturous it is to root for the worst franchise in all of sports.
I'm happy that Luke Kennard was drafted. I wish he was going to a place that wasn't trying to replicate the 2009 Orlando Magic.
I'm happy that Edmond Sumner was drafted. I hope his recovery is going well. If it is, the Pacers can take advantage of a draft-and-stash move that could end up being a steal.
The draft was fun. The Jimmy Butler trade is impactful. The Knicks panic was a good time for everyone but me. This season is going to be really fun because of a year of LeBron James speculation. But ultimately, we're getting Warriors/Cavs IIII.
3) FC Cincinnati hits the big time. FC Cincinnati's chase for the Lamar Hunt U.S. Open Cup next Wed., June 28, will continue on the national stage with the Orange and Blue's match against Major League Soccer side Chicago Fire SC tabbed to be broadcast live on ESPN2 and streamed on the ESPN app. With the national broadcast, kickoff has been moved to 8:00 p.m. ET.
No real takeaway, just that the momentum continues. Wednesday night is gonna be fun.
Recommended link of the day: Baseball's pressing question: What happens to a sport when nothing happens?
Radio Show: I'm on 700WLW Monday before and after the Reds game in St. Louis, then every day the rest of the week on ESPN1530.
ICYMI....
Podcast: We Know What Billy Hamilton Is.
Podcast: Sorting Through Recent Reds Moves.
Reach me....
Follow me on Twitter @MoEgger1530.

Mo Egger
Mo Egger delivers his unique take on sports on Cincinnati's ESPN 1530!
Read more