Three Things: Should Scooter Start?
Every day there are three things, here are those three things.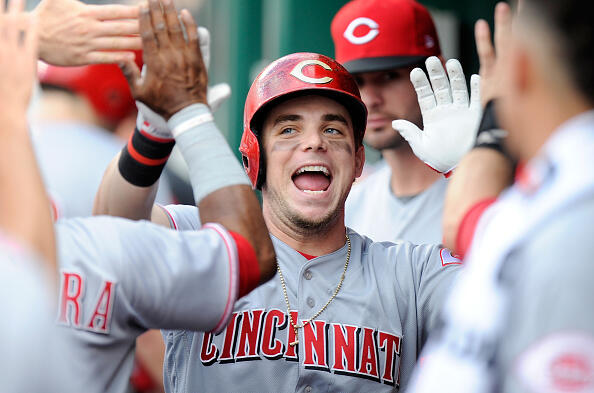 (Photo: Getty Images)
1) Should Scooter start? Not exactly perfect alliteration, but I'm working on about three hours of sleep, so bear with me.
Our guy Scooter had a big day yesterday, 4 for 5 with a homer and he was part of the perhaps the game's biggest, a rally-stifling relay throw to nail Brian Goodwin at the plate (which C. Trent Rosecrans does an excellent job of getting the particulars to document).
Scooters play has ignited a good questions...should he be the every day guy at second, or short, or somewhere?
His totals are pretty remarkable....top five on the team in both homers and RBI - aided by four of the former and ten of the latter in one game, of course - despite a hundred or more fewer plate appearances than every regular that's not a catcher. He has a higher OPS than Schebler, Duvall, and Suarez, and a higher on-base-percentage than Hamilton and Peraza. His defense might not wow you, but he's made just two errors playing four different positions, and he has the team's most fun name to say.
There's a big part of me that believes that Scooter's high-volume production is a byproduct of his relatively low-usage rate, which lends me to think that starting him every day would yield diminishing returns. He's producing at a higher level than any of his previous four big league seasons, perhaps in part because he's not playing as much.
There's also a chance that this won't be worth talking about much if Zack Cozart is traded in about a month. Scooter stands to be the biggest playing-time beneficiary of a trade, and his production, age, and years of team control remaining should quiet any noise about extending - and overpaying - Cozart.
The bigger part of me wants to see Scooter get regular playing time, regardless of the composition of the roster. If 2017 is all about seeing what the Reds have, then why not see if in Scooter Gennett, they have a later-blooming player capable of holding down a starting spot for the next couple of seasons?
Worst case, they've found (on the cheap) a reliable utility/bench guy. Best case, they have someone they can plug in the middle infield for the years to come.
The best way to find out is to play him every day.
2) The Big3. I'm all in on Ice Cube's new 3-on-3 basketball league, which features a bunch of retired NBA players, including a slew of former UC Bearcats. The first event was yesterday, and it'll be broadcast tonight on tape delay, which seems odd for 2017, but given that the debut event lasted five(!) hours, it might be for the best.
I'm looking forward to this because it'll be fun to see which players are still in shape, how much trash-talking their is, and I'm looking forward to watching some throwback, physical ball, even if the concept is a little gimmicky.
Anyway, here's a good review of the first event, which doesn't include any spoilers.
3) A way to pay for FC Cincinnati's stadium? I brought this up on the air last week, and really didn't get any push-back, so I thought I'd bring it up here....
FC Cincinnati wants a new stadium. Some want FC Cincinnati to get their stadium. Others do not. What would be the harm in FC Cincinnati essentially raising the money the way UC has for Fifth Third Arena and Nippert Stadium renovations?
Start in the corporate community....sell naming rights, prime sponsorships, etc. Then get down to the more grassroots level of soliciting money from individuals. Basically, sell stock in the team the way the Packers did to help renovate Lambeau Field. Have a brick campaign. Induce donors with opportunities not available to the general public. Give donors top priority on season tickets. Could they raise $100 million? I don't know. I do know that we're in a very GoFundMe/Kickstarter age where people are willing to throw a few bucks at things they value and believe in.
And even if the full $100 million was raised, could enough be raised to make a company in town decided to be the hero and donate the remaining funds?
Again, I don't know.
Obviously, for something like this to happen, a stadium site would have to be determined and announced to the public. And I know things like this are more nuanced than I'm making it out to be. But with the public souring on taxpayer-funded sports stadiums and momentum for FC Cincinnati growing, wouldn't the best approach be for those who want the new digs to have a chance to pony up the money, leaving those who don't want to pay for the new stadium free from having to do so?
I'd love your feedback.
Recommended link of the day: Ohio State football: A deep dive into the expensive expansion of the Buckeyes recruiting department explains dominance
Radio Show: I've got the Inside Pitch before the Reds/Cardinals game today on 700WLW, then SportsTalk after the game. I'm back in my regular spot on ESPN1530 every other day this week. Plan accordingly.
Reach me....
Follow me on Twitter @MoEgger1530.

Mo Egger
Mo Egger delivers his unique take on sports on Cincinnati's ESPN 1530!
Read more