Three Things: State Of The Rebuild, Scooter's Trade Value, And Bye, Bronson
Every day there are three things, here are those three things.
This is going to be Reds-heavy, in part because my only take on the debut of The Big3 is that it because it was so bad, it was awesome, and because as heated and historic as the MVP race was, the eventual handing-out of the award to Russell Westbrook last night felt very meaningless.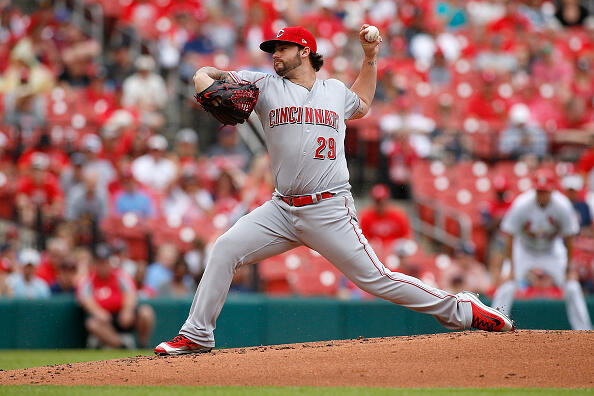 (Photo: Getty Images)
1) How's that rebuild coming along? Brandon Finnegan was yanked in the fourth inning of yesterday's loss to the Cardinals in St. Louis. It appears likely that he's headed to the disabled list, meaning that Cody Reed maintains the lead in 2017 big league innings pitched by guys acquired for Johnny Cueto with 14.
When good things happen with this Reds team, we fight the tendency to want to think that the rebuild is moving along faster than it actually is. Yet a good look at the current state of the young Reds starters reminds us that winning is still way in the distance.
Brandon Finnegan has pitched 13 Major League innings. Cody Reed has thrown 14, and while he's posted nice numbers in Louisville, he's still struggling to keep runners off base. John Lamb is serving a drug suspension in the Angels organization.
Almost remarkably, Robert Stephenson's big league career hasn't really begun. Amir Garrett's strong beginning to his Reds career has been offset by an obvious need for seasoning. Anthony DeSclafani is destined now to miss most of the season, and will have to work to shake the "injury-prone" label. Homer Bailey is the team's most expensive question mark. Rookie Davis. Not ready.
None of this means that these particular starting pitchers are doomed to long-term failure. When you include guys like Tyler Mahle, Luis Castillo, and hell, I'll go ahead and say it, Hunter Greene, the Reds are still sorting through a pretty nice group of pitchers with which to build around.
But when you take a look at where they're all at right now, contention seems almost (key word: almost) as far away as it did when the rebuild began.
2) Scooter > Cozart. Zack Cozart will probably be shopped to other teams some time around the trade deadline, since the Reds offering him big money based on his one excellent season would be a bad investment. That could clear a spot for the younger, and more productive Scooter Gennett.
But do you think that Scooter Gennett might actually be the better trading chip?
Obviously this isn't apples-to-apples, because a team looking specifically for shortstop help is going to be far more interested in Cozart than Gennett. But you tell me which guy you'd rather trade for...
The shortstop having a career year with a career slash line of .252/.300/.400, who has the rest of this year before free agency and plays one position?
The guy who can play four positions who's a having a career year, has the career slash line of .282/.320/.437 and is under two more years of team control?
Scooter might be a part of this team's long-term plans, and if so, that's fine. At worst, he provides versatility off the bench, and maybe his 2017 portends big things for him as a starter in the coming seasons (there's reason to not believe that it will). But we've talked about buying low and selling high for a while now and moving Gennett after the Reds got him for nothing would be - like the Dan Straily trade last winter - a quintessential buy low/sell high deal, the kind of deal we've been advocating for a while.
Now, maybe a career utility guy wouldn't yield much in return, and maybe the Reds would be better off taking advantage of Scooter's ability to play all over the field as they try to figure out what their team is going to look like when it's finally ready to contend (whenever that is), and I can understand fan fatigue with so many trades and roster moves.
But if I ran a baseball team and the Reds called me to talk trade, I'd be more interested in Scooter Gennett than Zack Cozart. I know the Reds are willing to trade one of those guys, they should be interested in talking about both.
3) Bronson Arroyo. I'm gonna write a longer blog about Bronson's time in Cincinnati, including his comeback, but his interview yesterday with Jim Day on Fox Sports Ohio felt like a goodbye of sorts, even though he'll be around the club for the remainder of the season. I've enjoyed his career and for the most part, I've enjoyed his comeback.
That is all.
ICYMI: BWNAP Podcast: Signing Homer Bailey Beat The Alternative.
Radio Show: The state of the Reds rebuild, FC Cincinnati v. the Reds, Homer Bailey in retrospect, and an idea that could drastically help college basketball. Join me today starting at 3:05 on ESPN1530, which you can listen to here.
Recommended link of the day: Bengals 50: Pete Rozelle, and an oral history of the 1988-89 no no-huddle saga
Reach me....
Follow me on Twitter @MoEgger1530.

Mo Egger
Mo Egger delivers his unique take on sports on Cincinnati's ESPN 1530!
Read more