Changing Diapers And Being A Reds Fan. Right Now, One In The Same.
The other morning, our two month-old daughter woke up herself and everyone else in the house with a loud, piercing yell. Her wailing - which immediately jarred my fiancee and I out of bed and almost literally scared the living crap out of our dog - had to have been audible everywhere within a two-block radius. From a distance, little Crosley's howling could've been taken for the desperate yelps of an infant simply demanding a meal. From up close, it had an ear drum-shattering intensity, with a pulsating, almost rock-concert like ferocity that still reverberates in my cranium.
The clock in our bedroom read 2:46.
Being a good, responsive, parent, one not only attentive to my child's needs but also desperate to restore order and silence, I leaped into action, preparing a bottle while attempting to soothe my baby as she continued to go absolutely apeshit in my arms, finally settling in the rocker in her nursery for the another middle-of-the-night feeding.
It did not go well.
Initially, everything went smoothly. She downed two and a half ounces the way I down certain bourbons - quickly, efficiently, and without much regard for how the human body will react. But as I tried to muster a burp, I could feel that she was filling up her diaper in my arms, crapping herself with a Marvin Lewis-in-the-playoffs ease.
The following 90 minutes were not pleasant. A diaper change. More screaming. An attempt to rock her to sleep made futile by more screaming. A will-this-shut-you-up stab at feeding her some more that was received with an even louder, angrier, roar. Me attempting to sing lullabies. Me trying various ways to hold her, lay her down, and rock her to sleep. At one point, I even reached a point where I tried to reason with her, at one point promising to look the other way for most of her teenage years if she'd just shut. The. Hell. Up.
Which she did. For a few minutes. Then, she unleashed a liquid poo bomb in her diaper that, for me, ended up ranking just below Luke Fickell's first year at UC on the list of major, unenviable cleanup jobs. This led to a 20-minute torrent of yelping from my daughter that's still echoing through my house. Finally, physically exhausted from all the yelling and with a body unable to produce any more fluids for me to clean up, she finally passed out.
The clock read 4:58.
The only experience more miserable than having to deal with that was watching the Reds play their last four games against the Nationals.
To begin the second half of the season, the Reds fed us a four-game turd sandwich, playing four blatantly non-competitive games, the closest of which saw them surrender ten runs. In getting swept, they were outscored 35-12 by the NL East leaders, who hammered 13 home runs before filing a petition to the commissioner's office to extend their stay in Cincinnati.
And so here we are in what's become painfully familiar territory: a second half of the season that means little for the here and now, a record that's pointing toward another 90+ loss finish, alone in last place, hanging on to hope and assurances that one day soon, things will be better.
If the hard part of being a new parent is a couple of months in, wondering when an uninterrupted, feces-free night of sleep will come, then the hard part of being a fan of a baseball team in the midst of a rebuild is now. This will be the fourth straight season of the Reds spending August and September playing out the string, and the third consecutive year where both the direct and indirect messages from the front office are about the hopes for long-but-not-that-long-term payoffs for short-ish-term pain.
That's a long time, especially in this day and age, to watch the same results and hear the same messages. It feels even longer when you try to determine when exactly the Reds will be able to do something in the second half of a season on the field that really resonates.
Because honestly, selling hope down the road, doesn't.
I - like most fans - understand the realities of what the Reds are trying to do, and I have been - and will continue to be - as patient as possible with the process, understanding that tearing down and building back up takes time. I can both follow and get invested in the mechanics of a rebuild, from tracking the progress of prospects, to learning more about both the draft and how the Reds are doing with international signings. I can put up with the growing pains that are inevitable for most young big leaguers, and I'm fully cognizant of how the growth of a team can be stunted by setbacks, injuries, and, well, some players just turning out to be not that good.
But the really fun parts of baseball - and of being a baseball fan - are the games, especially when they matter. Especially when they're a part of the pennant race you're team is a part of. Most especially, when your team is winning more of them than they lose.
That part, I miss. Badly. Personally and professionally. More so than any of the past three seasons, and especially because it's still so hard to pinpoint when we'll be able to enjoy those things again. There's been no shortage of people on the air (myself included), on blogs (myself included), on Twitter (myself included), and in the newspaper (not me), talking about how much fun it can be to watch a team grow organically from the ground up as we sift through which players will and won't be a part of the solution.
But you know what's more fun? Winning. Looking ahead to the next big series against the Cardinals. Or the Pirates. Or the Cubs. Or...anyone. Perusing big league rosters in search of immediate help instead of combing through prospect rankings trying to find another organization's diamond in the rough. Scoreboard watching. Watching games that have real-time consequence. Debating strategy. Excitedly talking about last night's game while looking ahead to the next one with counting-down-the-minutes anticipation. Checking the standings every day. Leaving the October calendar open, just in case.
That again we're not getting those things this year is no indictment against what the Reds have been doing for the better part of two years, nor is it a statement about a lack of confidence for those in charge of ensuring that we get to enjoy them soon. The Reds seem to be in a better place than they were a year ago, and at least a more definable place than they were two years ago. I like a lot of what I've seen on the field this season, and I'm encouraged by some of the developments off of it. But if I'm being honest...
Yeah, I've kinda got rebuilding fatigue.
I'm kinda tired of the here and now not mattering here and now. Kinda tired of not wanting to look at the standings. Sorta longing for the days when August and September baseball matters. More than kinda sorta wishing that my October calendar was open. Very much kinda sorta wishing I was looking at the clock in eager anticipation of 7:10.
Being a parent of an infant requires assurances, both from yourself and others, that things will indeed get better, that that real fun is soon to come. Being a fan of the Reds right now requires the same. And exasperation and frustration with both the kid and the baseball team doesn't mean you love either any less.
There is going to be a time when being a dad involves things like continuous sleep, maybe slightly less screaming, and one day deep down the road, poop that will be flushed instead of cleaned up. That will be the fun part. I hope that by the time that fun begins, the fun part of being a Reds fan will have returned.
I wish I was certain of both of those things happening at the same time.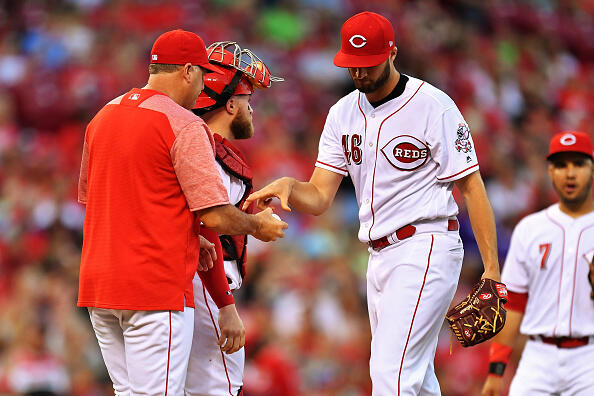 (Photo: Getty Images)
Reach me....
Follow me on Twitter @MoEgger1530.

Mo Egger
Mo Egger delivers his unique take on sports on Cincinnati's ESPN 1530!
Read more