I've Got Your Bengals Optimism.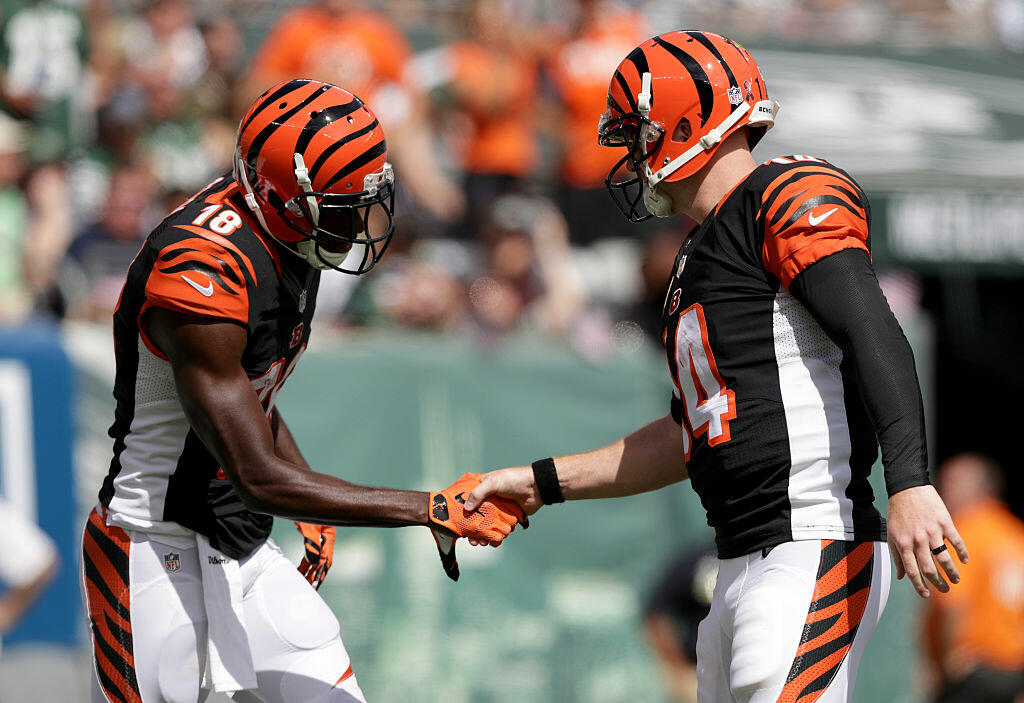 The Bengals begin training camp today, and you want optimism. Hell, I want optimism. So let's be optimistic.
I wrote and talked yesterday about how I'm not sure that judging Marvin Lewis and basing decisions about his future based on this year's overall results is fair, in large part because when I look at the Bengals, I'm not so wowed by what they have that I think the expectation for this club should be to win a playoff game.
But that doesn't mean this team can't at least be in position to finally break through in the postseason. And while it is filled with obstacles, there is a pathway to the playoffs for this team and it's not too difficult to imagine them taking it. For as many questions and concerns as there are about the Bengals heading into training camp, it's not like they don't have a lot of good going for them.
Today is as good a day as any to list those good things. Optimism, baby. Here we go.
*They have Andy Dalton. I swear, this list is meant to be serious. This isn't a joke. Hear me out.
The quick and easy assessment of Dalton's 2016 was that it wasn't that good, that he took a step back, and revealed his true self after his breakthrough the year before. And yes, there were performances that left a lot to be desired.
I actually view last year's version of Andy Dalton differently. To me, 2016 represented - at least in a way -some of his finest work, especially in the second half.
Playing behind a shaky offensive line, and having to do without AJ Green and Giovani Bernard for most of the last seven games (both suffered season-ending injuries in the tenth game of the year), with not much of a run game to lean on, and with Tyler Eifert absent from the final two games, Andy at least kept the offense functioning, at least to some degree.
After a dreadful performance against Buffalo - against whom Green and Bernard were hurt - playing without, here's how Andy performed in the season's final six games...
Comp%: 65%
TD/INT: 3.5/1
Yards per completion: 11.03
Rating: 92.9
Here are Andy Dalton's career totals...

Comp% 62.7%
TD/INT Ratio: 1.75/1
Yards per completion: 11.6
Rating: 89.1
This obviously isn't the most scientific way of looking at things, and a look at Andy's overall career numbers does usually need more context, but the point is that with as little to work with as he's ever had, Andy Dalton's performance wasn't that much of a departure from the rest of his career.
The biggest things for me when it came to Andy Dalton have always been for him to limit mistakes, and when he's not at his best, not be so horribly bad that his team has no chances of winning. And also, make due when the circumstances surrounding him are less than ideal Andy threw just eight picks last season, and his number of adjusted interceptions (actual picks + balls that should've been picked - picks that were the result of balls being tipped by receivers - Hail Marys) was just 16, putting his 2.6% adjusted interception rate right in the middle of the pack.
Again, while playing behind a bad line, and often without his top targets. Not bad.
His adjusted interception rate in 2015 which is regarded as his finest season? 2.3%
He had his poor performances last season. Skittish in the first game against Pittsburgh, off-target the following week against Denver, seemingly confused at times against Buffalo, and too cautious in the second go-'round against the Steelers. But his 2016 clunkers weren't quite as bad as his worst performances in previous years, and in each of his worst four performances, you could find plays where Andy Dalton did something to at least give his team a chance to win.
Now, give him a healthy Green, Eifert, and Bernard. A second year with Tyler Boyd and Jonathan Ross. A running game with some bite. Remember how he limited mistakes behind last year's line as you worry about the play of this year's. Pull away some of the limitations that may have held Andy and the team back a year ago, remember the things he did quite well last season, and harken back to the player in 2015 that was generating some MVP talk, and I think you end up with a quarterback that's more of an asset than a liability and a guy who's the main reason why the Bengals have a shot at being good in 2017.
*The have Vontaze Burfict. When the NFL suspended Vontaze for the first three games last season, I wrote a blog expressing hope that he'd start to play the way Roger Goodell demanded. Fierce. Intense. Passionate. And without his effectiveness being offset by penalties. After coming back out of shape and looking a step slow, the Vontaze I'd wished for emerged in the second half of the season.
The results were impossible to miss.
I love everything about the way Vontaze played in November and December last year, mainly because he didn't compromise his impact by drawing flags - he was called for just two penalties the entire year. Now, in apparently great shape, motivated by the desire for a new contract, and hopefully with the lesson of missing the first three games a year ago learned, we can watch - and the Bengals can fully benefit from - one of the great defensive difference-makers in the sport.
*They have Paul Alexander. The biggest question about this season is whether last year's bad offensive line can improve after losing its best two players. Right now, I'm not sure I love the answer, but I'll allow for the fact that Clint Boling being healthier will be a factor, and for the fact that I've watched guys struggle as rookies (Cedric Ogbuehi was essentially a rookie last year), only to play themselves into usefulness, and well beyond that later in their careers.
That's happened under Paul Alexander, who returns for what feels like his 92nd year as the Bengals offensive line coach. His success stories far, far outweigh his failures and no assistant coach on this team deserves more of the benefit of the doubt when it comes to wondering if his unit can improve.
I've seen it happen before. I won't rule out it happening again.
*Oh, the weapons. The great Bill Barnwell has ranked all 32 offensive weapon groups for ESPN, and he has the Bengals sixth...
Another set of talents sapped by injury a year ago, the Bengals got to see Tyler Eifert and A.J. Green line up together for only three full games in 2016. They averaged 26 points in those three games and 19 points per contest during the other 13. Giovani Bernard also tore his ACL, and Jeremy Hill suffered a late-season knee injury. By the end of the season, Andy Dalton was throwing the ball to Brandon LaFell and Cody Core.
The Bengals never spend money in free agency, but they've drafted reinforcements. After re-signing LaFell, Cincy used its first-round pick on Washington speedster John Ross before taking disgraced Oklahoma back Joe Mixon in the second round. Last year's second-round pick Tyler Boyd should also be better, leaving the Bengals with four viable starting wideouts, three useful running backs and a star tight end in a contract year. If Ross (who has missed the entire offseason after undergoing shoulder surgery) and Mixon make an immediate impact, the Bengals could be close to unstoppable on offense.
The mind wanders and the mouth salivates thinking about the possibilities. More important, I hope Ken Zampese - unimpressive in his first season as a coordinator - can figure out how to use what's at his disposal to create mismatches, which, if this group is blessed with health, can't be that hard.
At optimum health, and if the rookies get properly adjusted to the speed of the pro game, and second-year guys can make the year-two leap, the Bengals will have one of the most difficult-to-prepare-for offenses in the league. And perhaps, one of the most explosive and fun to watch.
*They play in the AFC. The last time I watched a football game (played in the US, because I did watch some Montreal/Winnipeg CFL action last night) I spent part of if it wondering I was seeing the end of Tom Brady, hoping not to see him mop up his own mess in the Super Bowl, wishing Bill Belichick would spare us from seeing the greatest QB of all-time play out the final drives of a blowout.
We know how Super Bowl 51 ended, and if you've been paying attention, you know how much the Patriots apparently got better - and faster - this offseason. But - and if there's anyone who can defy age it's him - Tom Brady will be 40 next week. The list of 40 year-old quarterbacks who've won a playoff game include Brett Favre, and that's it. And about ten minutes after Favre led the Vikings to a postseason win over the Cowboys in 2010, he started to play like a 40 year-old. Tom Brady might very well play at an exceptionally high level at 40, but if the lead dog in the conference is led by a guy who's older than me, that speaks to how wide open the rest of the field is.
Especially when Pittsburgh has a 35 year-old quarterback who often looks like he's older than Brady. And for as suddenly explosive at the Steelers can be on offense, they did stall more often last season than you might think.
The rest of the AFC...the third-best team might be the Chiefs, who might actually be better than last year's 12-4 squad, but faces a much more difficult schedule. Oakland's 2016 blueprint of simply winning in the fourth quarter after screwing around for 45 minutes might not be sustainable. Miami is scary, but the Dolphins have yet to put everything together. Joe Flacco's status for week one is up in the air. Andrew Luck is on the PUP list. Houston's offense is uninspiring. And any team quarterbacked by Blake Bortles can't yet be taken seriously.
It feels like it's New England.....and then Pittsburgh....and then everyone else. But again, add up Brady and Ben's age and there's a good chance you have a dead person.
*The schedule. I don't like making the case for one team by counting on the shortcomings of the others, but this does at least illustrate that - right now - a look at the schedule for the Bengals reveals very few scary, holy-shit-not-them opponents.
*Marvin Lewis. Again, please, don't laugh. Marvin is good at a lot of things. He's also not good at a lot of things. Exceeding expectations when they're not that high is something that he's good at. Coaching up, if you want to use a popular phrase. 2011. 2009. 2003. To an extent, 2012, and to a smaller extent, the second half of 2014. Give Marvin a team that's being counted out, and chances are he'll crank out a team that's better than anyone would've predicted.
I'd argue that he has more to work with this season than in many of those seasons I just mentioned. When you watch a guy survive for as long as Marvin Lewis has, you learn to not count him out.

Mo Egger
Mo Egger delivers his unique take on sports on Cincinnati's ESPN 1530!
Read more