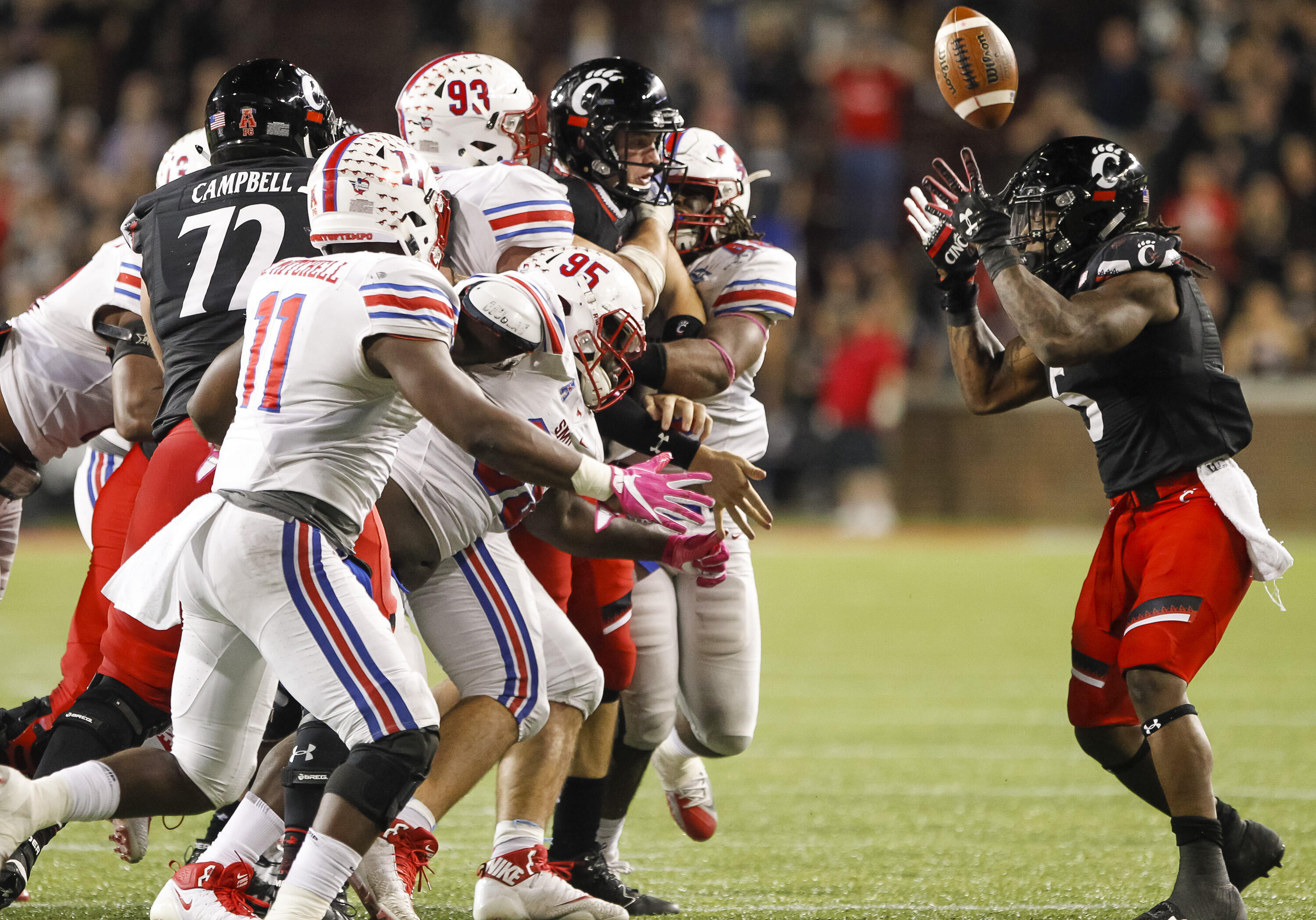 (Photo: Getty Images)
It's hard to say that a loss that sends a 2-5 team to a 2-6 record is especially devastating. When losing is such a regular occurrence, the defeats start to run together and a numbness to not winning settles in.
But even with the UC Bearcats having the season they're having, last night's loss was tough to take.
And maddening to sort through.
Cincinnati did a lot well. They put together some lengthy drives on offense, punctuated by some very good Hayden Moore throws and production from a backfield that showed promise. Even though their defense struggled on third down and gave up far too many catches to a guy (Trey Quinn) who was targeted 22 times, the Bearcats got enough stops and made enough plays to hold a lethal offense well below its season average.
And the team as a whole was in position to win.
Except that their head coach chose not to take advantage of being in that position.
Luke Fickell is getting a pass this season, and justifiably so. The mess he inherited runs deeper than taking over a roster that has deficiencies and lacks proven experience. I'm very excited to see what the UC program will look like when he's had a couple of his recruiting classes to work with.
But last night wasn't good.
UC had the ball at their own 22 with :53 remaining and a timeout to burn with the game tied at 28. They needed just a field goal to win. But instead of playing aggressively, Fickell chose to play for overtime, settling for a couple of clock-killing run plays that were met with loud, pronounced boos from the Homecoming crowd at Nippert.
Fickell isn't the only coach who would've played it safe in that situation, but that situation - for a 2-5 team - called for something a little less passive.
End-of-regulation clock management isn't the only thing bothersome about last night.
There were blown chances in the red zone, including one that resulted in zero points after Hayden Moore turned the ball over after trying to pitch it to Michael Warren, who would've caught it had, you know, his back not been turned toward the quarterback.
There was the sequence at the end of the half, in which Moore took two sacks that moved Cincinnati from the SMU 14 yard line back to the 30, setting up a missed kick before halftime.
And there was overtime.
For a few brief, fleeting moments. Fickell's safe play at the end of regulation looked like it might pay off. A Marquise Copeland sack of Ben Hicks backed SMU back to the UC 41, setting up a fourth and 26.
Fourth. And 26.
The Mustangs, of course, converted. Hicks rolled to his right and connected with Quinn for a 28-yard game - Quinn's 17th catch, for what it's worth - all but guaranteeing that SMU would take a lead, even if it was just by three.
Which is what the lead was when Hayden Moore decided against taking a sack, instead trying to flip the ball to Mike Boone while under duress, leading to a game-ending, maddening turnover.
I'm not allowed to type the words that came out of my mouth as the game came to an end.
Moore's night illustrated why there's such impatience with him. He made a number of very impressive throws, including two for touchdowns, and he was in command and productive with both his arm and his legs on UC's early drives.
But the decision-making on things like the pitch to a guy who wasn't watching, the sacks that he took at the absolute worst times, and the sack he should've taken but didn't, highlight both his team's small margin for error and his own game management shortcomings that have fans clamoring for Ross Trail to start getting meaningful snaps.
Moore's mistakes, Fickell's lack of aggressiveness, and the team's overall inability to finish added up to one of the most brutal UC losses in a while.
And even in a year where the losses greatly outnumber the wins, what happened at Nippert Stadium last night was very disheartening.