Everything you need to know about what happens when the Bengals play the Steelers can be captured in three sequences.
The first came when Le'Veon Bell finished off a run by giving Dre Kirkpatrick the kind of stiffarm you only see when a guy with no game approaches a woman he has no business hitting on. It was savage, yet dismissive. A snapshot for what Bengals/Steelers is.
The second came when the game was still, at least somewhat, up for grabs. Someone named Robert Golden threw a pass on an apparent punt for 44 yards to Darius Heyward-Bey, extending a Pittsburgh drive that would ultimately end in a field goal. Moments after that play, the CBS cameras caught Mike Tomlin wearing the same kind of look a thief wears when he's gotten away with a crime. Again.
The third sequence is something that's gotta be exceptionally rare in NFL history. Satisfied with their 15-point lead, and all but sure that they were on their way to yet another win over their little brother, Pittsburgh had Ben Roethlisberger take a knee three times, handing the ball back to the Bengals, who ended their loss in victory formation. The list of pro football games that have ended with both teams taking a knee on their final plays can't be a long one. All that was missing from the final play of the game was Marvin yelling "thank you sir, can I have another?"
This was a maddening, stupefying, game, one that was there for the taking, yet one that the Bengals all but refused to grasp.
And one that begged some important, yet blood-boiling questions...
Like why, after some productive runs early, did Joe Mixon go what felt like eternity without touching the ball? Why did he finish with only seven carries? (FWIW, Pittsburgh's best back got 35 carries. Cincinnati's got one-fifth that amount)
Like why did AJ Green never touch the ball after the second Bengals drive?
Like why, with an open Tyler Kroft in the flat on a third down play the Bengals had to have, did Andy Dalton force the ball to a blankted Josh Malone (?!)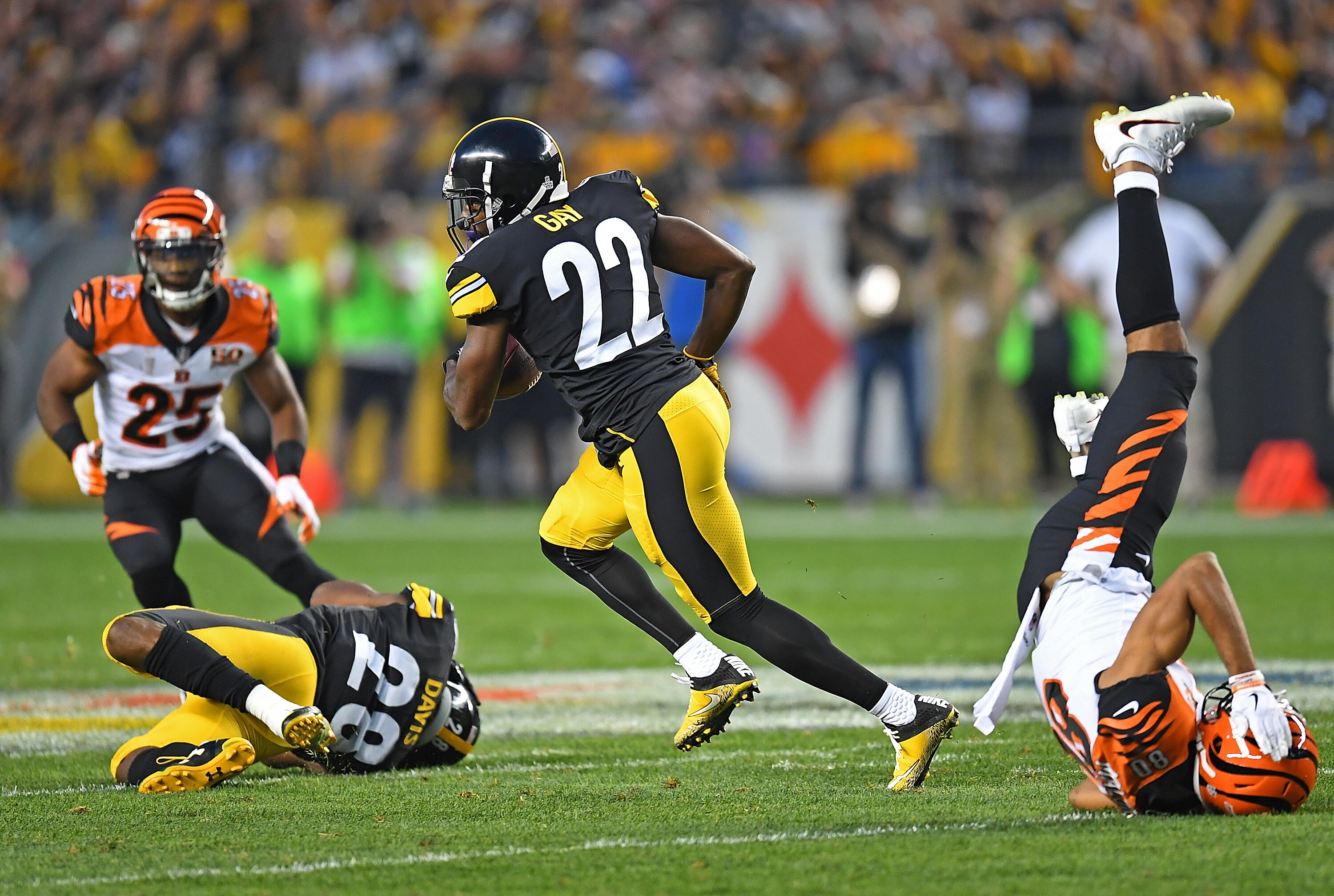 Like why did Andy Dalton, with his team's chances on life support, throw the ball out of bounds on fourth down on the final Bengals drive of the game? (I've been watching football a long time. I don't think I've ever seen a quarterback do that before)
The answers, honestly, don't matter. The fact that I'm even asking them illustrates both how painful today's loss was and how much mastery the Steelers have over the Bengals.
Pittsburgh didn't play exceptionally well, and their own decision-making helped keep the game competitive even as the Bengals continued to get in their own way. But when the Bengals play the Steelers, anything that can go wrong, will
And anything that can prove that, in pro football at least, Pittsburgh is Cincinnati's big bother, will happen.
Until the Bengals can beat the Steelers consistently in games that really, really matter - like today's - nothing that do will - or should be - taken seriously.
The look on Mike Tomlin's face this afternoon says as much.