The Blog Of Football Guesses is a weekly homage to a former iHeartMedia Director of Digital who once informed me, in all seriousness, that "football picks drive web traffic, especially if you toss in a picture of a cheerleader." Seriously, please don't take these guesses seriously.
Andy Dalton's play is not the biggest reason why the Bengals are having a crappy season. He's certainly been complicit in the misery and his inability to elevate a team despite its deficiencies has been magnified, but he's not THE biggest reason why the Bengals are 3-5.
And yet, in part by virtue of the position he plays, and in large part because some have long decided that no matter what he does, Andy Dalton just isn't The Guy, he'll always be blamed for every Bengals shortcoming.
That is, of course, not fair. Especially on a team that's as hole-filled and trouble-plagued as the Bengals.
Their offensive line is garbage. They have one active quality receiver. Their running game is often non-existent. Few quarterbacks would succeed in the circumstances Dalton has been thrust into this season.
I don't bring up these obvious things to excuse the way Andy has played this season. His limitations were well-documented well before the 2017 Bengals took the field for the first time, and starting with some of his first passes way back in week one, we've seen some of Andy Dalton's worst.
He's missed some agonizingly easy passes - some of which could've drastically swung games. At times, he's as looked as shaky in the pocket at any time in his career (which is saying something, because 2012 Andy Dalton looked like a guy hearing strange voices when he was in the pocket), and he's made decisions this season that have made me want to get into physical confrontations with myself.
Andy hasn't been good, and he's armed critics that believe that addressing the quarterback - namely, finding a better one - needs to be an offseason priority, even as they're shouted down by those that look at the Bengals and see a team flaws that go beyond their starting QB.
Neither are wrong.
I can bore you by mentioning the obvious areas where the Bengals have to improve this offseason. With the beginning of free agency four months away and the draft six weeks after that, I've already run out of creative ways to say that the offensive line should be the team's biggest offseason priority.
But improving at quarterback can be a priority too.
One thing that's always interesting to me when we talk about a team's draft or it's offseason to-do list is how we value depth at every position except quarterback. Wide receivers. Tackles. Defensive backs. Name a position and we'll argue that you can't have enough of them.
But mention improving the depth at quarterback and people make the same face your wife makes when you tell her that on a long weekend guys' trip to Vegas, you and your buddies ended up befriending and hanging out all weekend with a bachelorette party.
If quarterback is sports' most important position, and if depth is something that every team should be attempting to build, then why be dismissive about building depth at the game's most important position.
This is my convoluted, long-winded way of saying that the Bengals should be looking to improve at quarterback, but that doesn't necessarily mean instantly improving upon Andy Dalton.
It means being open-minded about making potential (key word) upgrades at the position, maybe bringing in someone who could be groomed as Andy's eventual replacement (a quarterback drafted next year would be under contract when Dalton's current deal expires in three years), or who be a viable alternative to turn to when Andy struggles. Maybe the new guy ultimately competes for the starting job. Perhaps they simply have a better backup than AJ McCarron. Or the league's best third-stringer. Maybe they fall in love with a prospect, value his skills more than they do Dalton's, and are in a position to draft him. I don't know.
I do know that the Bengals are flawed. Their quarterback is flawed. One will be addressed. The other should be. Even if Andy is still the guy next season.
BENGALS v. TITANS
We spend way too much time talking about upcoming opponents, shaping our opinions of game outcomes based almost solely on how good or bad the Bengals are.
This, of course, ignores how bad the Bengals are.
Marvin Lewis' team has played eight games. Four of them have been brutally awful affairs, about as fun to sit through as a over-thought wedding toast. In the other four games, the Bengals have played okay for a while, but have failed to sustain anything resembling quality football.
They've beaten two awful teams, and one that's barely near the top of the NFL's large, boring middle.
It is impossible to have any confidence in them, not with the run game lacking any consistent punch, not with a lack of playmaking on defense, and not with their "enviable arsenal of weapons" being completely nuetered.
I could break down the Titans, dive into their strengths and weaknesses, and bang out a few paragraphs about particular matchups, advantages and disadvantages, and keys to victory.
But that'd require the Bengals to be something better than they are.
Titans 23 Bengals 16 (Tennessee -4.5) THERE ARE OTHER GAMES
We're 69-61-2 heading into Sunday....
Minnesota (-1.5) over Washington. Two beloved former Bengals assistants! OK, one beloved former Bengals assistant.
Chicago (-5.5) over Green Bay. The Packers had extra time to prepare last week. Imagine what they'll look like without Aaron Rodgers on a normal week.
Indianapolis (+10) over Pittsburgh. The last time the Steelers actually did what they were supposed to do against a lousy opponent was in a game last Thanksgiving night against the Colts. They'll probably win this one too, but don't they dick around too much against inferior competition too much to lay ten points?
Chargers (+4) over Jacksonville. I need more AJ Green v. Jalen Ramsey in my life.
Jets (-2.5) over Tampa Bay. New York is coming off the Thursday Night Football mini-bye and the Bucs don't have Mike Evans. This is worth laying points.
New Orleans (-2.5) over Buffalo. I don't know if the Saints have a good defense or if they're schedule has handed them bad offenses. I don't think I'll arrive at an answer after this weekend.
Detroit (-12.5) over Cleveland. The Browns are making progress. They signed former Bengals Derron Smith this week, marking an actual player transaction. Congrats to you, Cleveland!
Rams (-11.5) over Houston. I can't believe I'm doing this either.
Dallas (+3) over Atlanta. Come on, we're all rooting for the Cowboys just so Goodell has to hand Jerry Jones the trophy, right?
Giants (-1) over San Francisco. They're going to actually put this game on television?
New England (+7.5) over Denver. Remember when John Elway was like the best executive in football?
Carolina (-9) over Miami. I shouldn't be taking this many big favorites, but here we are. Go Panthers.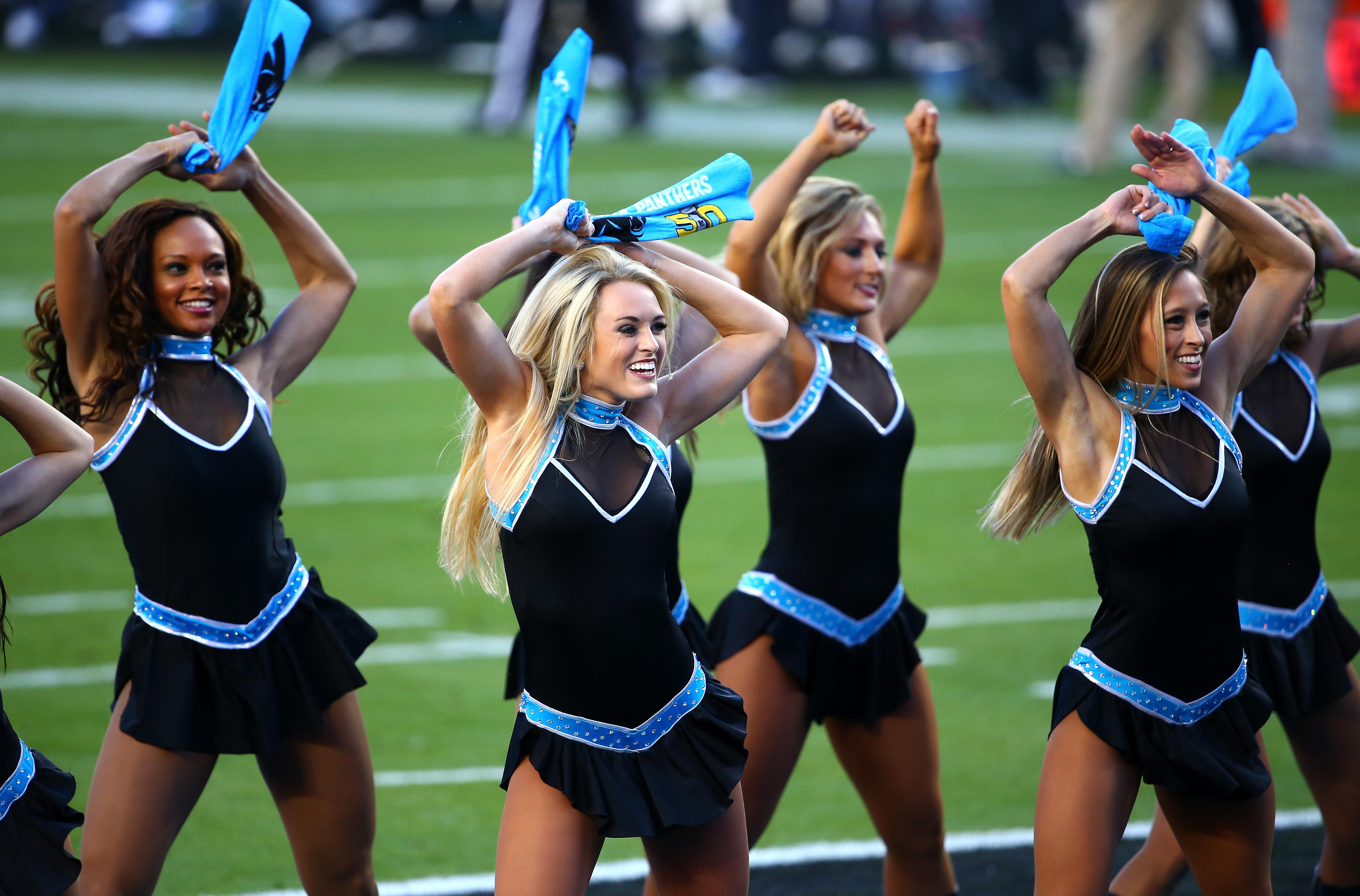 NFL FAN FIGHT OF THE WEEK
Last Sunday's Dolphins/Raiders game looked fun. The main questions that result from this little tussle in the stands, however, are about the dress the one woman in this video is wearing.
CINCINNATI v. TEMPLE
This won't be a guess, because I'm doing this early on Saturday morning after attending both the UC basketball opener and the Bearcats football tilt against Temple.
Hoops...there wasn't much to take away from the 107-77 drubbing of Savannah State. UC's first opponent of the season played glorified street ball at a tempo that badly skewed the stats and helped make the game sloppy. The Bearcats need to decrease the turnovers and take better shots, but with Mick playing nearly everyone on a deep roster and the pace being an early-season work in progress, some sloppiness is to be expected.
UC is going to be very, very good this season.
The football team has been bad, and last night might have marked the season's most frustrating loss. The glaring amount of turnovers and lack of collective football intellect are both striking. This team struggles to maintain competitiveness, magnified by continual breakdowns on defense and a sobering lack of offensive aggressiveness.
We knew this team wouldn't be very good this season, and I'm probably more willing than some to be patient with the work that Luke Fickell is doing. The Bearcats have some young players that have shown promise, but the on-field product this season has been tough to watch, and it's impossible to ignore that if not for Miami handing them a win and Tulane missing a make-able kick, we're pretty close to talking about a one-win team heading into the season's final two games.
I didn't have high expectations for this season. Yet I'm still disappointed.
HIGH SCHOOL YEARBOOK
Michigan State (+17) over Ohio State
Kentucky (+2) over Vanderbilt
Indiana (-9.5) over Illinois
Enjoy your weekend. Enjoe Dave Shula's final game.