Every day there are three things, here are those three things.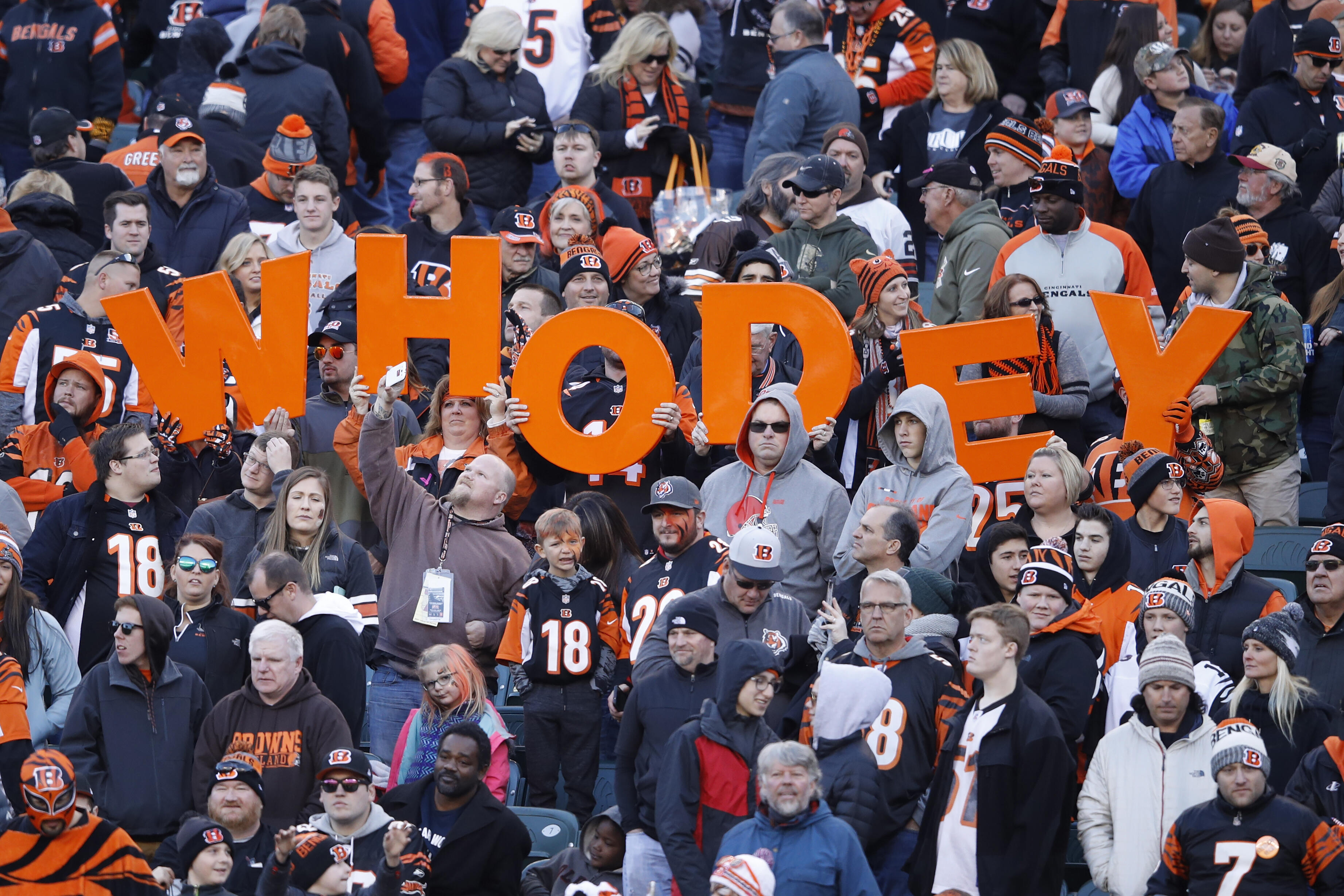 1) The Bengals are in the hunt. There is no more familiar sight for NFL fans than when the TV networks show on-screen graphics of the playoff picture. You'll see three columns, one of that up-to-the-moment division leaders, the current wild card holders, and those teams on the outside looking in, but still "in the hunt."
After they fell to 3-6 by losing to Tennessee a few weeks ago, the Bengals weren't even listed in that last "in the hunt" column, instead they were relegated to not even being shown, which in November might be the biggest indignity a team can suffer.
As we turn toward December, however, the Bengals are smack dab in the hunt, holding down a place near the top of that third column, with playoff chances that can be categorized by whatever word is used to describe that place between far-fetched and legit.
To their credit, they've recovered enough from both their 0-3 start and their 3-6 mark to get to this point. And in recent weeks, some of the things that dogged this team for two months have improved. The offensive line has played better. Yesterday's electrifying Joe Mixon performance was encouraging. Andy Dalton's last five games have yielded nine touchdowns, zero picks, and a passer rating of 104.9. (He has an 18 to 4 TD to interception ratio, a completion percentage of nearly 64%, and a passer rating of 104.1 since the beginning of week three. I was on board the "play AJ" bandwagon a few weeks ago, but give credit where it's due. Andy hasn't been - and isn't - as bad you think.) The defense has been, well, alright.
But let's be honest, the Bengals are in the hunt because their schedule has been forgiving. They have zero wins against good teams (sorry, Bills Mafia, the Bills aren't good), and only one victory against a team with a winning record. Counting Cleveland's record twice since, you know, the Bengals have beaten them twice, the combined win-loss record of the teams the Bengals have beaten is 12-43.
The combined record of their remaining five opponents is 32-22.
(It might have been 31-23 had Green Bay coach Mike McCarthy actually played to win. His backup quarterback, Brett Hundley was fantastic last night, putting the underdog Packers in a position to win at Heinz Field. Too bad his coach didn't allow him a chance to win the game. No, I'm not bitter.)
Nine wins might not be a wild card requirement, but to finish 9-7, they'll have to go 4-1 against a slate that includes two division leaders and two other postseason hopefuls. Yes, the Steelers play down to their competition (last second wins against Indy and Green Bay, a loss to Chicago). Yes, the Vikings are probably overachieving. Yes, the Lions seem destined to fold. And yes, the Ravens might be the league's most "meh" team in a season filled with them.
Oh, and they play the Bears, who are awful, yet seem to own the AFC North.
But still....we're asking this Bengals team to - if we include their last two Ws - win six of seven to close the year.
The good part here is that is some respects, it feels like the Bengals have turned the corner. The frustrating part is wondering about things like where they'd be if they'd gotten a stop at the end of the game in Nashville, or if Bullock makes a kick he misses in Green Bay. The uncertain part is wondering how much of what we've seen the Bengals do is merely a byproduct of playing crap teams, which we'll get a better feel for that once they've gotten through their last five.
The scary part is having the Steelers, for whom the Bengals are a regular punching bag, standing between staying in the hunt or being removed from the screen.
2) Fun ending. Miserable season. I was going to write a post about the 2017 UC football season, and it probably wasn't going to be that positive, given the whole losing record and all.
But then they won in absolutely hilarious fashion, ending their season with a one-point win over UConn that has to mark the first time a Bearcats season has concluded on a missed PAT.
The win was oddly gratifying. I found myself happier than I should've been for a team that not only finished with a 4-8 record, but was two missed kicks and a gift from Chuck Martin away from finishing 1-11.
Most of us knew that the Bearcats wouldn't be that good this season, and most of us have focused more on the work that Luke Fickell and his coaching staff are doing on the recruiting trail than the results they achieved with the team they inherited. I'm very, very interested in where UC football is when the 2019 season kicks off, what kind of team they'll have in Fickell's third year, and how good the American Athletic Conferences is compared to what it was this season, when it was pretty damn good.
(BTW, you won't watch a better college football game this year than the one UCF/USF played on Friday)
But....this season feels disappointing.
It certainly wasn't much fun.
This team played more competitive games toward the end of the season, mainly because the schedule eased up a bit. And unlike last season, you couldn't accuse this year's team of quitting. But they never really seemed to get better, with some of the mistakes that plagued Tommy Tuberville's last two teams helping to doom Luke Fickell's first.
There were bright spots, namely the youth and depth at running back, the improvement of the offensive line the emergence of Jarell White, and the whole not quitting thing, but the offense lacked imagination and there was a severe lack of impact playmaking on defense.
Oh, and they were manhandled nine days ago by an ECU team that lost by 57 points on Saturday.
Their limitations at quarterback didn't help. Hayden Moore has been described as a college version of Andy Dalton. That's a comparison that I'm not sure I agree with, but the point that puts those two in the same conversation is a valid one. You can do worse, but you probably need to do better.
UC has to do better at QB next season, either with coaching that squeezes more out of Moore, competition from within, or perhaps an upgrade on the graduate transfer market. Next year's roster should be better, and hopefully many of the returning players make major strides this offseason. Much of that will be negated if the quarterback play is the same.
What was most sobering about this season is that the entire vibe from about the fourth game on was just like 2015 and 2016. We went into most weeks pretty sure of the Bearcats not winning. Many of the games were non-competitive. Fans either sat on their hands or stopped caring altogether.
Luke Fickell had a very tough task on his hands from the moment he took this program over. As cliche as talking about culture change is, that was easily his first order of business. I believe that much of the culture has changed, and I do have faith that with a full offseason cycle ahead, he'll be able to mold the program more in his own image as he continues to upgrade UC's talent.
But player development - something that we didn't see as much of as I'd hoped - will be at a premium this offseason.
Winning more games, and being more competitive, will be at a premium next season.
3) Number three is supposed to be a thought on the FC Cincinnati stadium debacle. And yes, it is a debacle.
But I've run out of thoughts on the topic. Honestly, as much as I like FC Cincinnati, I'm bored by the topic.
I'll try anyways....
FC Cincinnati needs a new stadium in order to be invited to join Major League Soccer. They clearly want their new stadium to be built in Oakley.
Compared to most sports team requests for public money for a stadium, FC Cincinnati's push for public cash is a reasonable one.
And yet they're still getting the stiff-arm.
So the questions are, with the MLS deadline looming, how badly does FC Cincinnati want to join MLS? And how badly do they want their stadium in Oakley?
If the answers to those questions are "so badly," then Carl H. Lindner - whom the public owes nothing to, by the way - will suck it up and pay for whatever infrastructure and other things need to be paid for.
If they don't want these things badly enough, then their proposed stadium will be at the mercy of things beyond FCC's control, no matter how mighty their owner's political influence.
Want it? Pay for it.
There. I tried.
Radio Show: "Cincy 3:60" is at noon. The Tony and Mo Football Show is at 3:00. Both on ESPN1530.
Recommended Link Of The Day: This is less a link than it is an invitation to watch AJ Green do AJ Green things.