Every day there are three things. Here are those three things.
Sorry I'm late...
1) Different, but same. The venue might change. The players may change. The result stays the same. At least when Xavier plays Villanova, especially when Xavier plays Villanova in a gym that's not the Cintas Center.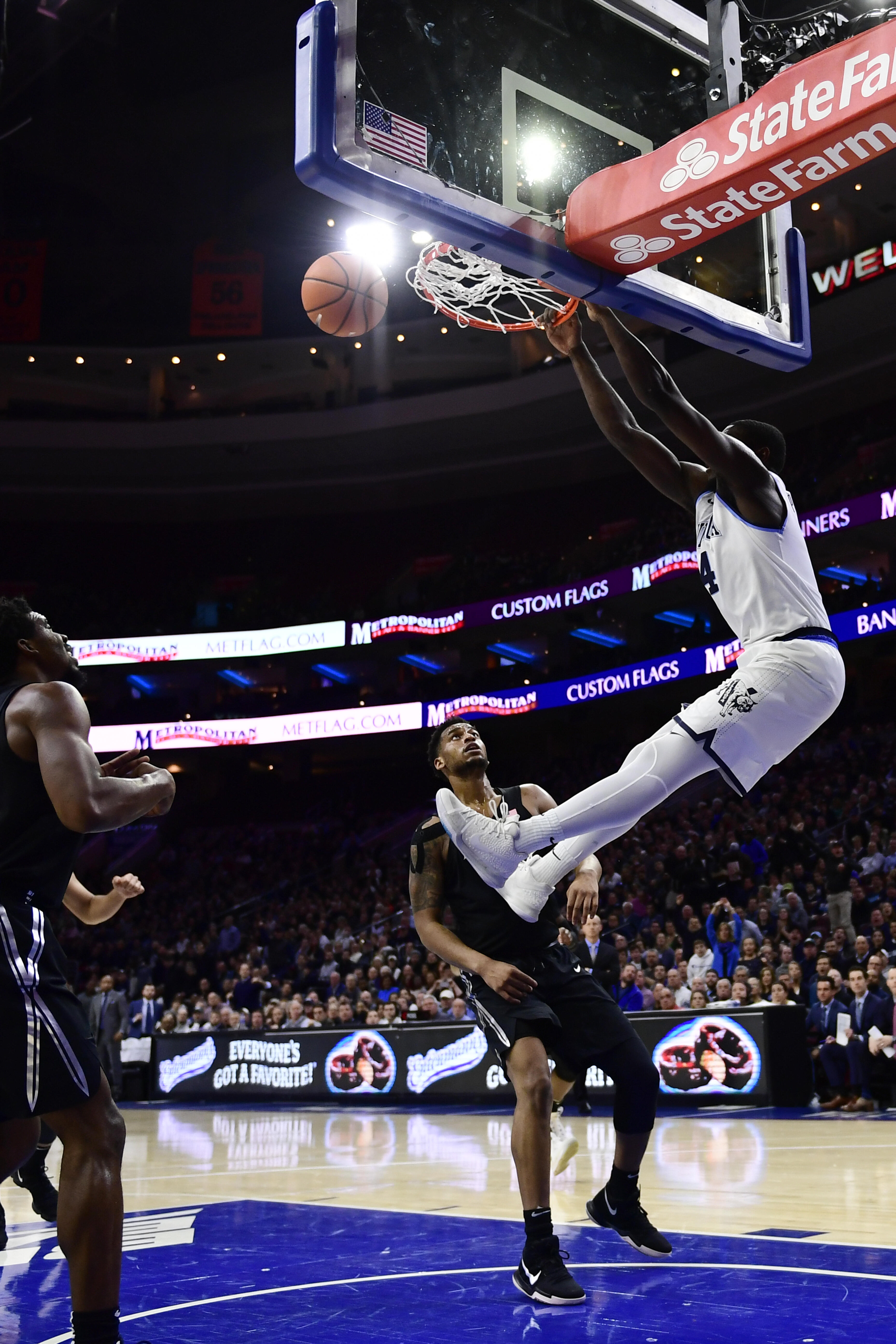 Here are the takeaways from last night's beatdown, none of which will leave you stammering around in amazement at my analysis...
*Villanova is really, really, really good. Machine-like on offense. If you're going to beat them, you either must outscore them, which Xavier doesn't have the firepower to do when Trevon Bluiett is struggling the way he is, or you must turn them over, which is nearly impossible given how good their guards are with the ball, or you have to simply hope that they shoot poorly, which doesn't seem like an effective, bankable strategy.
XU could do none of these things last night, which isn't a real indictment on the Musketeers. The Wildcats own the Big East. They're as good as any team in college basketball right now. It requires near-perfection in some area in order to beat them. XU is far from perfect right now.
*Trevon Bluiett ain't right. It's physical, by many accounts, but the his struggles seem to go deeper than just that. He seems.....off. Not right. Out of sync. Lacking confidence.
XU isn't beating really, really good teams when Bluiett and JP Macura aren't carrying the load. Yes, they've tapped into depth that some worried wouldn't be there, and there were a more than a few Musketeers that did little to help the cause last night, but - against the teams Xavier will ultimately be measured against - the Muskies must be offensively carried by their two stars.
Especially when they're not exactly a lockdown defensive team to begin with.
*Who cares about March? It feels like with each passing season, I look at regular season games less and less through the prism of what they will mean when the NCAA Tournament and its selection occur.
Can XU not make a deep tourney run because it was rolled by an outstanding Villanova team? Not necessarily. March success hinges on a ton of different factors, some of which have nothing to do with what happens in the regular season.
I'm the increasingly rare fan that values regular season conference titles, which I think are a true sign of how good, deep, well-coached, and mentally tough a team is. I think we underrate teams that survive a two-plus month grind and finish in first place.
If Xavier is going to win the Big East regular season championship, the Muskies are going to have to beat out Villanova, which means they're best served by beating Villanova. Last night, they had a chance to take a massive step toward an accomplishment that I would've made a bigger deal out of than most, which would be finishing first in an uber-competitive league.
The Musketeers can still win the Big East regular season crown.
But doing so just got more difficult.
Last night was maybe a reminder of how difficult a task that will be for XU, or anyone else that's not Villanova.
2) Big one at BB&T. Speaking of the chase for a regular season title...there's a pretty major tilt happening at NKU tonight. The Norse host Wright State. Both teams are 4-0 in the league.
Last season, when NKU made its run through the Horizon League Tournament to the NCAAs, I heard a lot of people either ask what Norse games are like or mention that, you know what, next season they were gonna go check out a game or two.
Well, it's next season.
And the Norse are still pretty good.
The weather that's going to end civilization as we know it won't start until tomorrow. The beer at BB&T is cold. College basketball games are fun.
Soooo....see you at BB&T tonight?
See you at BB&T tonight.
3) Give Teryl a chance. It's easy, and understandable, to be skeptical of everything the Bengals say and do right now. The disappointment over the decision to bring back Marvin Lewis will linger for a while - possibly until one year from now when next season's divisional playoff games are being held.
That said...
The new D-coordinator deserves a chance to show if he can succeed, and with the players he inherits, I think he can.
His first meeting will be held with Vontaze Burfict (who never played 16 games in a season under Paul Guenther), William Jackson, Geno Atkins, Carlos Dunlap, Carl Lawson, and George Iloka. The Bengals need some more players, and they need some more from the players I just mentioned, but there are a lot of defensive coordinators who'd love to start their new gigs with the guys Austin will address when his first meeting begins.
When Austin had players in 2014, his Detroit defense was one of the best in the league.
When he didn't have players in 2017, his defense still was among league leaders in takeaways, which has been in short supply around here.
Will he be great in Cincinnati? I have no idea?
Does he have a chance for success? Definitely.
Radio Show: Teryl Austin will be with me at 3:20. And there will be other incredible sports commentary before and after. 3:05. ESPN1530.
Recommended Link Of The Day: Xavier's J.P. Macura: Love him or hate him? It's complicated
Follow me on Twitter @MoEgger1530.