Every day there are three things, here are those three things.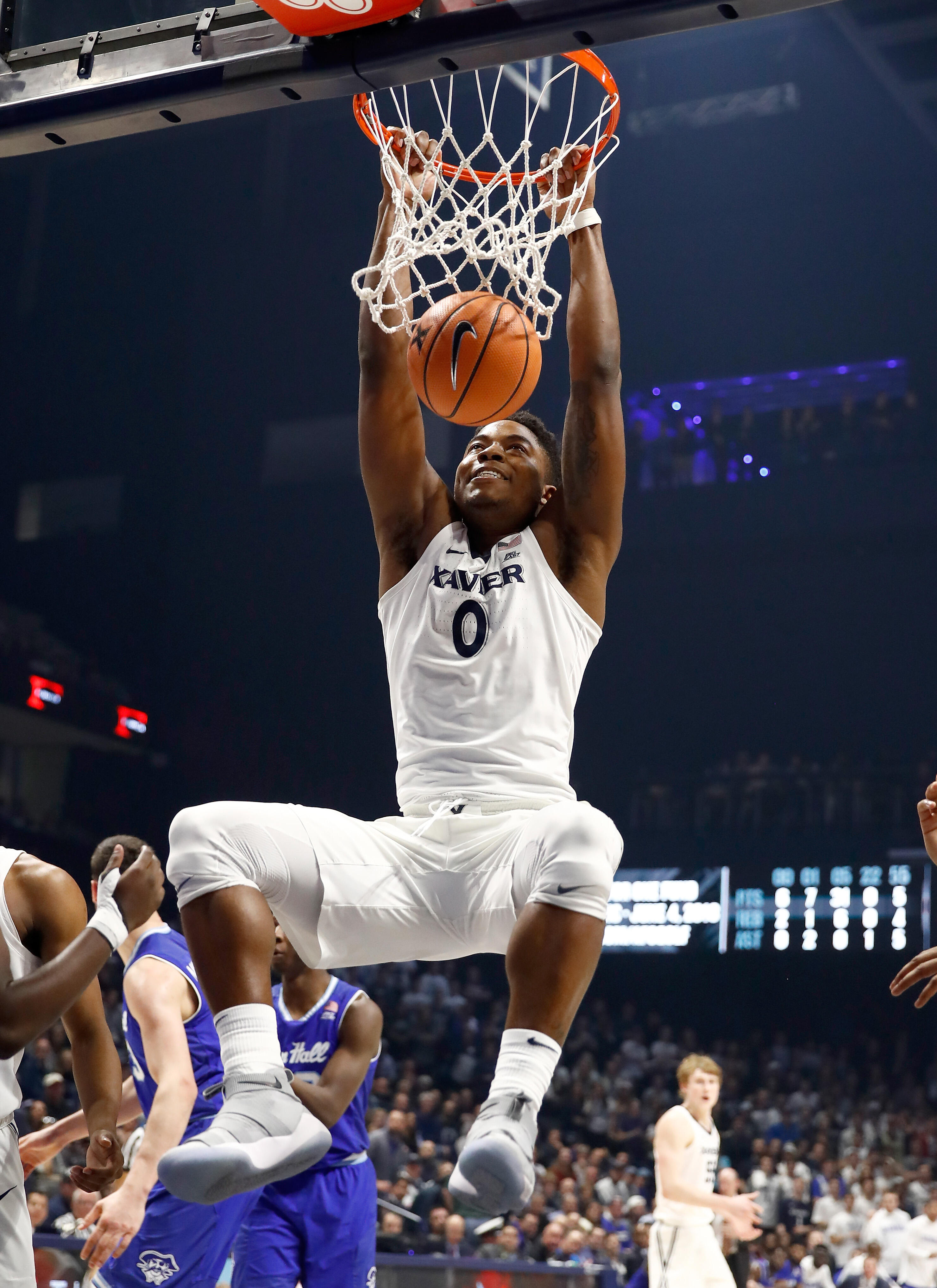 (Photo: Getty Images)
1) Muskies roll. Before XU's win over Seton Hall became college basketball's latest ref show (the Villanova/Providence game was a ref show undercard), the Musketeers looked every bit like a team starting to peak at precisely the right time. I don't have the time or the space this morning to mention every Xavier player that stood out, but it'd be irresponsible of me to not type the names of Trevon Bluiett and Naji Marshall for the way they played against the Pirates.
Seton Hall seemed determined to let Bluiett shoot, and the XU senior gladly obliged, canning three first half threes on his way to a 37-point night. Marshall did a little of everything, adding to XU's scoring punch with a career-high 20, looking nothing like a freshman who's hitting the mid-February wall.
For about 20 minutes, the Musketeers played like the national title contender they are. In the second half, Seton Hall chipped away, then Xavier responded, then the guys in stripes decided to do their thing. The game kinda crawled to the end, but XU's performance was emphatic enough, and sets up what should be a very, very fun Saturday afternoon this weekend at the Cintas Center.
2) Wildcats crumble. I'm not sure what there is that's new to say about the season UK has had and the team John Calipari is coaching. There were moments last night against an Auburn team that wasn't at its best when it looked like maybe the Wildcats were starting to get it. Then, as has been the case all season, the opponent provided some resistance, the home crowd got going, and Kentucky wilted.
UK has no margin for error because of their lack of experience, a dearth of reliable shooters, and shaky point guard play, but they can widen their margin just a little by giving maximum effort. The thing I've always like about Calipari teams is that for all of their talent, they usually play very hard. This year's team has been an exception. Kentucky loafed back on defense more than once last night, and they often broke down on defense because players were unwilling to help a beaten teammate. This particular team looks uninterested in playing with each other, and Calipari seems at his wit's end trying to reach them.
I'll bet that UK still makes the NCAA Tournament, because the bubble this season is incredibly soft, but the idea that the light bulb will come on for this team come March is based on the fact that previous Calipari-coached Kentucky teams figured things out just in time to make a run. The difference between those teams and this one - besides experience - is that those teams looked like they at least cared enough to get better. These guys seem like they can't wait for the season to end.
3) An opportunity for the Bearcats. The message from the NCAA Tournament Selection Committee on Sunday was pretty direct: Cincinnati can earn a one seed. Tonight's game against Houston will go a long way toward determining what the committee does with the Bearcats, who have their three toughest league games within the final two and half weeks of the regular season.
Tonight worries me. The way Houston built an 18-point lead against Cincinnati two weeks ago and the Cougars coming in desperate for a statement, signature win at home can't help but make you think that tonight will be a struggle. But as much as I don't think that college basketball players spend much time thinking about where their team will be seeded, the directive from the committee - keep winning an a number one seed could be yours - hopefully has the Cats focused in Texas tonight.
I wrote about the quite baseball offseason and why the fact that baseball players aren't as essential to the experience of consuming baseball has limited their bargaining power, for The Athletic.
Recommended Link Of The Day: The origin story of Luis Castillo's two-seam fastball
Radio Show: ESPN's Dan Dakich talks college hoops at 3:20. Maybe we'll get one of our loyal callers to call the program to discuss their favorite college basketball team today too. The Fun starts at 3:05 on ESPN1530.
Follow me on Twitter @MoEgger1530.