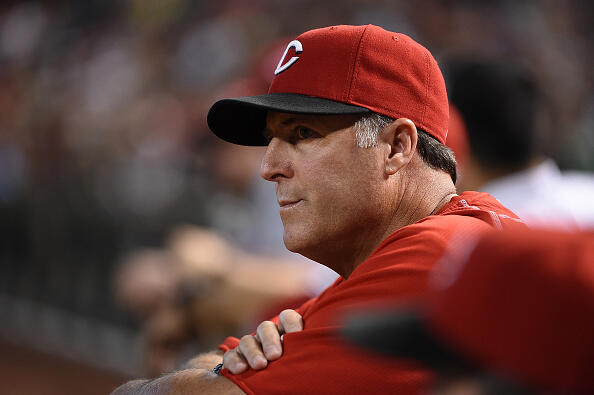 (Photo: Getty Images)
I don't beat up on Bryan Price gratuitously, because I know how hard of a job he has, and because I think the way he does his job matters far less than how his players do theirs.
But still...
Last night was an abomination.
First, there's the continued insistence on Billy Hamilton leading off against lefi-handed starters. Hamilton shouldn't be batting leadoff against any kind of pitcher, but he's been especially inept against lefties throughout his career. Yet, Price can't help himself. There's Billy two nights ago, hitting in the top spot against a lefty.
More pressing, though, is Price turning to Yovani Gallardo last night in the sixth inning of a still-winnable 4-2 game. Yovani Gallardo is probably not here because Bryan Price wanted him here, but there's nothing that says that one of the worst pitchers in baseball over the past two years absolutely has to pitch in games that are still kind of up-for-grabs.
Price put Gallardo in the game with his team down by two. By the time Price pulled him, his team was down by six. By the time Gallardo's one-third on inning/four hits/two walks/six runs line had been finalized, they were down by eight.
Would another pitcher have been more effective? I don't know. Could I have stomached watching literally any other pitcher allow the game to get away from the Reds? Yes. Can I come up with any reason why Yovani Gallardo is actually on this team, collecting a guaranteed paycheck, reminding me of Ross Ohlendorf and Kevin Gregg? No
Is there any reason why Bryan Price should ever put Yovani Gallardo, who hasn't been effective in years, into a game that not a blowout?
Absolutely not.