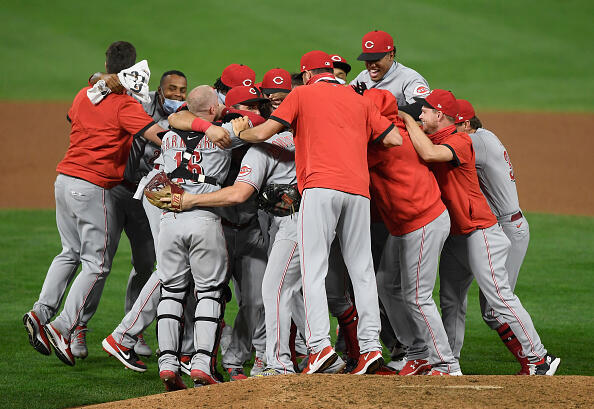 This was originally published in The Athletic...
Yeah, I wrote them off. And not just once, either.
I wrote them off the night Nick Castellanos hit into the first 9-2 force-out I'd ever seen, when the Reds tumbled to six games under .500 for the first time all season with a sloppy, infuriating 3-2 loss in Milwaukee.
I wrote them off again as the calendar flipped to September when the Reds opened the season's final month with a two-touchdown loss to the Cardinals that somehow felt more lopsidTed than the 16-2 final margin.
In fact, after that rather disastrous night at Great American Ball Park, I wrote more than 1,400 words that didn't entirely throw dirt on the notion that the Reds could still play in the postseason, but that didn't exactly express a ton of hope that they'd avoid yet another losing season either.
I did it again a few days later, when the Reds blew a ninth-inning getaway-day lead in Pittsburgh, squandering a chance to win a series against the only remaining dreg on their schedule. And I did it when Sonny Gray couldn't make an early 3-0 lead stick in Chicago and the Reds failed to win a series for the ninth straight time.
Then I did it one more time as the Reds were finishing a series in St. Louis on a day most of us were giving our nearly undivided attention to Joe Burrow's NFL debut and the Bengals' season opener. As Burrow and his teammates began engaging with the Chargers at Paul Brown Stadium, I gave a glance at what the Reds were doing against the Cards. I took note of the fact that trailing 5-3 in the middle innings, they were just a dozen outs away from dropping to seven below .500 with just two weeks remaining.
Yeah, I counted them out again that day. So did a lot of others. Maybe even yourself.
What the Reds have done since staring into a two-run hole after five innings on September 13 has been remarkable to watch, and immensely fun to experience. The Reds scored seven times across the final seven innings in their Busch Stadium finale. Andrew Miller's wildness was a big help. So were the bats swung by Eugenio Suárez and Aristides Aquino, who hit a pair of homers that, as they happened, seemed like they were merely fending off the inevitable.
The Reds won that game, then took two more against the Pirates the following day, with the first coming on a Tyler Stephenson walk-off homer and the second coming on the strength of three Suárez long balls. Within roughly 30 hours, the Reds had gone from sprawling on the mat to healthy and active participants in the dash to the playoffs.
To read more, go to The Athletic.
(Photo: Hannah Folsien/Getty)