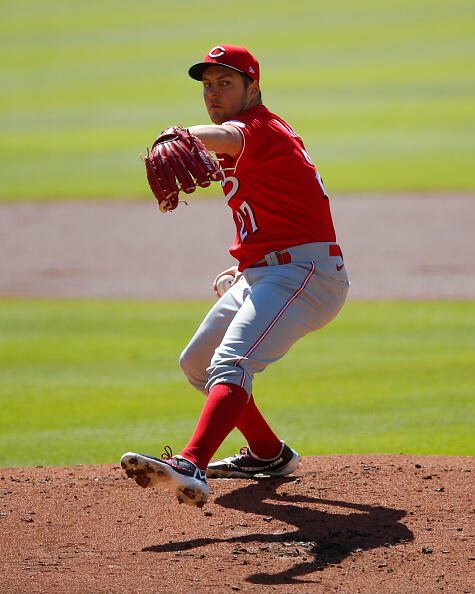 This was originally published in The Athletic...
Be honest. Did it really come as a total shock to you that the Reds' offense fell completely dormant in Atlanta?
I mean, I guess it's always surprising when a baseball team makes history for being punchless. But if you paid even scant attention to this team over its 60-game drive-thru season, there's no way you could have digested 22 consecutive innings of maddening offensive futility and been completely floored by what you watched.
And you could not have been surprised that their quick postseason exit came despite excellent starting pitching.
At the expense of destroying whatever is left of the #Goodvibesonly fun that permeated through their two-week bull rush into the playoffs, this season felt like a waste. I know that's an easy critique from a fan whose impatience with waiting for the Reds to actually matter has been combined with the fatigue from spending back-to-back afternoons hanging over every playoff pitch without getting any kind of payoff. I'm sure it comes off as an easy way to dismiss a disappointing playoff result at the end of a shortened season that some will never legitimize, but it's actually less of a statement about the way the season petered out at Truist Park and more of an acknowledgment of the one thing that the 2020 Reds should be known for.
Trevor Bauer and Luis Castillo were both terrific, Bauer certainly more than Castillo, but even if we've already revisited both the decision to have Castillo throw Ronald Acuna Jr. a 3-2 slider with two outs and a runner in scoring position and the actual execution of the pitch, Castillo is far from among the main culprits in another early Reds postseason demise. If there's any reason to remember their brief stay in the playoffs with any degree of fondness, it's what Bauer did across seven and two-thirds innings of incredible pitching in Game 1.
But details of their excellent performances will get colored in when we're forced to revisit the ever-expanding list of Cincinnati sports letdowns.
The Reds wasted both starts, just as they spent about seven weeks wasting the efforts of a starting staff that kept the team barely above water throughout August and the first half of September. Maybe things never went completely according to plan with this year's rotation — the preseason hype of having four former All-Stars on the staff quickly gave way to Wade Miley's injury issues, Anthony DeSclafani posting an ERA over 10 over his last seven outings and Sonny Gray's outstanding first month followed up by a pair of shaky performances and a stint on the Injured List.
Still, there were two things primarily responsible for the Reds maintaining relevance: the pre-Opening Day expansion of the playoffs to eight teams per league and bang-up work being done by the starting staff. Even as the Reds drifted aimlessly for the first three-quarters of the season, they continually avoided falling off the proverbial cliff by getting a strong outing from one of their starters and scoring just enough runs to avoid being punted from contention.
Castillo moved past some shaky August outings to post four consecutive dazzling September starts, including a two-hit complete game against the Cardinals right when it felt like the season was slipping away. He also threw six and two-thirds innings of one-run ball against the Brewers in the opening game of the club's biggest regular-season series in seven years.
Bauer's eight innings of one-run/12-strikeout work on three days' rest in the final game of that series not only vaulted the Reds to arguably their most important victory of the season but was an emphatic case for Bauer's Cy Young Award candidacy. After 10 mostly forgettable starts once he arrived from Cleveland at the trade deadline last season, Bauer didn't just re-establish himself, he made a claim to the title of the best pitcher in baseball. He finished as the National League's leader in ERA, ERA+, WHIP, and the MLB leader in hits allowed per nine innings. He was the most dominant pitcher on the best staff the Reds have had since 2012, and he was the headline performer of arguably the best trio of starters in the game.
That's all for a team that barely finished with a winning record and almost didn't make the playoffs.
To read more, go to The Athletic.
(Photo: Getty)