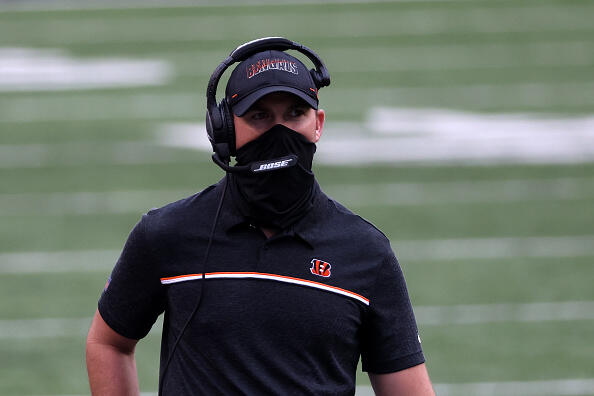 This was originally published in The Athletic....
When you've spent decades rooting for a football team that seems to solely exist so it can disappoint, you don't allow yourself to enjoy those precious few moments when things are going quite swimmingly. Disaster always lurks and even when the going is really, really good, history reminds us that something bad is going to happen.
Which is why as soon as Randy Bullock's third PAT attempt sailed through the Lucas Oil Stadium uprights, giving the Bengals a 21-point lead over the Colts early in the second quarter on Sunday, I started thinking about a game played almost exactly 24 years ago.
On Oct. 20, 1996, the Bengals blew a 21-zip second-quarter lead on the road and lost to the San Francisco 49ers. Aside from Steve Young's touchdown run that gave the Niners the lead in the fourth quarter and the NBC camera shots of a bewildered David Shula looking helpless on the Cincinnati sideline, I really don't remember much about the mechanics of the game, other than the fact that after four-and-a-half painfully bad seasons and a 1-6 record through the first seven games of '96, it proved to be Shula's last game as the Bengals head coach.
It's never good when a team coughs away a 21-point lead and loses. It's particularly upsetting when the concept of playing meaningful games close to Christmas is on the verge of being a pipe dream before Halloween. It's especially problematic when a 21-point blown lead is overseen by a head coach who has no track record to boast of or equity to cash in on.
When you're deep into the second season of your tenure and fans are still searching for reasons to believe in you, you're better off not feeding into the doubt by choking away a three-TD edge to a team quarterbacked by a creaky 38-year-old who some have thought out loud about being a $25 million mistake.
Zac Taylor's head coaching career is now 22 games old, and what I can tell you about him is he seems like a nice guy, that his team's collective effort never waned last year in the face of a near-cataclysmic 2-14 season, and that, well, did I mention that he seems like a nice guy?
I can tell you a lot more about his performance over the past two games. In Baltimore, last Sunday, Taylor's offense looked completely ill-prepared for a Ravens blitz that Joe Burrow said publicly was coming four days prior to the game. The Bengals continually tried to block Baltimore with five offensive linemen, a recipe for disaster for most teams, much less one in Year 5 of its odyssey to field a quality O-line. Taylor and his staff never adjusted, Burrow never stopped getting clobbered, and aside from a puny game-ending drive that resulted in a pointless field goal, the Bengals almost never scored.
They did score against the Colts on Sunday in their 31-27 loss, on four consecutive drives to open the game. In fact, the Bengals' offense looked as good and well-run as it has since before Taylor took over. Those first four drives had everything, from pinpoint intermediate passes from Burrow, excellent running from Joe Mixon and rare-for-2020 productivity from A.J. Green and Giovani Bernard, as well as actual downfield passes hitting their targets.
Is it a credit to their head coach that a week after the Baltimore embarrassment, the Bengals stormed ahead against the Colts? Sure, but Taylor has graduated from getting pats on the back for his teams performing well in isolated segments of games and his players trying really hard. He's moved to the point where even if the criteria for assessing Taylor isn't solely tied to wins and losses — Burrow's development is an obvious factor — every coach ultimately gets graded based on how frequently their teams win, with the ones who earn the lowest marks being very complicit in its failures.
To read more, go to The Athletic.
(Photo: Kirk Irwin/Getty)