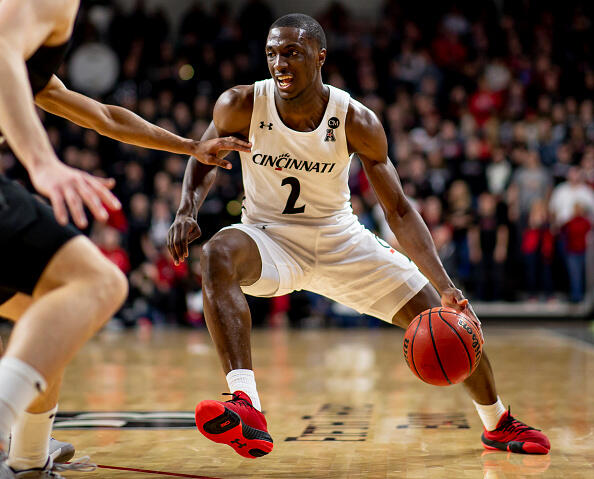 (Photo: Michael Hickey/Getty)
This was originally published in The Athletic...
As they did just prior to the start of UC's 2020 football season, columnist Mo Egger and Bearcats beat writer Justin Williams had a discussion about this year's UC basketball campaign. Here's what they had to say.
Mo Egger: Most of the conversation about this UC basketball season has not been as much about actual basketball, but how the team and the coaching staff are preparing for a season under bizarre circumstances. I feel like we've beaten to death the issues that have gone, and likely will go into, scheduling. I don't know that either of us has much new to add about when fans will be allowed back inside Fifth Third Arena, and you've already written in great detail how John Brannen and his staff have tried to get the team ready despite a huge amount of uncertainty. I'm not sure either of us has much new ground to cover when it comes to those subjects.
I want to talk hoops. Let's start with expectations for the coming year. You wrote in mid-October that "this season was always going to be one of transition for Brannen and the Bearcats, bridging the gap between the old regime and the current one with seven new scholarship players on the roster for the second year in a row."
To the best of my knowledge, this season represents the most year-to-year roster turnover since Andy Kennedy gave way to Mick Cronin a decade and a half ago. But UC fans are used to transition seasons that still include enough winning. We also love scrolling through our mental Rolodex of Bearcats seasons and spending time in the past, which quite frankly is all I've wanted to do since mid-March anyway.
So, here are some "transition" seasons in UC hoops history that comes to mind …
• 1993-94: Guys like Van Exel, Corie Blount, Erik Martin gave way to a heralded freshman class that included Dontonio Wingfield.
• 1997-98: The first year post-Danny Fortson, Darnell Burton and Damon Flint. With Ruben Patterson suspended for essentially half the season, it was hard to figure out at the beginning who would fill what roles.
• 2000-01: Kenyon Martin, Pete Mickeal and Jermaine Tate graduated. DeMarr Johnson left after one season. The front line was loaded with question marks.
• 2014-15: The first season post-Sean Kilpatrick. Questions lingered about offensive identity and who would bail them out at the end of possessions that featured a bunch of standing around.
• 2018-19: Gary Clark, Jacob Evans and Kyle Washington gone. The post-Nevada meltdown hangover lingered over a team that needed some huge shoes filled.
I didn't mention either Kennedy's one season or Cronin's first year because calling them "transition years" doesn't do justice to what was happening with the program. So let's focus on the five seasons I just mentioned.
They each had two things in common: Each made the NCAA Tournament. In fact, four of the five won either a conference regular-season title or a conference tournament title. The 2000-01 team sort of lucked into a Sweet 16 appearance.
The other thing they had in common was that a returning player grabbed the torch from a departed player and either made the team his or played well enough to foreshadow major future success.
The point is that even in years when UC's basketball program was in transition, it was able to maintain a pretty high standard. I will give last year's team the benefit of the doubt and say that it would have avoided a disaster in its first AAC Tournament game and had its name called on Selection Sunday, lengthening the school's streak of NCAA Tournament appearances to 10. Using that assumption then, Brannen's first UC team met the program's standard.
I have no idea what to make of UC chances this year, and forecasting what's going to happen in March has never seemed more foolish. Do I have to brace myself for the kinds of transitional seasons that happen at other places, or can I believe this year's team can collectively launch the program into a new era yet maintain just enough relevance that I'll check bracket projections during the season and see Cincinnati's name listed as a possibility?
Justin Williams: We have to get the annoying but necessary caveat out of the way first: We have no idea what this team will look like before it tips off against Lipscomb (Lord willing) on Dec. 2. That's always the case to some extent in college basketball even under normal circumstances, though usually we at least get an intrasquad scrimmage, an exhibition, and maybe a few minutes of shootaround before practice. But with all the protocols and the pushed-back start this season, we get nothing. I've talked to different people on and off the record to get a sense, but it's still tough to gauge going in totally blind.
Having said that, where I think I've landed with this Bearcats team is that the season could likely unfold very similarly to last year, with a talented group that gets off to a rocky, disjointed start, but eventually finds its identity. The problem is that I don't think this team will be quite as good as last year's, and it's faced with a shortened, hanging-by-a-thread schedule. You referenced the seven new players for a second straight season. Brannen has done really well to stock the roster with immediate contributors as well as an eye toward the future — in addition to eight freshmen and sophomores, three of his five projected starters are transfers he brought to the program. He often talks of being "long-term greedy," but he's sacrificed some of that because of the talent he inherited. That said, I don't know that this year's squad will have two first-team all-conference performers and a defensive player of the year. Considering a team that did have that last season was battling to keep its NCAA Tournament hopes afloat every night over the final three weeks of the regular season, it may be too much to expect the same or better this year.
Playing in March Madness is typically the floor for UC basketball. That's the expectation Cronin set, and a task Brannen proved up to in his first season. And while I don't want to suggest merely getting there should be considered the ceiling for this year's team … it's probably the crawl space above the garage. I expect this season to offer a lot of hope and excitement for the years ahead and what a talented, young nucleus could achieve moving forward together. If that's accompanied by a regular-season conference title or tourney run, or having the Bearcats announced on Selection Sunday, then fans should be downright ecstatic.
Is the fan base ready for that reality? Am I tempering expectations too much?
Mo: You're making too much sense. The expectations for this team don't necessarily mesh with the expectations most of us have for this program, which illustrates both how spoiled we've been and how difficult it truly is to reach the NCAA Tournament every single season, and that's not even considering the impact of the pandemic on the planning for, and execution of, this season. I guess the good news is, that even in a transition season, getting to the NCAAs is still an attainable goal, even if it's not necessarily the expectation.
That will take some getting used to.
To read our entire back and forth on UC Basketball, go to The Athletic.