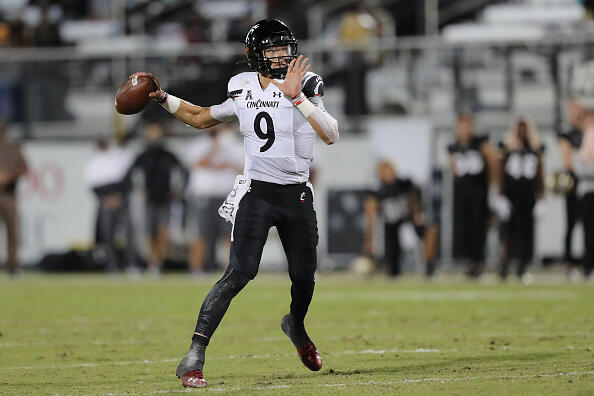 This piece was originally published in The Athletic....
I have been wrong many times in my life, often on the record.
A day before the Reds opened their playoff series against the Braves in September, I spent countless minutes on the radio detailing how they'd end their 25-year run of playoff futility. Instead, they were swept in two games, scoring zero runs in 22 excruciating innings.
A day after the Bengals selected John Ross with the ninth overall pick in the 2017 NFL Draft — the one that came just before the Chiefs took Patrick Mahomes — I droned on about how Ross could make a talented offense difficult to defend in the short-term and had the potential to replace A.J. Green in the long-term.
You're likely painfully aware of how that's worked out.
I've used space on The Athletic to be wrong about things. Here I am begging the Bengals to draft Dwayne Haskins in 2019. When the Bengals took Jonah Williams instead, I doubled down on one misguided column with another by writing that a new deal for Andy Dalton seemed imminent.
And weeks before I incorrectly predicted that the Reds would advance in the postseason,I all but wrote off their chances of even qualifying for the playoffs.
Not every off-base take or proven-wrong opinion has a receipt or was expressed in a public forum. I've never told anyone this, but I was sort of underwhelmed when the University of Cincinnati named Luke Fickell as its new head football coach.
It's obvious four years later that I should have been doing cartwheels. Fickell is one of the best head coaches in college football.
Saying as much doesn't necessarily mean that I've been completely on board with every one of Fickell's decisions as they were being made. Even as he's directed UC to a 30-5 record since the beginning of the 2018 season, I've spent much of that time wondering about, and agonizing over, his steadfast loyalty to Desmond Ridder as his starting quarterback.
Yet of all the different ways in which Fickell has adeptly guided the Bearcats from the depths of 2016 to a program now in national championship contention, perhaps no choice has had as much of a positive impact as sticking with Ridder. And as much as UC's place in the AAC championship game is a byproduct of Cincinnati's dominant defense, it's been Ridder's ascension and improvement that have been the biggest on-field story.
Read the entire piece by going to The Athletic.
(Photo: Getty)