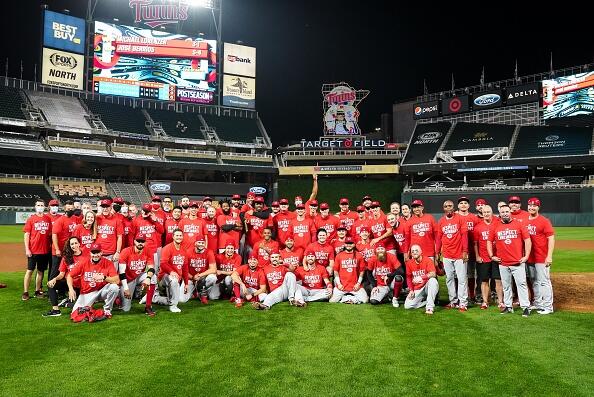 This was originally published in The Athletic.
Let's get the obvious out of the way since there's no getting around it: 2020 was the worst.
I'd elaborate, but chances are you'd rather read a game-by-game recap of every Cincinnati Bengals loss from the 1990s than yet another piece in which the author tries to put a quirky spin on a year we'd all like to move on from as quickly as possible.
Almost out of obligation, I will mention that as a whole, 2020 was no good for Cincinnati sports. We went another year without any postseason advancement, but considering the high hopes we had for better fortunes when the year began another lifetime ago, the experience of 2020 was particularly painful.
The Reds spent most of their truncated season floundering while apologists kept reciting excuses for their feeble offense. Their two-week dash to the postseason was a hoot, but watching their hitters flail away across 22 playoff innings was painful.
The Joe Burrow chapter in Bengals history was launched in September and it was a blast watching him grow into the role of star NFL quarterback on a series-to-series basis. But no visual stood out more this season than Burrow writhing in pain on the FedEx Field turf as his rookie season came to a sudden and maddening end.
Opening Day was canceled. Same for the NCAA Tournament. FC Cincinnati's season was not canceled, but you can be pardoned if you're wondering whether it actually happened if no one was there to see it.
The UC football season was a smashing success, but it unfolded against the backdrop of fans not being able to see one of the best teams in college football. It's ending amid the reality setting in that the system determining the sport's national champion at its highest level is stacked against schools like Cincinnati.
Ron Jans lost his job because he used a racial slur, Thom Brennaman lost his because he used a homophobic slur while forgetting the first rule about being close to an open microphone and Dick Williams left his because, well, it's better to jump off a sinking ship than it is to get blamed for ramming it into the iceberg.
Speaking of losses, we suffered some immeasurable ones in 2020. The year was four days old and we'd already lost Sam Wyche and Chuck Machock, and by its conclusion, we've been forced to mourn Ken Riley, Tony Yates, Tom Seaver and the incomparable Joe Morgan.
It would be easy to end this column right here and chalk the past year up as a total loss, a complete waste of time unworthy of being remembered and undeserving of mining for good.
But as I mentioned, we don't need more material lamenting a year's worth of misery, so to send 2020 off with a list that might make you find some redeeming value in the year we've all just endured, I bring you moments in Cincinnati sports that made 2020 suck a little less.
Jan. 14: Burrow whets the appetite
There have been more than a few moments when Burrow sent Bengals fans into uncontrollable fits of giddy delirium, perhaps for some as recently as on Christmas Day, when he tweeted a video of himself walking without assistance. It was a blast watching Burrow, and despite the long list of uncertainties hovering over the franchise, there is still a sense that if Burrow can return to the field healthy for Week 1, they'll at least be worth watching in 2021.
No performance of Burrow's was more fun to watch than his final game at LSU, a national championship throttling of Clemson. Burrow didn't just outduel Trevor Lawrence, he ran laps around him, torching the defending champs for 463 yards and five touchdowns in a 42-25 win that, around here, took a backseat to the excitement Burrow had generated for fans of the team that was almost certain to draft him.
Feb. 1: Xavier stuns Seton Hall
During a three-week stretch in January, the Musketeers lost five of six games. The first four losses were by double-digits and the final of the five was a devastating double-OT home loss to Marquette in which guard Markus Howard played only half the game while the Muskies made just 11 of 25 free throws.
Their next game was an 11 a.m. road tilt against Myles Powell and Seton Hall, which was riding a 10-game winning streak that included a win at the Cintas Center.
The Musketeers blew the doors off the Pirates, stunning Seton Hall by racing out to a 30-6 lead on their way to a 12-point win. Bolstered by Tyrique Jones' 19 points and 18 rebounds, XU outrebounded the Pirates by 29, while Powell, who scored 24 in the first meeting, was held to just nine points as the Musketeers began their climb back into NCAA Tournament consideration.
Feb. 6: Cumberland's senior moment
Jarron Cumberland's senior season at the University of Cincinnati didn't go according to plan. He did not repeat as the American Athletic Conference's Player of the Year, he dropped off statistically from his junior year and, aided in part by when he seemingly forgot the time and score in a stunning December home loss to Colgate, speculation persisted all season he did not have the best working relationship with his new head coach.
John Brannen was surely glad to have Cumberland on his side when the Bearcats played at Wichita State. In a typically tense game the Bearcats seemed determined to give away down the stretch, Cumberland was the hero, hitting a tying driving layup while getting fouled with 3.5 seconds remaining. He then made the free throw to complete the three-point play while giving his team a crucial victory and himself a signature senior season moment.
To read the rest of my list, go to The Athletic.
(Photo: Brace Hemmelgarn/Minnesota Twins/Getty Images)