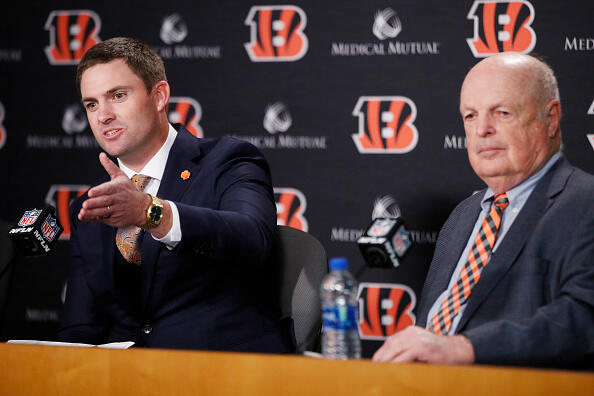 This was originally published in The Athletic....
Do you know what the most egregious part of Mike Brown's Monday morning statement regarding keeping head coach Zac Taylor was?
It's not that it was a swift doubling-down on a head coach who owns a career winning percentage worse than Dave Shula's or Hue Jackson's, and whose team rolled over and embarrassed itself against Baltimore in its 2020 finale. Besides, anyone who was still harboring doubts as to whether or not Taylor would return in 2021 after his one signature victory — two weeks ago on a Monday night against the Steelers — either indulges in the finest hallucinogens or isn't from here.
The most egregious part wasn't the cheesy final line, "next year we will earn our stripes" which comes off as a line originated in a meeting of the team's marketing minds, fed to the Bengals owner to launch a new campaign around the most cliched of all cliched tiger-mascot slogans. You know we'll be seeing a "This year we will earn our stripes" commercial airing draft night, but every marketing effort has to originate from somewhere, and if the campaign includes new uniforms, a ring of honor, and ticket prices that go unraised, I'm here for it.
The most egregious part of Mike Brown's two-paragraph statement in support of Zac Taylor was its opening sentence:
Our fans wanted a fresh new direction two years ago, and that is what we aimed to do in hiring a bright, energetic head coach in Zac Taylor.
That line is a more eloquent but less direct version of "this is what you people wanted, so get off my ass," a straight-arrow finger point toward fans who clamored for change during the final seasons of the Marvin Lewis era. It's a not-so-subtle inference that moving on from Marvin wasn't exactly something that he wanted to do, but relented because that's what his public demanded.
And you know how much Mike Brown cares about his public.
The problem is that this isn't what we wanted.
To read the entire piece, go to The Athletic.
(Photo: Joe Robbins/Getty)