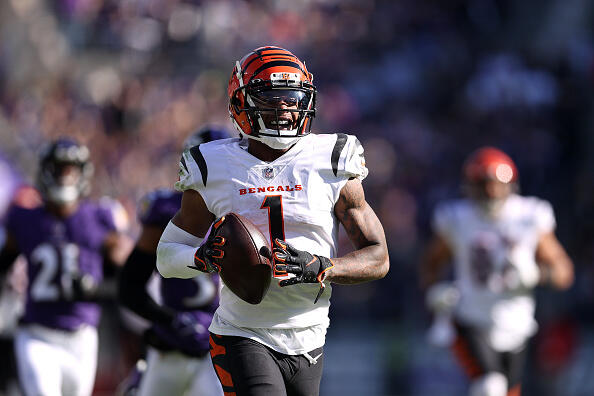 (Rob Carr/Getty)
Here is a tweet I sent earlier this month...
And what you're reading is the result.
I don't know how often I'll be able to do this, but I'll give it an effort to do it regularly, and you never know, maybe I'll come up with something compelling enough to be able to add to this collection.
As for now...
*The Bengals have arrived. A coworker of mine texted me a few hours after the Bengals' dismantling of Baltimore and asked whether Sunday's beatdown of a division foe was an aberration or a premonition.
My first response was to tell him that text messages should not include such fancy words.
Then I told him that the performance by Joe Burrow and Company was an arrival.
What we saw in Baltimore is the game we always knew was coming, even if we didn't know when. A thorough, statement-making ass-kicking, the kind that results in a final score that makes folks around the country perk up and wonder openly if team that administered said ass-kicking is for real.
Eventually the Bengals, armed with the best quarterback in the AFC North, were going to play the kind of game that pivoted the conversation about the team toward things like their playoff odds and yes, their title chances. We've been waiting forever to watch a Cincinnati Bengals team disassociate itself from the franchise's past, and prove capable of advancing the rhetoric beyond the same narratives that have dogged pro football in this town for decades.
Yesterday did those things.
The Bengals didn't just skate by and beat a playoff perennial, they whipped them, savagely and mercilessly. And they didn't just outscore Baltimore by 24 points, they left very little doubt that not only do they have a team worth considering as the AFC North's best, but that we can finally start thinking big about the local NFL outfit again.
*Another text, from a less semantically fancy pal:
"What is the appropriate level of excitement right now for a Bengals fan?"
It should be through the roof right now, and why not?
A) If you can't enjoy the wins, then what's the point of caring anyway?
B) More important, the club's potential seems limitless right now, not simply in terms of what they may or may not accomplish this season, but are you willing to bet against the idea that they're on the verge of something sustainable?
I'm not.
I'm not promising Super Bowls. Hell, 31 years of waiting for one lousy playoff win has taught me not to expect even that singular and elusive postseason breakthrough, but with the game's most important piece in place and still ascending, it's hard to argue against the notion that the Bengals are going to matter for a while, after years of being among the NFL's irrelevant.
Even including the mid-2000s and the 2011-2015 run, I don't think the Bengals have ever been better positioned to really win something meaningful. The 2005 team was a blast, but within a year it was apparent that the roster's makeup had all sorts of issues, and those five straight seasons of playoff teams were dogged by the understanding that the limitations at quarterback would always cap their success.
None of those things apply at the moment.
*Here's another Tweet I sent...
On a pure football level, there were things that bothered me about the struggles UC had against Navy. One is that on the rare occasion that Navy threw, things came slightly easier than they should have, even considering that Cincinnati's personnel was not deployed to stop the pass.
The other is that there was a pretty striking lack of creativity when it came to unearthing the running game.
Add that to the fact that the team as a whole simply didn't play well and that Navy was very well-prepared, and you get what unfolded in Annapolis.
It was frustrating, sobering, and yes, you could be excused for feeling afterward the same way you might feel when the Bearcats lose.
You can also be excused if you've emerged from Saturday feeling like it was almost inevitable that UC wasn't going to destroy every opponent by five touchdowns and thus experiencing relief that a thoroughly special season is still very, very possible.
As for how Saturday's tilt will affect their playoff chances....
I believe that if someone on the College Football Playoff Committee is going to rank UC outside the top four, they would do so regardless of that game's margin of victory.
I believe that if UC finishes 13-0, the closeness of the Navy game will be treated as an outlier by the committee if they win the non-SMU games decisively.
I believe that we've reached levels of spoiled-ness when the Bearcats win their 16th consecutive regular season game to improve to 7-0 - a victory that kept them at second in the AP Top 25 and moved them to second in the coaches' poll - and we're either turning up our noses and reacting as if the team, the season, and maybe even the program are being ripped apart at the seams.
The Bearcats are a terrific football team that stumbled a little on Saturday, and still won. Whatever you believed could be accomplished this season can still be accomplished.
Also, Navy-Marine Corps Memorial Stadium special place, and while I'm very, very happy that UC's days in the AAC are numbered, I'm grateful for the chance to see a game at this venue.
*Monday Night Football is a stay-away from a LOTN angle. After this weekend's performance, perhaps I should stay away more often.....
I wrote. Now, I'll broadcast. Tony Pike and I have the Tony and Mo Football Show at Twin Peaks in Florence. You should join us. Or at least listen this afternoon on ESPN1530.
For more podcasts, including entire shows, go to my podcast page. Listen to my show weekday afternoons, 3:00 - 6:00 on ESPN1530.Listen to ESPN1530 24/7 by going here. 
Follow me on Twitter:@MoEgger.
Email me:mo@espn1530.com