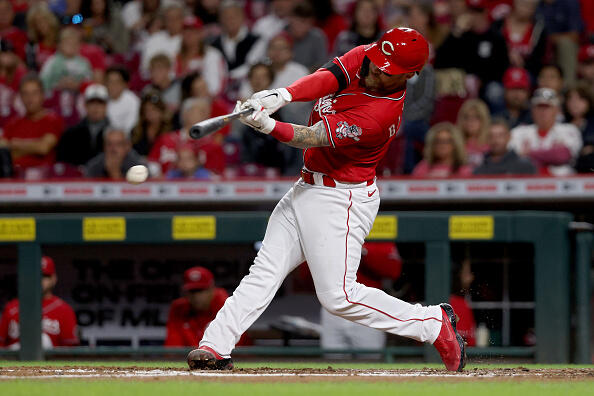 (Dylan Buell/Getty)
Let's start this with a tweet I sent yesterday....
Pardon the misspelling of the word "phrase," but I sent this a few minutes after the Reds announced that they'd traded Tucker Barnhart to the Detroit Tigers in exchange for someone whose name I don't yet feel compelled to commit to memory.
*On trading Tucker Barnhart. On one hand, it's not at all egregious to not want to pick up a $7.5 million option for a catcher who, assuming Tyler Stephenson isn't pressed into duty at other positions, would be likely to have his playing time decreased. It's not as if the Reds will miss Tucker's bat, Stephenson himself has very high-end potential, and while I haven't done the research needed to bolster this point, it seems like you can acquire a decent backup backstop at a pretty reasonable salary.
At the same time, I think you could make the argument that if you're not paying Stephenson all that much (he's still pre-arb), then picking up Barnhart's option would mean that the Reds would have one of the better catching combos around for the collective price of slightly more than $8 million, with an experienced option as a nice behind-the-plate fallback in the event that David Bell wanted or needed to use Stephenson at another position.
But yeah, fine, it is more than reasonable not want to pay Tucker Barnhart more than double than what he made in 2021.
*The issue is in the messaging. A month after watching an end-of-season collapse that only exasperated a season's worth of frustration over how the 2021 team's chances were compromised by last winter's salary-slashing, fans are being told to settle in for another offseason of belt tightening.
This time with some word salad from Nick Krall that came off ike something you read in a memo when all of your coworkers have been laid off.
For a franchise that's exhausted the patience of many, setting your fans up for what feels like another offseason of makin the team worse, or at the very least not making it better, comes with great peril, even if it's amazingly transparent.
Maybe the Reds don't go into a full-scale liquidation - they do have a LOT of contracts that I'm sure very few teams are interested in taking on - and I can certainly respect any strategy that involves devoting considerate resources toward cranking out quality big league-ready talent, but it sure doesn't feel like this offseason is going to be one in which we see the front office load up in an effort to make a run at winning something substantial in 2022.
It up to each of us to react to it accordingly.
What's immensely frustrating is that after waiting through more 90+ loss seasons than any fan should ever have to endure, the payoff for the patience that the Reds kept pleading for will end up being 22 scoreless playoff innings at the end of an underwhelming 60-game season 2020, and a third place finish in 2021.
Or at least that was the message sent yesterday.
*There are scenarios that involve Nick Castellanos resigning with the Reds, I guess. He's opted out of the last two years of his deal, a maneuver that carried with it the inevitability of UC not being ranked in the top four of the College Football Playoff rankings.
Those scenarios involve owners colluding to not sign free agents (there's precedent), the free agent market being even more depressed than it has been in recent years because of the coming lockout, or ownership doing a 180 from every other financial decision of the past year and making Nick Castellanos the most expensive free agent signee is franchise history.
You tell me if you're betting on one of those scenarios unfolding.
*I tried to write a little about UC and the College Football Playoff yesterday. A shorter version of the points I attempted to make...
-This is a system designed to not have teams from conferences like the AAC play for a championship. We've never not known that.
-I'm not letting this deeply flawed system affect how I view the season or UC's program. Gary Barta and his committee don't get to determine which seasons were a success.
Radio: First show I've done since Tuesday's rankings, so more thoughts on what went down with the CFP rankings, a question for Reds fans, a look ahead to Bengals/Browns and maybe a decent college football guest or two. Join me at 3:05 on ESPN1530.
For podcasts, including entire shows and interviews ,go to my podcast page. Listen to my show weekday afternoons, 3:00 - 6:00 on ESPN1530. Listen to ESPN1530 24/7 by going here. 
Follow me on Twitter:@MoEgger.
Email me:mo@espn1530.com