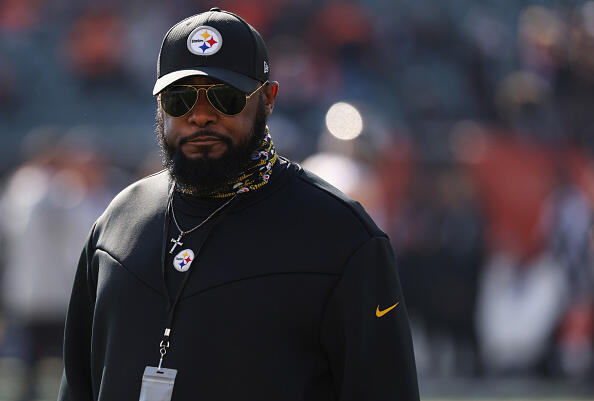 (Dylan Buell/Getty)
The moment we've been waiting an eternity for finally arrived around 2:10pm yesterday. It came with one minute and 54 seconds remaining in the first half of a game that Cincinnati had dominated with a masterclass of offensive gameplanning and execution, building a 24-3, having built a three-TD lead while looking like the faster, younger, fresher team on nearly every snap in every phase.
Down 21, the Steelers needed to score. Equally important, they needed to ensure that the Bengals next legitimate scoring chance would have to come after a Pittsburgh possession to open the second half. The game may have been lopsided to that point, but it hardly seemed over. A Pittsburgh touchdown would have provided them at least a small measure of momentum, and let's be honest, as fans conditioned to expect the worst of outcomes when it comes to this particular matchup, it would have allowed at least some halftime doubt to creep in.
Both the game and the season seemed at a tipping point for the Steelers. At 5-4-1 while staring down the barrel of a second loss to a divisional foe it already trailed in the AFC North standings, their playoff hopes were lessening with every Joe Burrow handoff or pass, meaning that both time and points were enough of the essence that continuing to possess the football was thei only option.
So there stood Mike Tomlin's team facing fourth down and one from their own 34 yard line with 1:54 on the clock, the Steelers Head Coach standing on the losing sideline with three timeouts in his pocket, a Hall of Fame quarterback on his field, and years of tough-guy football reputation-building in his coaching history. He faced a decision that was less about choosing whether to keep his offense on the field or calling for his punter, but more about whether or not he believed the game was worth continuing to play.
And so he chose to quit.
I'll freely admit that I don't have that many favorite Bengals/Steelers moments. There was Jeff Blake torching the eventual AFC champs at Heinz Field in 1995, then then fake spike TD toss from Neil O'Donnell to Carl Pickens three years later. T.J. Houshmandzadeh shining his spikes with a Terrible Towel in '05 was fun, as was the game-winning kick that clinched a playoff berth at Heinz in 2021. And Vonn Bell destroying JuJu Smith-Shuster on a bizarre Monday night right before Christmas in 2020 was as cathartic as cathartic can be when your team's season is merely circling the drain.
But what Mike Tomlin did yesterday tops each of them.
The team that sometimes seems to solely exist so it can bully the Bengals this time conceded to them, like a kid who usually takes your lunch money letting you cut in line, then paying for your meal. Here was the big, bad rough and tumble, we'll-intimidate you-then-beat-you-then-embarrass-you Steelers going off-brand and laying down. Not just to some random opponent either, but to the franchise it usually stuffs in a locker after giving it a wedgie.
And it was awesome.
Bengals 41 Steelers 10 was about a lot of different things, even if most of them were attached to the same theme of Cincinnati domination over its arch-nemsis. An offense that's hopefully just now starting to realize its potential. A running back playing perhaps his best game as a pro. A quarterback awash in weaponry. A defense that helped made the team's longstanding tormentor of a quarterback look helpless. An emphatic way to over the Vegas preseason win total with weeks to spare. And of course, a very big step toward an ahead-of-schedule postseason berth.
But what I'll remember most about spending yesterday afternoon at Paul Brown Stadium is the acknowledgement that came from Mike Tomlin with 1:54 remaining in the first half, and how good it felt when it came with a punt on fourth and a yard.
An era was over.
Even if the game itself wasn't.