Every day there are three things. These are today's three things.
My buddy TJ put it best: yesterday's game was like a Mayweather fight. The Steelers toyed with the Bengals for rounds because they didn't respect them.
Is this the look of a head coach who respects, or fears, his opponent?
1) The Bengals wasted a second round draft pick. If you're not going to use Joe Mixon, then why draft him? Why incur all of the criticism that comes with selecting the draft's most controversial player if in the biggest game of the season to date - one in which he made a big impact early - you're going to leave him on the shelf.
Of everything that happened yesterday, Mixon's disappearance is the most maddening.
In the first half, Mixon carried the ball seven times. One of those carries ended in a 25-yard gain on one of the best-looking runs we've seen from a Bengals back in years.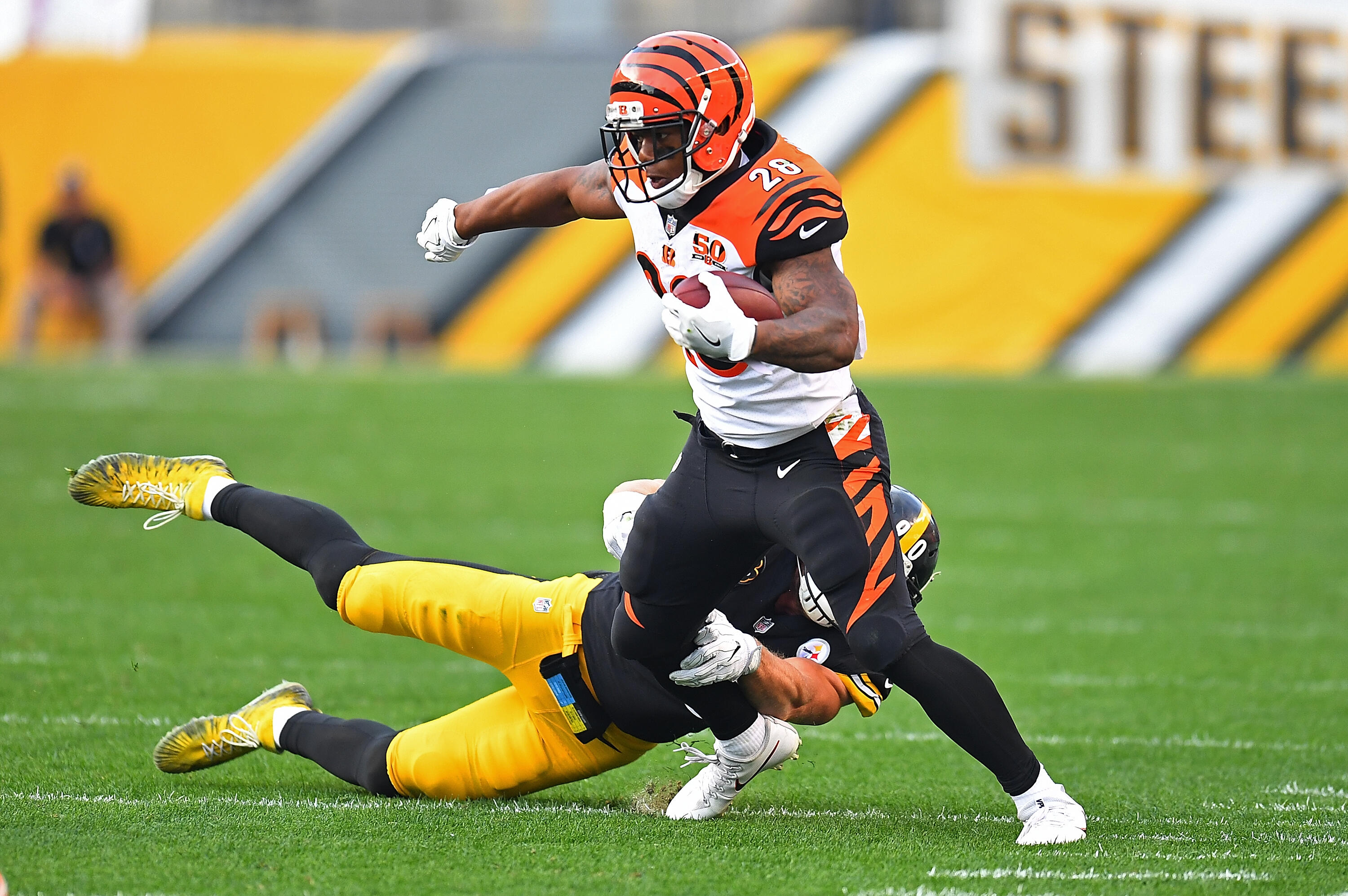 (Photo: Getty Images)
In the second half, he carried it zero times.
Absolutely f***ing staggering.
Not that Mixon was ever going to approach Le'Veon Bell's 35 lugs - that would require extending drives, which would've required throwing to AJ Green - but the difference in how the Bengals and Steelers used their respective best running backs was dramatic.
Pittsburgh leaned on their best back. Cincinnati ignored theirs.
This is a problem that will doom the Bengals season, and it goes beyond who the offensive coordinator is. The Bengals, far too often in the Marvin and Andy era, lose winnable games in part because they go away from their most explosive players. Bad throws are forced to covered wide receivers that aren't as good as AJ Green (the interception on a ball thrown to a covered Josh Malone is an illustration) and plays aren't run for Joe Mixon.
You would think that the idea - in a close game - when you're playing with limited quarterback who's playing without some of his better targets, you'd try to impose your best back - ONE WHO HAD BEEN PRODUCTIVE IN THE FIRST HALF - on your opponent.
But no. Mixon was as involved in the gameplan in the second half as John Ross and Tyler Eifert were. A winnable game slipped through the Bengals's grasp. Mixon himself seems puzzled by his lack of use.
And I wonder what the point of drafting him was.
2) Taking a knee. Accepting defeat. Down by 15 points with 38 seconds remaining, the Bengals weren't going to win. But the optics of what they did - taking a knee after three straight Roethlisberger kneels gave them one final possession - feeds right into the prevailing narrative of the Bengals/Steelers "rivalry."
It was taking a beating laying down, offering no resistance and no pushback. It was the ultimate little brother/big brother move, little getting his ass kicked by big, and then big making little clean up the mess.
It was embarrassing.
It's one thing to lose. It's another thing to accept it.
3) Vontaze gets whatever he gets for this. I don't care anymore.
Also....It's hard not to be impressed by the way William Jackson played against Pittsburgh. It's hard to be excited about the way Dre Kirkpatrick played against Pittsburgh. I've never seen a quarterback blatantly throw the ball out of bounds the way Andy Dalton did on the final Bengals drive of the game. And maybe the most frustrating thing about that loss yesterday was how Mike Tomlin's game management all but BEGGED the Bengals to stay in the game, and yet the Bengals refused.
That's as maddening a loss as the Bengals have suffered in a while. And that's saying something.
ICYMI: Steelers Beat Bengals. Steelers Mock Bengals. Can You Blame Them?
Radio Show: James and I have Cincy 3:60 and noon. Tony Pike and I have the Tony and Mo Football Show at 3:05. Both on ESPN1530. You're going to hear me gripe a lot.
Recommended Link Of The Day: Why the 'Madden view' won't take over NFL broadcasts ... yet
Follow me on Twitter @MoEgger1530.