Every day there are three things, here are those three things.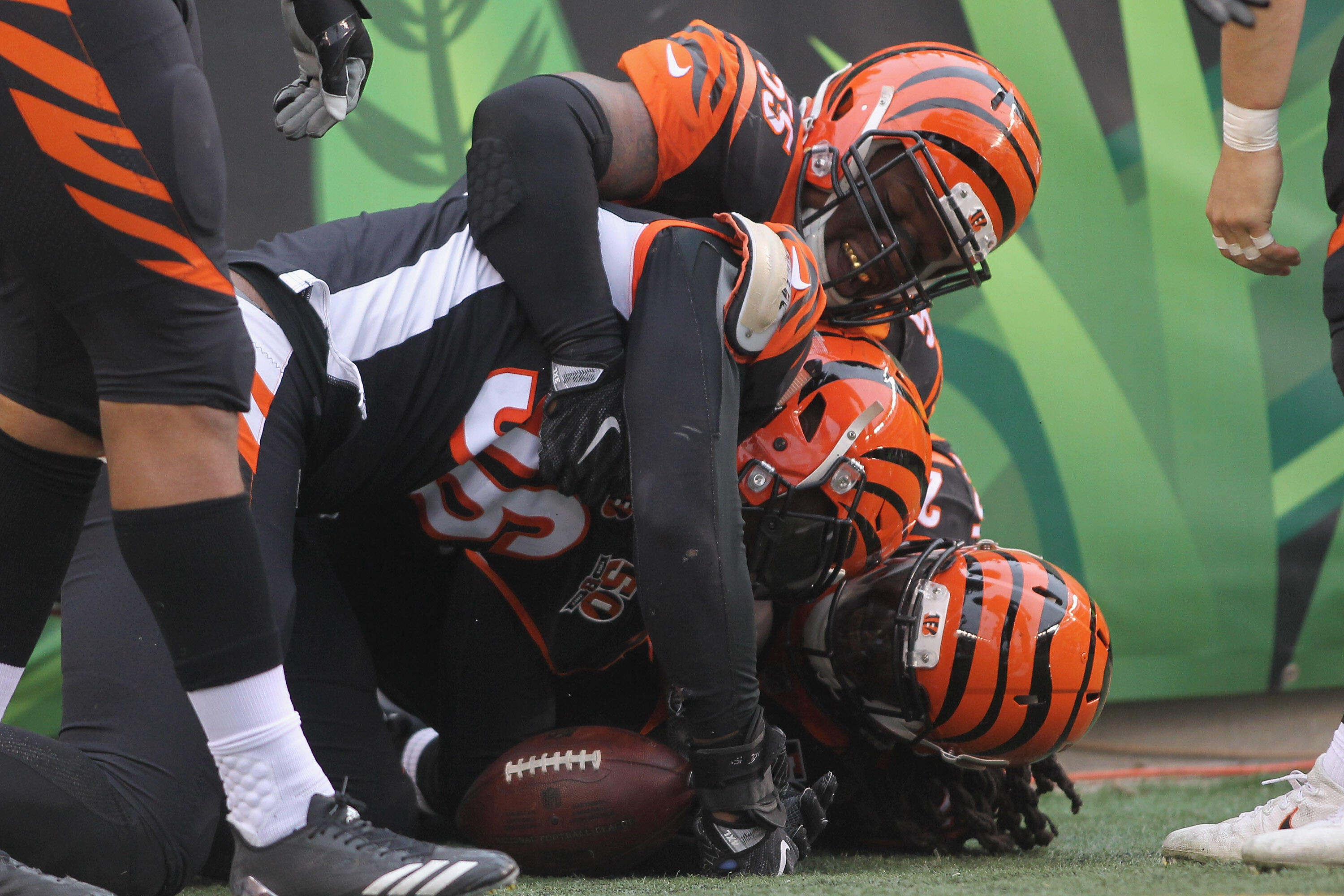 (Photo: Getty Images)
1) Yesterday was the blueprint. I came home from the game yesterday and blogged, even though, honestly, I didn't have much to say about what I'd just seen.
The summary if you don't feel like clicking over: I'm happy the Bengals won, because winning beats losing, but that game did little to move me emotionally, it was bad to watch, and despite the victory and the heroics of some players on the home team, I think we'd all be better if we moved on from that game as quickly as possible.
But as ugly as Bengals 24 Colts 23 was, the way the Bengals won yesterday will probably have to be the template moving forward.
They won because Andy Dalton - as off-kilter as he looked, and despite an odd lack of chemistry with AJ Green, at least didn't hand the ball over the Indy. They won because the got a key contribution from a rookie receiver, just not the rookie receiver we'd all envisioned. They won because Carlos Dunlap made possibly his biggest play as a Bengals. They won because of the entirety of the defense, which is my lazy way of saying that the D had a ton of different guys make significant contributions. (Dunlap, Lawson, Dennard, Kirkpatrick, Atkins, and on special teams, Willis are names that stand out. If I didn't mention your favorite defensive player, my apologies)
And they won because of the ineptitude of the opponent.
The Colts were complicit in their demise, mainly with some of the worst red zone playcalling I've seen, and Jacoby Brisset gift-wrapping Dunlap's game-changing pick six.
It was an ugly win, a satisfying result in a blatantly unappealing, frankly, boring game.
The kind of game the Bengals will have to win often in the season's final seven weeks.
As we turn toward November, what the Bengals are is well-established. Their offensive line remains a major weakness (James makes a pretty compelling case for a way they can upgrade it at the trade deadline), limiting what they can running the ball, which in turn limits what Andy Dalton can do with his arm. For a variety of reasons, the firepower that so many envisioned before the season began hasn't materialized, and for all of his attributes, the quarterback is limited playing behind a line that can't block, playing with a run game that isn't that prolific, and playing without key targets.
John Ross made his return yesterday, but you wouldn't know it if you solely relied on the boxscore to gauge how the game played out. It is, of course, far too early to assess whether the Bengals got it right with their 2017 first round pick, and I feel comfortable in putting my money on Ross having some productive moments between now and New Year's Day. But for whatever reason, he just doesn't appear to be a big part of what the Bengals are trying to do, further limiting what the offense as a whole can accomplish.
Where they are good is on defense. They haven't exactly played anyone who'll remind you of the '07 Patriots, but for the most part, Paul Guenther's unit has played well nearly every week, and the infusion of good, young players, has the D trending upward long-term.
In the short-term, the D is what will keep them in the hunt.
They need to create more turnovers, and no team can rely on defensive touchdowns, but the defense's improvement combined with a schedule that yields very few prolific offenses (the Bengals face one team in the top ten of Football Outsiders' Offensive Efficiency Rankings) gives the Bengals a chance to at least hang onto the periphery of the playoff race.
By winning ugly. Against bad teams.
I thought the Bengals were an eight-win team before the season started. I thought they were an eight-win team before they played Indy. I think they're an eight-win team today. If they're going to end up with more wins than losses by the end of the season, it'll be because they found ways to win games that won't exactly be shown on endless loop in Canton.
Like yesterday's.
2) Does the World Series have to end? I'll let people who care about such things debate where games two and five of this year's Fall Classic rank on the list of the greatest games ever played. What I will say is that with about a dozen different plot twists, some shaky managing by Dave Roberts, unexpected moments, and a billion home runs, this is the most fun I've had watching a World Series involving teams I have no emotional attachment to.
Even if watching last night's game 'til past 2am means I'm typing this half-awake.
If the Dodgers lose the series, it'll be painful to be an LA fan and think about holding a lead in the ninth inning of game two with Kenley Jansen on the mound in game two and then Clayton Kershaw holding a 4-0 lead in the fourth inning of last night's game five. And it'll be agonizing to think of the various ways Roberts screwed up, either by having a guy who has a three-homer game in the postseason bunt with a guy already in scoring position, or running through his relievers like they're bad Tinder dates.
Baseball has shined this month, jumping to the forefront in a packed sports month where all four major leagues and college football are jockeying for attention, staging a fantastic postseason, allowing personalities to shine, and reminding a lot of people that, for all of its problems - real and perceived - baseball is simply awesome.
3) JT Barrett. Even this Bearcat fan has to raise one to JT for the way he led Ohio State's comeback against Penn State on Saturday night. I haven't watched every college football game this season, but Barret in the fourth quarter played the best ball I've seen from any QB in the country this season, remarkable given both the stakes and the way he played a month and a half ago against Oklahoma.
Radio Show: Cincy 3:60 is at noon. Tony and Mo Football Show is at 3:00. Bengals. Colts. Us. Thanks for listening to ESPN1530.
Recommended Link Of The Day: Kristaps Porzingis is the right man for New York.
Follow me on Twitter @MoEgger1530.