Every day there are three things, here are those three things.
That's right. Written content. On Friday, I wrote about written content. I hope to bang out more written content.
Here's some more written content, after a photo.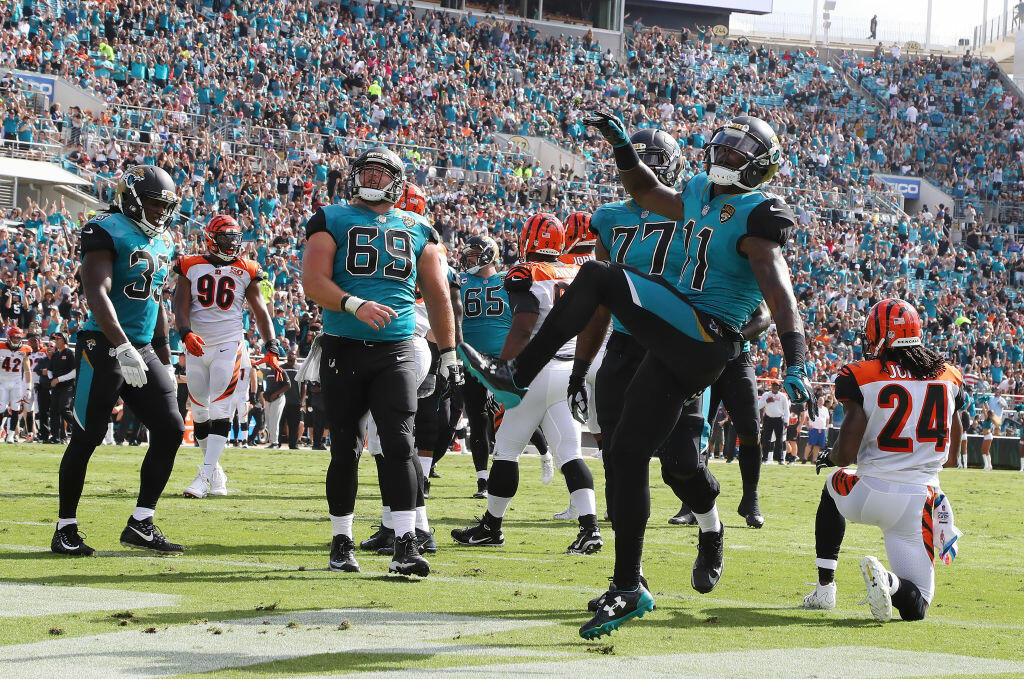 (Photo: Getty Images)
1) The helplessness of inevitable losing. My biggest problem with yesterday isn't that the Bengals lost, or that AJ Green lost his mind and was spared the second half of yesterday's game in Jacksonville (lucky guy), it's that I rolled out of bed yesterday morning all but certain that they'd lose.
Every fan knows that feeling, and it's one that might be more familiar to long-time Bengals fans than most, but nothing dejects a fan's passion like knowing his/her team won't win.
Especially when the opponent isn't that good.
Even more especially when the opponent isn't that good, and benches its best offensive player before kickoff.
That's where I am, and I'm guessing that that's where you are too. Things have gotten so bad that in less than two years, we've gone from talking about the Bengals as legit championship contenders to looking at a game against the Jacksonville Jaguars - the Jacksonville freaking Jaguars - and struggling to come up with a way they Bengals would win.
That says a lot. It says a lot about the lack of confidence in Andy Dalton. It says a lot about the lack of confidence in Marvin Lewis. It says a lot about how uninspiring, bland, and bad the Bengals are.
Yesterday, the Bengals rolled out an offensive line that continues to look overmatched, highlighted by some massive (literal and figurative) liabilities on the edge. They continued to unleash a running game that simply can't get going behind a line that can't block. They shelved the ninth overall pick in the draft in favor of a player in Cody Core that was ostensibly active because of his work on special teams, a unit that allowed a punt return for a touchdown that looked easy.
They rolled out a defense that couldn't take advantage of Leonard Fournette's absence, that couldn't cover Marquise Lee, that continues to allow tight ends to continue to waltz through huge holes, and that yesterday appeared helpless every time Blake Bortles and company stared at a third down.
The time management continued to be piss poor, and the startling lack of weapons was exposed when AJ Green lost his mind and fought Jalen Ramsey.
It felt as helpless to watch the game unfold as it did to think about their chances going in.
There will be, as there is after every game, fingers aimed at Andy Dalton. Andy wasn't exactly good against Jacksonville (eight first downs), but with the players around him, what's he supposed to do? His own limitations are well-documented enough that to expect huge things from Andy when things have disintegrated around him is unfair.
That said, in every Bengals game this season, there have been plays that Andy has to make that he didn't. A throw here. A decision there. And on Sunday, a deep ball to an open AJ Green that led the receiver out of bounds that, if Andy connects, could've changed how the game played out.
The Bengals have limitations. So does Andy. That's not a good marriage.
And Marvin Lewis will incur more wrath as well, and justifiably so. The "Bengals always lose their cool" narrative has been brought back to life - something most will pin on the head coach - but more importantly, even acknowledging that the Bengals don't have as much talent as they'll need, the team that took the field in Jacksonville - all three units - looked unprepared, and things like the clock management at the end of the first half and the decision to keep Ross in street clothes fall directly on the coach.
It's Andy (if you have a way to find a quarterback that's better, let me hear it), it's Marvin (I'm all for a new head coach), but it's this team as a whole.
It's just not that good.
Not that there aren't good players, or guys who've emerged into nice pieces (Kroft, Tyler), or pieces worth pinning long-term hopes on (mainly, on defense), it's that a confluence of factors - roster turnover, shaky personnel decisions, a few injuries, some questionable draft choices, too much youth in some areas and too much age in others, a limited quarterback, and a stale head coach - have taken the Bengals in less than 24 months from one of the NFL's best to something near the bottom of the league's huge, expansive middle.
Leaving fans like you and I rolling out of bed on Sunday morning knowing that the afternoon will yield.
2) AJ Green. I wrote about AJ Green getting into a fight, and subsequently getting ejected yesterday. My basic premise was that, as provoked as he might have been and understandably frustrated as he may be, he's too important to the Bengals to put himself in position to be thrown out.
A lot of people did not agree with this particular opinion, including Channel 9's tweeting helicopter....
I suppose that saying that a team is better of with its best player being available is firing off a controversial take.
I'll try to be clear here....
I can understand AJ's frustration with Jalen Ramsey, who seems like a delightful fellow.
More so, I can understand his overall frustration with the way the season is going, both for him and the team. I believe that what we watched him do on the field was the manifestation of a season's worth of frustration with things like the way the Bengals are playing, how he's often not been targeted, and how - like we saw in the first quarter - when he is targeted, he's often missed by his quarterback.
And I appreciate both his contrition after the game as well as the fact that he's been a little more demonstrative this season
And I do not think he should be suspended. If we're going to go by the NFL's logic that a payer's behavioral track record should factor in determining punishment, then AJ should avoid suspension.
But he can't succumb to frustration and take the bait from an inferior player compromising his own availability, especially when - given the state of the roster, his presence is as vital as ever to the Bengals' success.
3) Sweet, elusive, victory. A win that ends a five-game losing streak, improves the season record to 3-6, and come in large part because of the opponent's shaky coaching and crappy special teams aren't supposed to be as gratifying as UC's win over Tulane was on Saturday in what's easily my least favorite stadium in college football.
But given how seemingly everything that hasn't involved Chuck Martin has gone wrong for the Bearcats, their narrow 17-16 win over the Green Wave was oddly fulfilling.
Even if the number of penalties are maddening, even if the field goal kicking continues to be unreliable, and even if Saturday's opponent is pretty dreadful.
Some decent things are happening. The defense has earned passing grades in two of the last three weeks, and players with eligibility remaining are contributing, especially in the backfield. I never believed, as bad as the losing streak was, that UC would end the season with nine consecutive losses (I don't think they've posted their final win of 2017 either), but as empty as wins might feel when a team has to win its final four games to earn bowl eligibility, it was refreshing to see a game end with Cincinnati owning more points than the other team.
How's that for some analysis?
Radio Show: I'm solo on Cincy 3:60 at noon, then Tony Pike and I have the Tony and Mo Football Show at 3:05, with both shows airing on ESPN1530. It'd be swell if you listened.